It seems to me that, at any given moment, a significant portion of the female population are attempting to grow out their eyebrows. For the past four months, I've been part of that movement- I'm a firm believer that brows can make or break a face and frankly, I was horrified unsatisfied with my own. I haz a timeline 😀
Let's call this the before shot. I'll transfer all blame to the lady who waxed my eyebrows.

And now…forever a work in progress.

I've compiled a list of stuffs wot I learnt during my four month eyebrow escapade, for those who are embarking on a similar journey. Bookmark this sh*t, because one day you or a loved one (directing this to my mum) will be in a similar predicament.
Put down the tweezers for a solid four months
It's difficult to reshape your brows when you have no recollection of what your brows actually look like. Start fresh and grow them out entirely to access what's achievable. Four months is my guideline but if you were unfortunate enough to partake in the 90's brow trends, up that to six months. Don't stress because time flies…NAHT, it feels like forever.
Limit yourself to a few hairs each week
…Once you've waited an eternity and are permitted to become reacquainted with your tweezers, that is. This tip is entirely optional but hear me out: the obsessive part of my personality made me want to grab my tweezerman and ravage my brows in one go. Don't do that, that's how we got here in the first place. I limited myself to two hairs (per brow, per week) so that I didn't undo all my hard work in a moment of insanity. It also forced me to dislodge myself from the mirror, step back and reevaluate.
Take photos
I discovered this by accident. While taking photos for foundation reviews, I concluded that the mirror is a lying biatch. Perhaps it's a perspective thing (because we tend to view ourselves in only a few angles) but pictures proved to be the best means of determining whether that hair should go or stay. The importance of the previous point becomes more apparent, here.
Be realistic
This was a hard lesson for me. Initially, I wanted long, flat brows like this:
\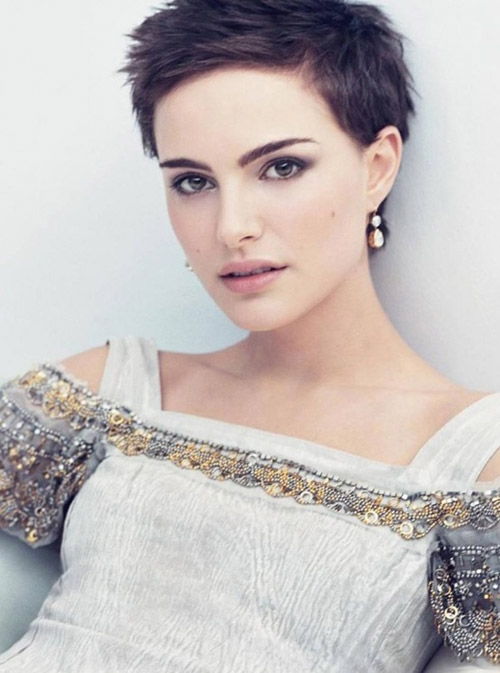 I also wanted a pixie crop, but that's another story. At the four month mark, I realized that a long, flat brow was not attainable for me because I have naturally short and angled brows. Moral of the story= you gotta work with your natural shape here.
Brush those brows in the desired direction
I have the tendency to get out of the shower and let my eyebrows run-a-muck. Brows are mischievous and will go haywire if you let them; brushing them into place ensures that they're not pointing in every which way. For the same reason, pluck in the direction of growth, or you'll have a singular hair that grows south. Naughty brows.
Brows are sisters, not twins
Mine aren't even related but there is some truth behind this cliché saying. Brows can differ in shape and also positioning on your head- aim to get them looking their best individually. Nobody else notices, I promise.
Serums? Castor Oil?
Eh, I didn't, mostly because I'm lazy. If you've overplucked for years then this is definitely something to look into, but I cannot speak to their efficacy.
What about waxing?
Personally, never again. If you know a waxer lady (or gent) that you trust entirely, then sure! But I'm damn confident that waxing salons are colluding against me… trying to steal my eyebrows.
Tl;dr version: Be patient. Resist sporadic plucking.
The final, concise comparison…

Are you growing out your brows? Have any tips or product recommendations to share?
xxkarima