I receive an incredible number of questions about my portrait photography setup, it's far from professional but I figured I would address all the queries by creating a resource here. My setup is a work in progress and I experiment all the time, but if you'd like to know how I created this photo…
… then do keep reading 🙂
Step 1: Pick your camera
I'm partial to DSLRs as the various settings allow flexibility for shooting in different lighting conditions and achieving creative effects. DSLR cameras ain't cheap, if you're new to photography, point and shoots have come a long way and there are many reasonably priced options on the market.
Here are my tools of choice…
For stills, I switch between a Canon 70D and a Canon 650D, whichever is fully charged (technical, I know). The particular DSLR is not so important, it's more about the lens. Lenses range from $120 to however-much-you-want-to-spend (seriously), the Tamron 24-70 is a versatile lens that allows zoom while the Canon 50mm prime is perfect for capturing detail (no zoom, you have to situate yourself a solid metre or two from the camera).
DLSR settings are perplexing and I don't pretend to understand it all. Disclaimer aside, auto mode is the devil and I set everything manually. I tend to set my aperature at ~3.5 – if you look the portrait above, you'll notice that the background is quite blurry. This is known as BOKEH (yes, capitals are necessary) and I love me some BOKEH. I then switch around the ISO and shutter speed until the photo is the right depth, not too light or dark. Hey, I did say this wasn't professional.
Other noteworthy settings: set picture style to neutral (prevents yellow casts and over saturation) and set custom white balance (links to tutorials at the end of this post).
Step 2: Gather optional tools and props
I couldn't do without my tripod (okay… multiple tripods) but at a pinch, you could set your camera on a stack of books – you'll need about 50 hardcovers, get stacking. Camera remotes also save a lot of time and heartache (especially if your lens insists you sit out of arms reach), although a very patient significant other works too.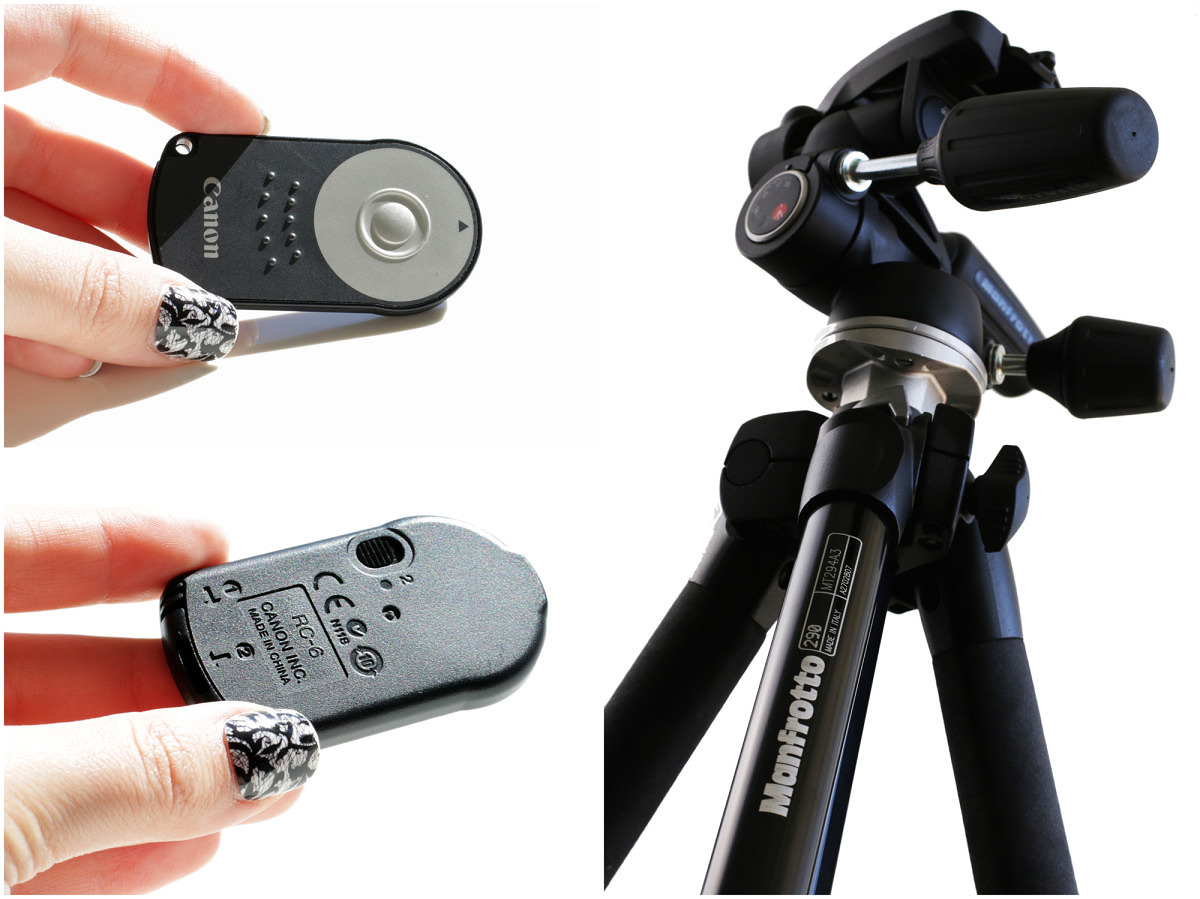 Step 3: Find a window
Lighting is the single most important element – you could get away with a very basic camera if your lighting is on point. For portrait photography, I'm big on natural light: it's flattering, allows a good amount of natural shadow and tends to depict makeup true to colour.
A note on flash: I never use it and unless you have external flash tools and a wealth of knowledge, I would recommend steering clear. Occasionally, I'll assist with studio lighting but more about that later. Here is my living room…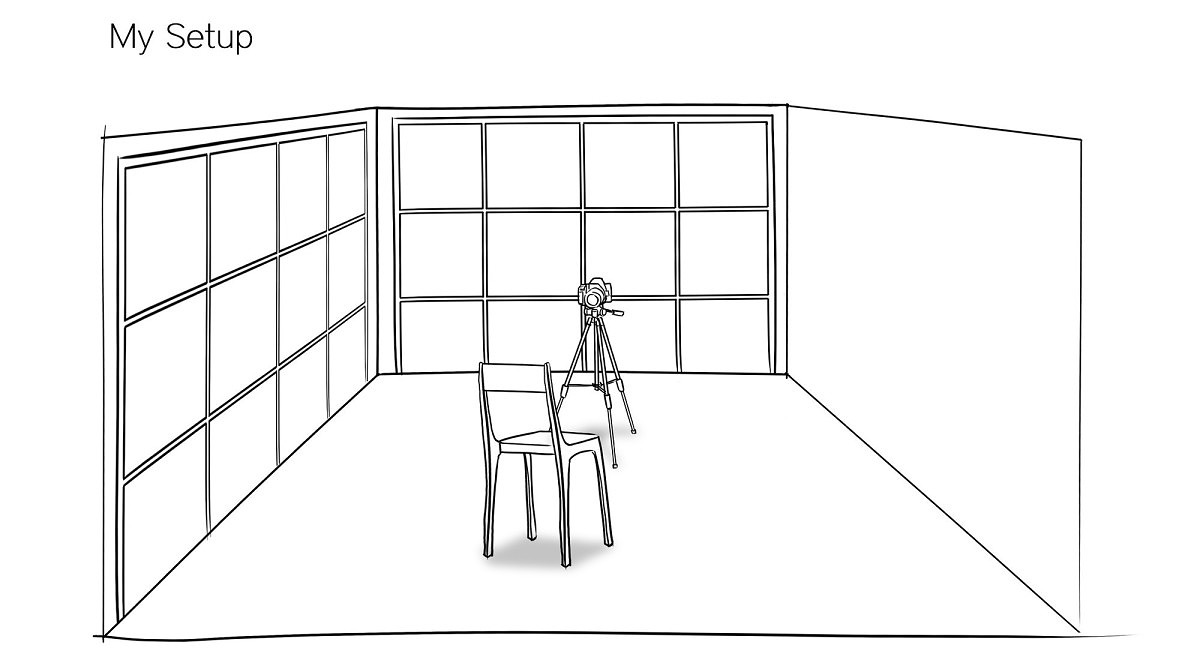 I'm lucky enough to have a light drenched home, so I'll set up my tripod and seat in an area surrounded by windows. I should mention that ideally, you want diffused daylight and not direct sunlight beaming on the face or things will start to look washed out and yellow. I take pictures at noon, well before yellowed sunset light because my life revolves around makeup.
Let's say you don't have ridiculous windows like myself, find any window and sit in front of it, like this…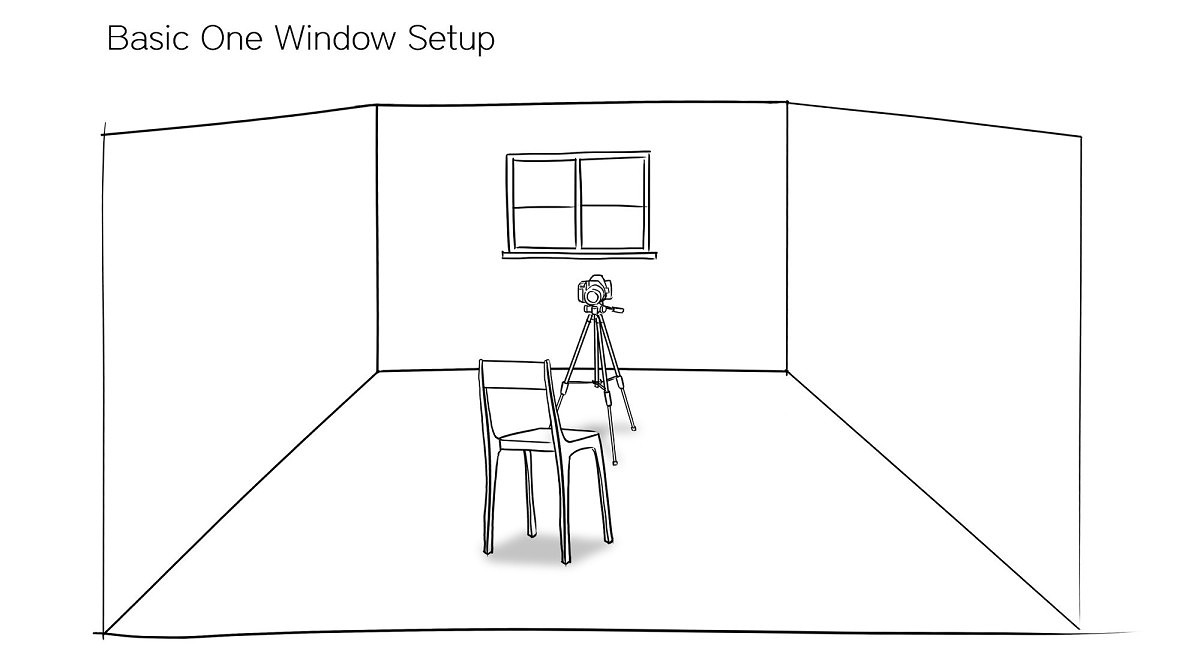 Consider your background, too. I like a bit of interest but not excessively busy, preferably well lit. BOKEH blurs most mess anyway.
Step 4: Consider extra lighting
Totally optional, but occasionally I'll assist the natural light with studio light. Softboxes are relatively inexpensive on Ebay – relatively being the operative word here, studio lighting can break the bank. Back to my living room, you'll notice that I have windows in front and to my left, but no windows to my right so…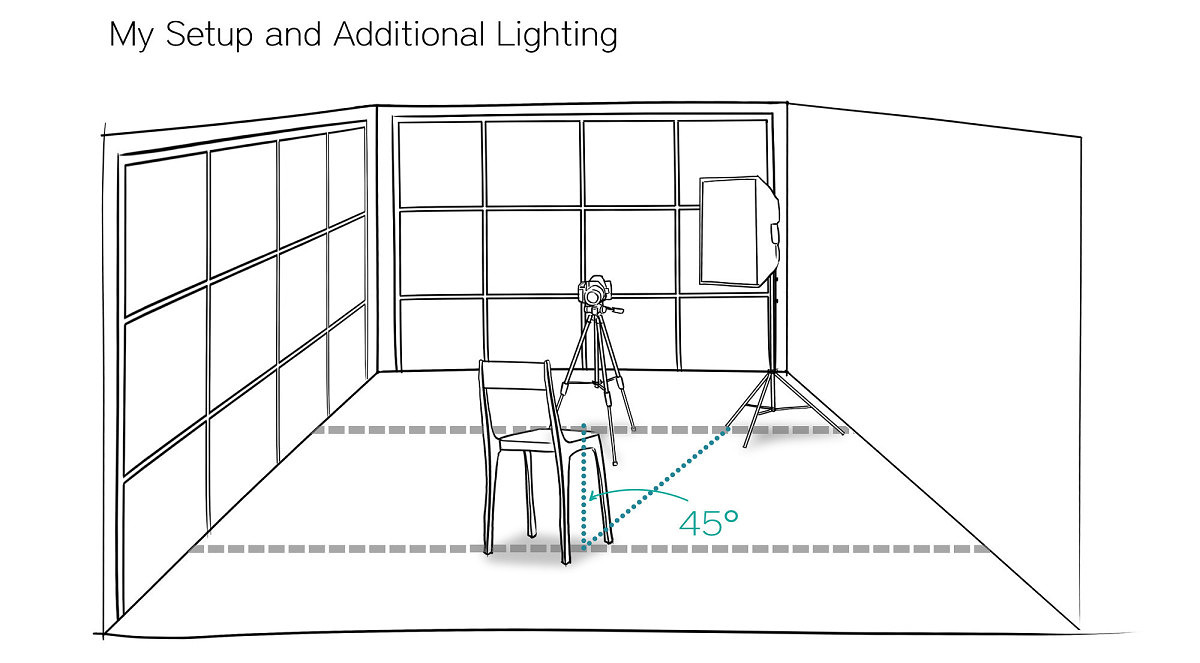 I'll pinch a rectangular soft box from my studio setup and place it on the right, facing towards me. This allows for more even lighting, so I don't have strong shadowy areas. Cheeky hint: if you wanna snoop someone's lighting setup, look to the eye lights… you can clearly see a rectangular soft box to one side of my iris.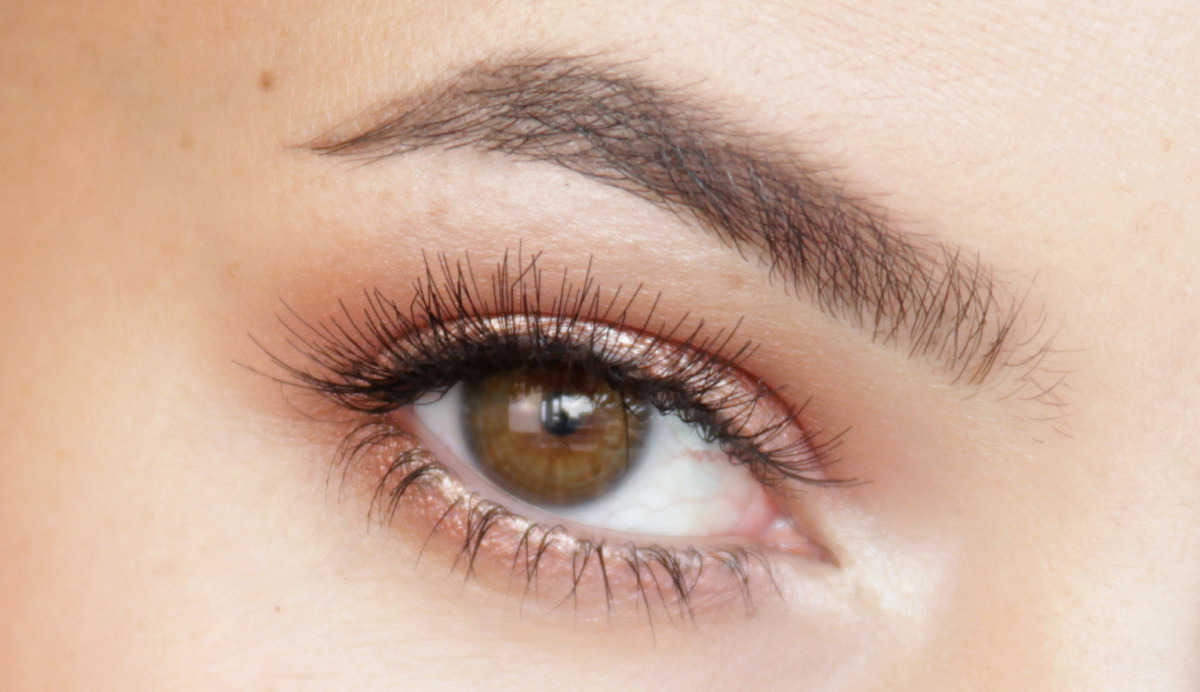 When purchasing studio lighting, opt for daylight balanced bulbs (5200K) which is a rather crisp white light – warm lighting will likely produce yellow portraits and confuse your camera, and you wouldn't want that!
Back to the basic, single window setup. You may not require any additional lighting, but if you want to go the whole mile you can set a soft box on either side of you at approximately 45degrees, like this…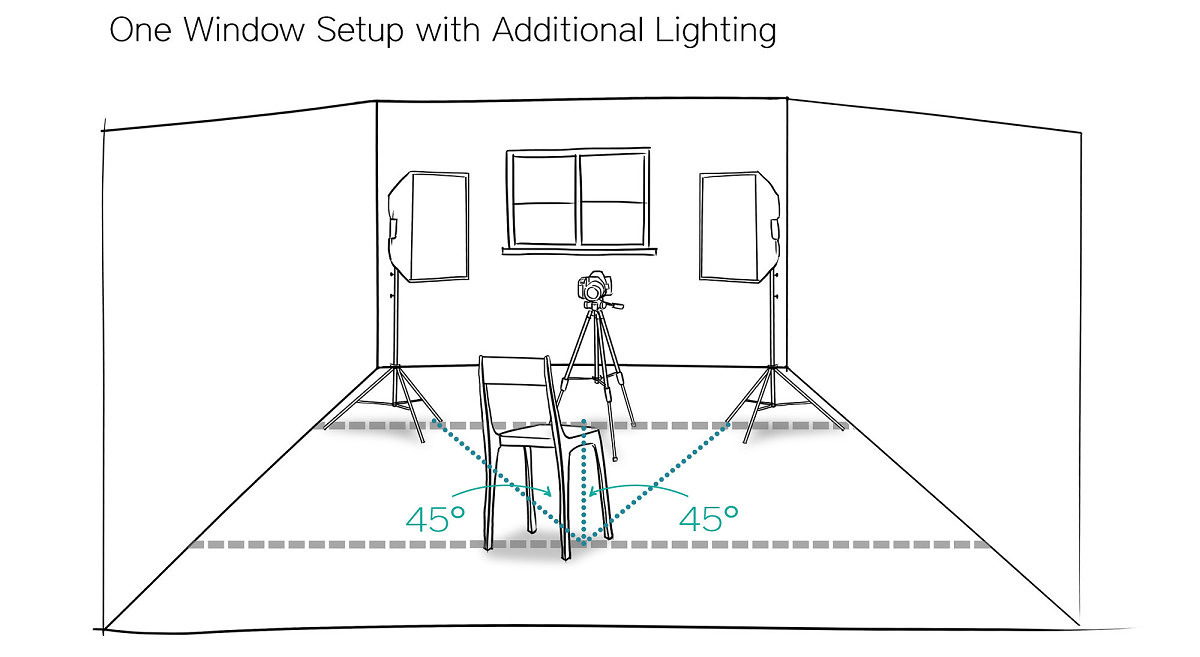 I used this setup back in the day and it served me well.
Step 5: Get crazy experimental
Take lots of photos – it's not vanity, it's science. Fiddle with camera settings, get closer to the window, move your lighting further away from you etc. It's not about right or wrong, it's about discovering effects that YOU like and learning along the way. When everything seems less scary and overwhelming, then turn to youtube – there are countless tutorials on there (apparently you can learn lots about makeup, too).
Online Resources
Here are some tutorials and links that may be helpful, no affiliation.
DSLR Settings for absolute beginners // Click here. This one is very long but very thorough, get a snack.
Custom white balance // Click here. This applies to all Canons. If you're using a point and shoot, some white in your composition will help the camera set its white balance correctly.
Overall good tips on portrait photography // Click here. This is more about angles and composition, beginner friendly.
Natural light versus artificial light // Click here. Some good chit chat about lighting by Shameless Maya, who is a youtuber that has a photography and filming playlist. Highly recommend you check her out!
The rectangular soft boxes I use // Click here. These have an Australian plug, make sure you buy equipment that is suited to your power supply (learnt this the hard way).
Canon 50mm Lens // The exact Canon lens I use. Click here.
Tamron 24-70 // The Tamron lens I use, this one is pricy but transitions well to all sorts of photography. Click here.
Illustrations in this post // Courtesy of Anna Spencer, a fabulous illustrator. Contact her at recneps02@yahoo.com
Did you find this post helpful? Or at least… interesting? If you'd like to see more posts on photography, leave requests in the comments below. If you have any additional questions on portrait photography, leave them below too and I'll do my best to answer!
If you take away nothing else from this post, remember this: the vast majority of youtubers and bloggers I've met have bluffed and experimented their way to awesome photos. Don't be overwhelmed by technicality, just have fun.
xxkarima