So if you follow me on Instagram, you'll know that lately, my life has consisted of calculators and textbooks (and stuffing my face, naturally). I've taken some time out to run brushes all over my face and ramble about them… zen.
This installment compares and reviews my white goat Hakuhodo crease brushes, which hold a special place in my heart. Darker hair crease brushes in the next post.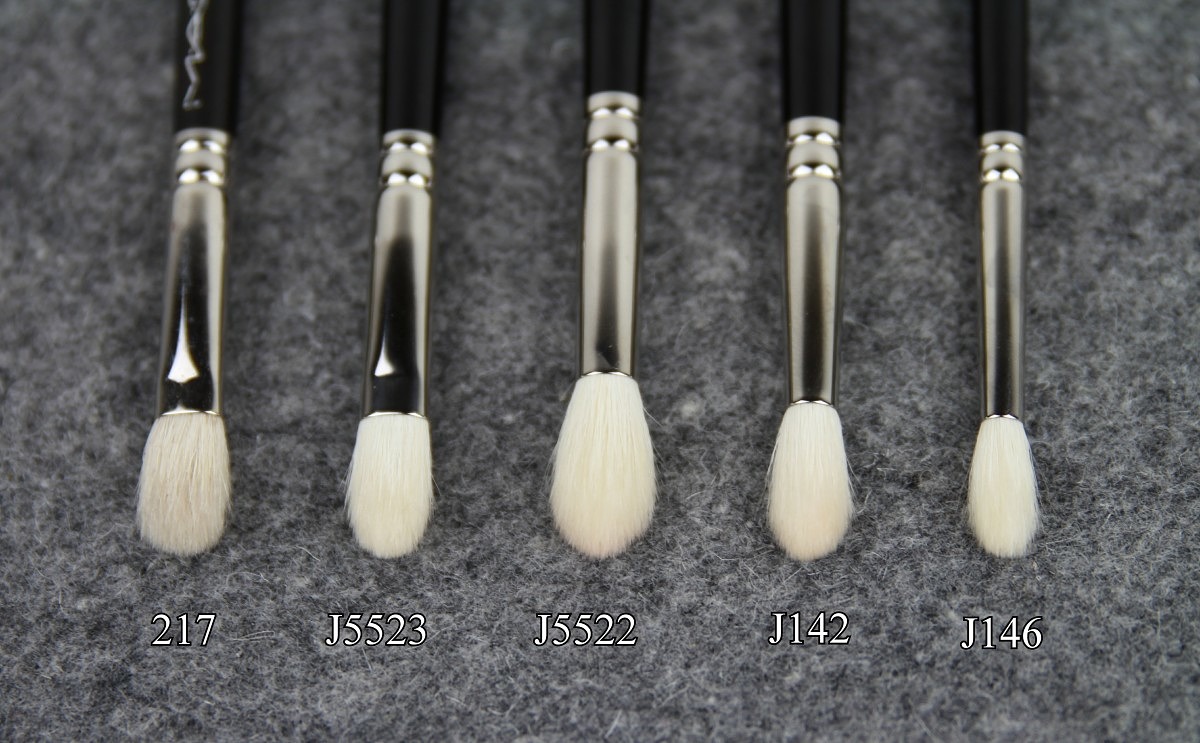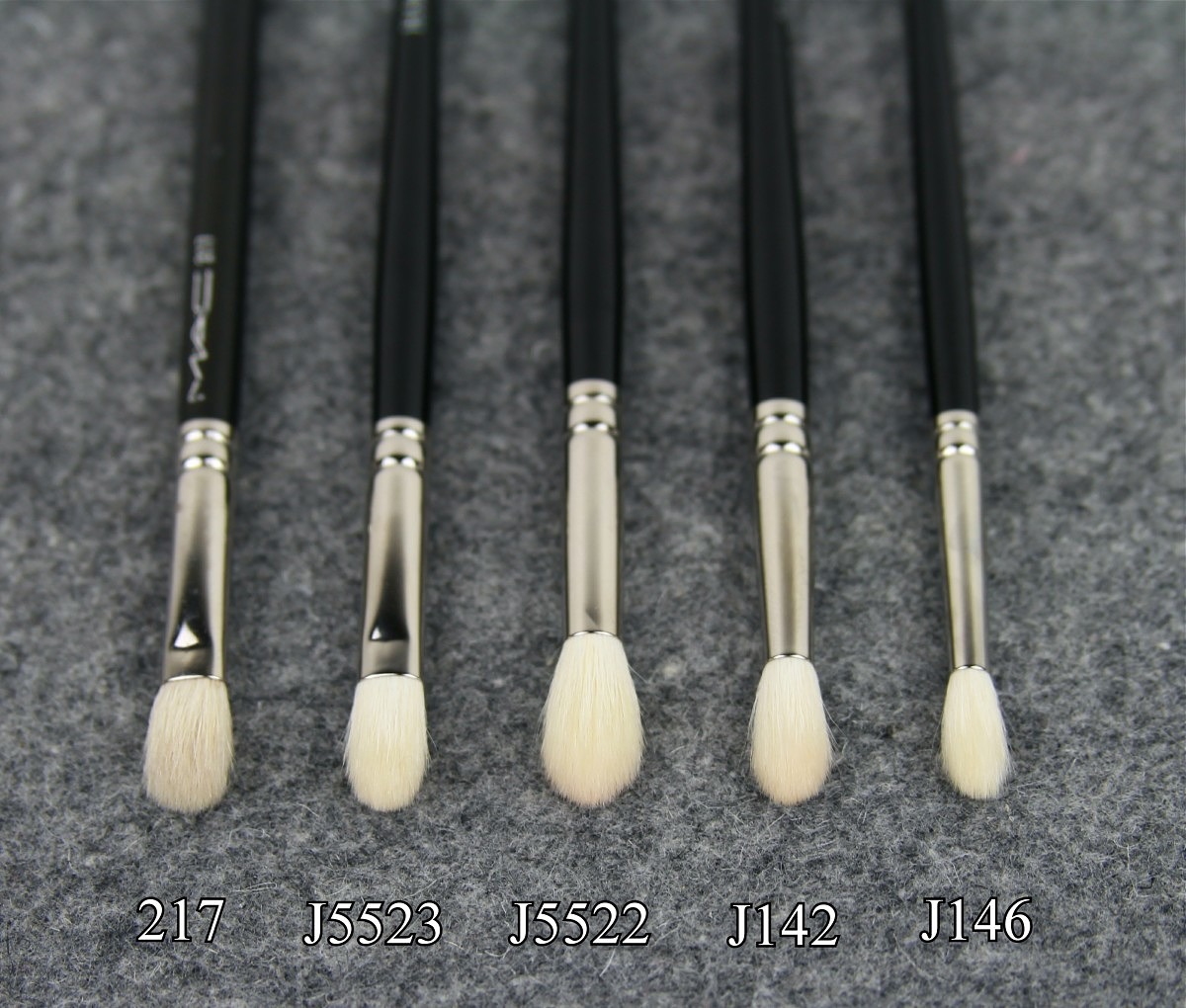 Usually a mode of size and shape reference, but here is an explanation as to why the 217 is no longer my favourite eye brush. Made of white goat hair, the 217 rose to cult status due to its shape and size, which fits perfectly in most sockets. It places colour equally as well as it blends, due to non-tapered tip, this produces a somewhat flat footprint that aids in buffing harsh edges.
My beef with this brush lies not in the shape or size, but rather the quality and durability; it's downright scratchy compared to my Hakuhodo brushes, the condition has declined despite fastidious care and it frays. Many claim that the quality of MAC brushes has been going downhill, I haven't been around for that long so I can't comment.
Yet I would still recommend this brush to some. Most people I encounter outside the cyber world would consider buying brushes allll the wayyy from Japan to be a form of insanity (and perhaps it is). If you're looking for a decent crease and blending brush that is widely available, the 217 takes the cake.
For the rest of us crazy people…
Hakuhodo J5523 Eye Shadow Brush Round and Flat
This is the closest 217 dupe offered by Hakuhodo. Made of white goat hair, it takes the same shape as the 217, a round but flattened head that, on side view, creates an oval footprint. You may perceive one dissimilarity in the photos above; the size. J5523 is a fraction smaller than the 217 and this is most discernible when looking at the profile.
I actually prefer the size as it offers a tad more precision while providing the same amount of resistance. Moreover, the J5523 excels over the 217 in every facet; super soft, retains shape, never frays, durable after washing and an absolute pleasure to use.
Final Verdict: A+. If you're looking for a better made version of the 217, here it is. If you liked the 217 but feel it is a tad large for your socket, this fits that description perfectly.
Hakuhodo J5522 Eye Shadow Brush Tapered
Again, made of white goat hair, this brush is slightly larger than the MAC 224 and the Tom Ford Blending Brush (review coming soon) and a tad less dense than the J5523. It takes a more standard crease brush form, a tapered tip with a round footprint. While it's quite a large crease brush, the tapered tip and moderate resistance allows it to place colour in the socket but it is best suited to blending out crease shades- for this is works beautifully. It's also soft, are you surprised?
Final Verdict: B+. I'm taking an objective stance here, some will find this brush too large for the socket and will prefer to use it solely to blend out crease shadows. That limits the versatility of the brush- if you have a bigger eye, upgrade it to an A.
Hakuhodo J142 Eye Shadow Brush Round
The size closely resembles the MAC 217/J5523 but it's the babby version of the J5522 in terms of silhouette. I use this almost interchangeably with the J5523- I actually reach for it more frequently when using black shadow as it's slightly less dense and building colour is infinitely easier than buffing out over application. Like all the Hakuhodo crease brushes I've detailed in this post, the finish of the bristles is silky and it never drags on the skin, creating perfectly diffused gradients.
Final Verdict: A. If you prefer a perfectly domed crease brush, as opposed to slightly flatter shapes like the 217, this little guy is for you. If you like a softer application in the crease, this will give a more diffused finish than the J5523. One of my favourites!
Hakuhodo J146 Eye Shadow Brush Round
Consisting of white goat hair, J146 is a more specialised crease brush. Its main purpose is precise crease work; adding a dark shade to the outer V, deepening the socket etc. Despite a slender frame, the goat hair provides a comfortable amount of resistance (because who likes a floppy crease brush? Really?)
I prefer these types of brushes to pencil style brushes for creating extra depth- I find the final product to be more diffused.
Final Verdict: B+. Not everyone needs this brush but if you yearn for a bit of black in your V (minds out of the gutter!) then J146 is my recommendation. I could grasp at straws and offer some other purposes for this brush, but it would be just that. A must for me.
What are you favourite Hakuhodo crease brushes? I'm open to suggestions 🙂
xxkarima