For those who don't know this brand, Rouge Bunny Rouge is a whimsical, high end Russian brand that has gained much popularity outside of Russia.
It isn't widely available (yet?) but can be purchased online at Zuneta. I was lucky enough to be in Dubai at the height of my RBR obsession- if you missed my haul post, you can find it here.
After lots of experimenting and playing with the products, I bring to you my top 5! This was particularly tricky because I liked every single product I bought (indicative of a great line of products, in my opinion).
My top 5 includes the products I consider to be most unique and that I find myself reaching for most often. As to not omit my other favourites, I also included a few runners up.
Let's start, shall we? Here they are, in no order. I've included swatches with other like products to give you a comparison point.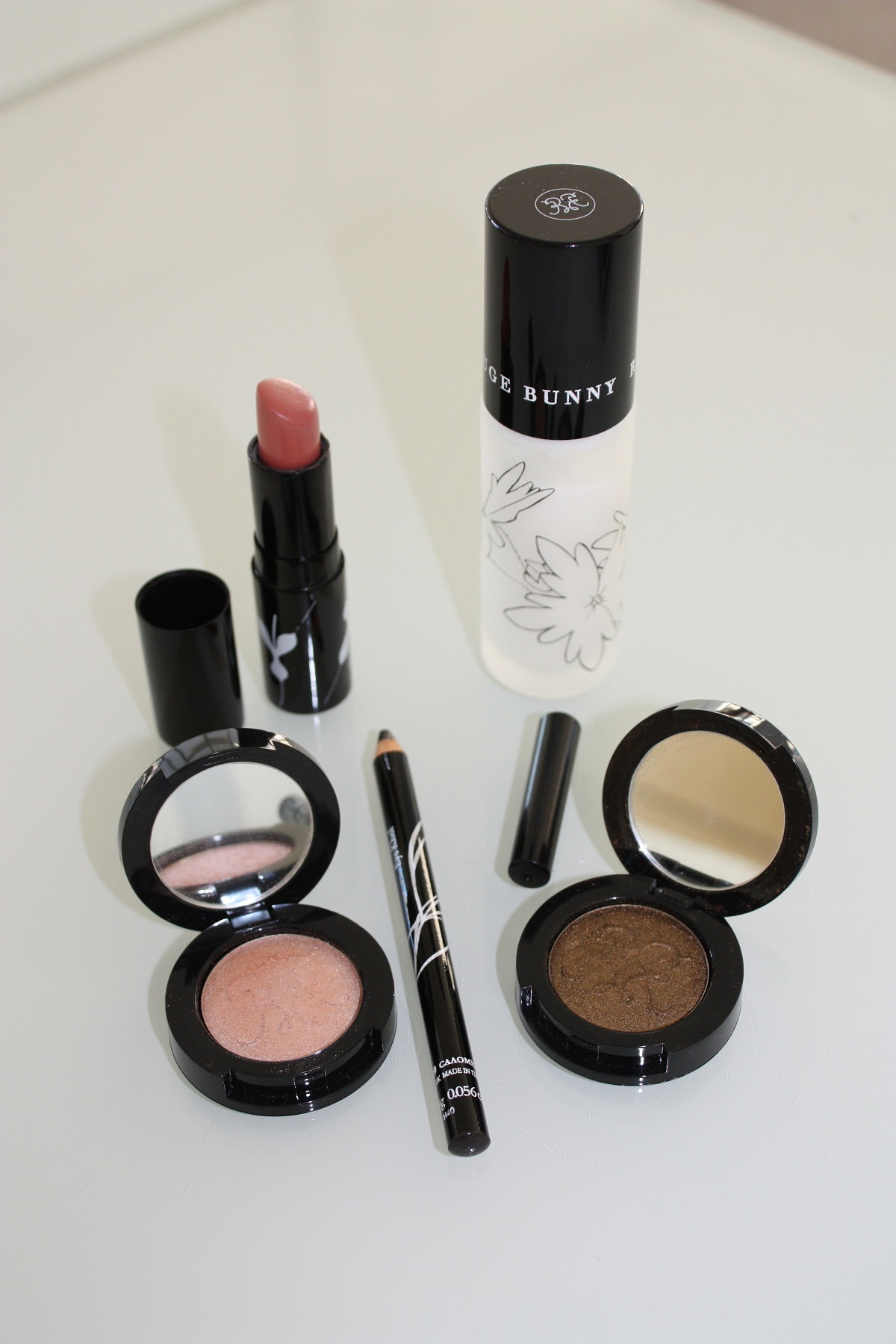 1.RBR Metamorphoses Matte Primer, no swatch applicable.
This is my only primer that I own but not the only one I've tried. I leave it for special occasions and for days where I need my makeup to look perfect and last all day/night. It comes in a sturdy glass bottle with a pump (yay for hygiene) and has a thick texture. I use this sparingly and it creates a perfect matte base for my foundation (I also use it on my eyelids and my lips).
One should note that it tends to turn dewy and satin foundations to a matte-r finish and you'll find you will only need half the amount of foundation that you normally apply because it adheres so well. I remove it with an oil cleanser (Fancl) and no breakouts to date!
2. RBR Angelic Cockatiels Eyeshadow
Zuneta describes this as "a metallic finish golden honey, with a hint of copper" which is accurate- it's the perfect champagne shade (but none of that boring champagne shit, this one is complex and flashes peach in certain lighting). The pigmentation is great and the texture is soft and buttery.
Here is the swatch, with some other similar shades.
(L-R): Chantecaille Rose Gold, RBR Angelic Cockatiels, UD Sin, RBR Sleeping Under a Mandarin Tree.
3. RBR Abyssinian Catbird Eyeshadow
Zuneta describes this shade as a "metallic bronze with golden highlights" which totally doesn't do it justice! I'd describe it as a rich, complex bronze shade which glints green and/or gold in different lighting. I couldn't capture the green hints very well, but hopefully ya get what I mean. The texture is buttery and the pigmentation is second to none.
Here is the comparison swatches with some other bronze look-a-likes
(L-R): Mac Museum Bronze, Armani Eyes to Kill in 6, RBR Abyssinian Catbird, Shu Uemura ME450, UD Smog.
In sunlight: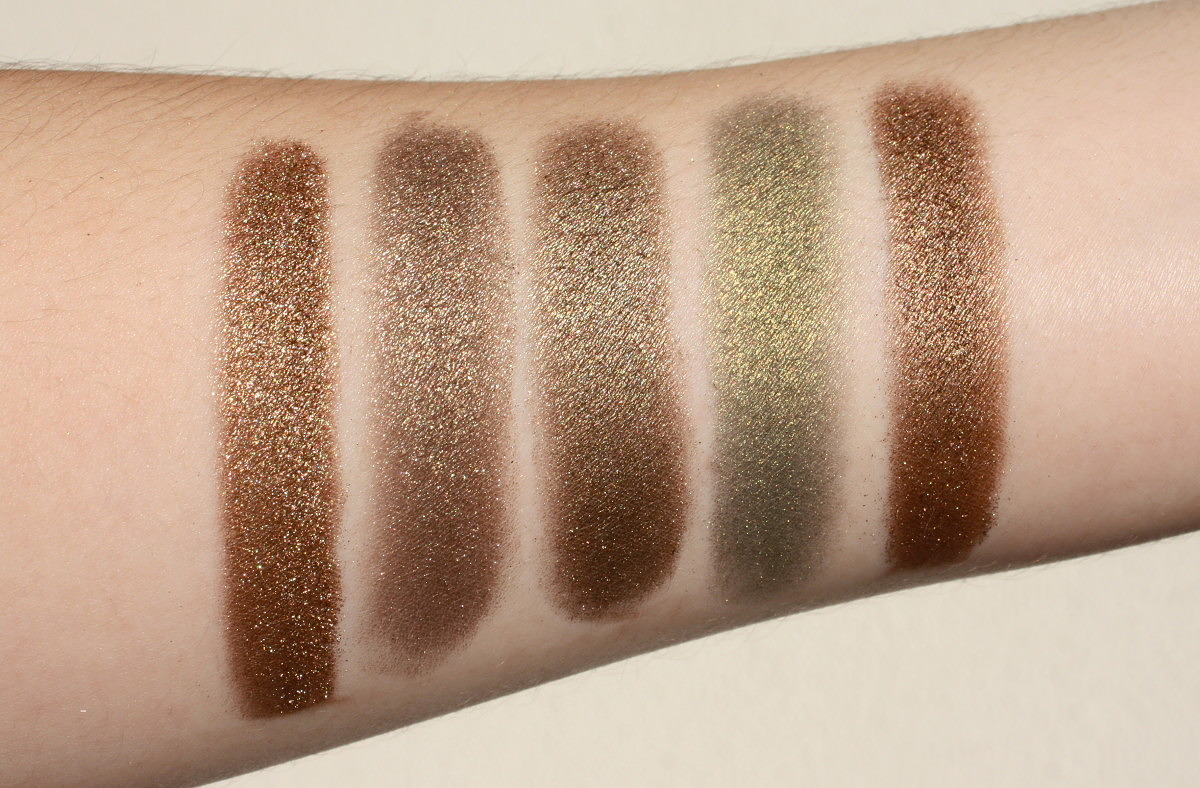 In artificial light:
4. RBR Irreverence Lipstick
Zuneta describes this shade as "creamy, satin finish natural rosy pink" which is pretty spot on. On me, it's the perfect my-lip-but-better shade. Pigmentation and creaminess is amazing but it doesn't last through a meal on me (then again, nothing does- I must have lip-licking eating habits).
Here is a washed out photo on what it looks like on me: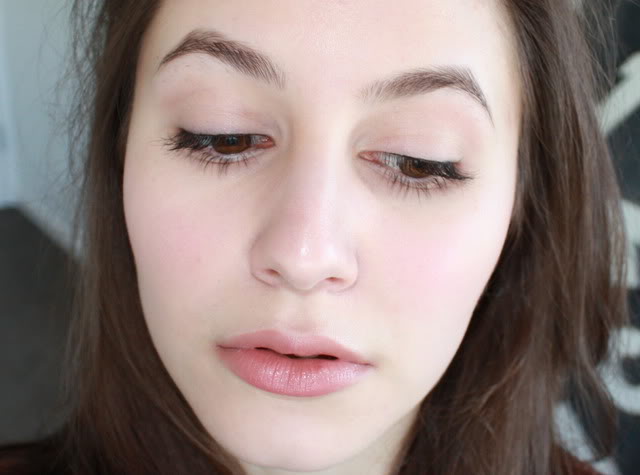 And here is the comparison swatches against other rosey-neutral lipsticks.
(L-R): By Terry Rouge Terribly Nude 100, MAC Hug Me, RBR Irreverence, MAC Kinda Sexy.
Sunlight: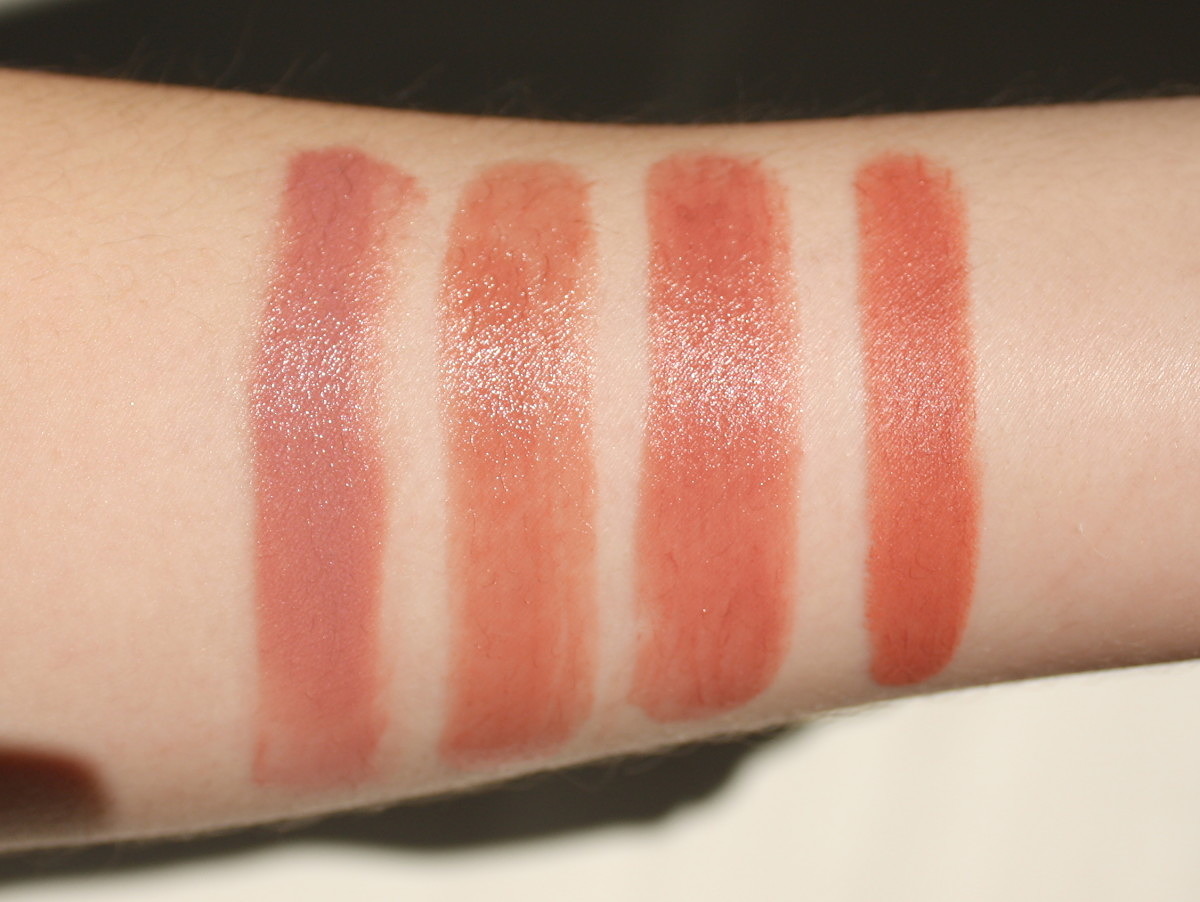 Artificial light:
5. RBR Eye Kohl in Salome
Zuneta describes this one as "perfect creamy matte jet black" which is accurate. I thought all black eye kohls were the same but this one is soft enough to apply on my upper waterline to tightline but hard enough that it doesn't migrate all over my face (not a good look). Surprisingly, a hard to find combination in eye kohls.
You can see in my swatches below that the pigmentation is much better than UD Zero- next to Salome it looks like a smeary mess. My MUFE liner crumbled on me during the swatching process- it got tossed.
(L-R): UD Zero, RBR Salome, MUFE Aqua Liner.
Runners up:
These beauties must not be forgotten and deserve a mention.
1. Fine Spun Light Luminous Skin Wand. This is the perfect under eye concealer/illuminator for me. It provides light coverage while detracting all shadows and never looks ashy (a common problem with under eye illuminating wands). I set this with Laura Mercier Secret Under Eye Brightening powder and the combo lasts all day and discourages makeup migration.
2. Fire Drops Loose Glitter Pigment- Sleeping Under a Mandarin Tree. This is a beautiful pigment swatched above with Angelic Cockatiels. This is a warm champagne with peachy/orange shimmers. It works best over a base due to it's feather-light pigment nature. The packaging is horrid though, it has a sponge applicator in which I argue every time I use it.
WOW! This blog post has been quite a novel. If you got this far and tolerated my ramble, please leave me a comment and let me know if I shed any light on this imaginative brand.
xxkarima