Firstly, sorry for my absence- as of last night I finished my last University exam for the semester- YAYYYYYY.
In a about 2 weeks, I will be sitting on this beach:
In Ibiza, Spain.
ANYWAYS. As promised, I come bearing swatches of Bronzey goodness.
Below are some of my favourite bronze eyeshadows. Some may not seem very Bronze, but they are in a similar colour family so I decided to include them anyways.
Pressed shadows: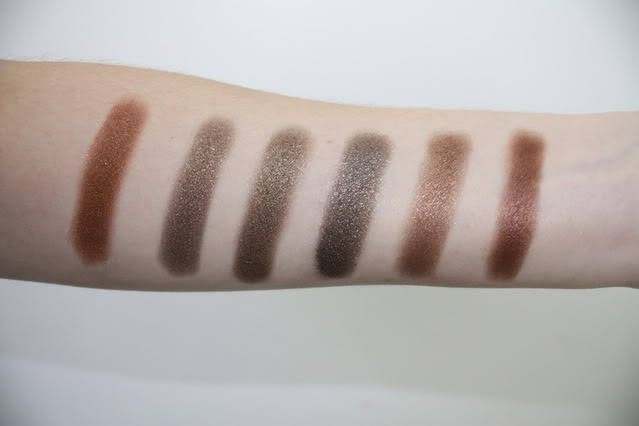 Left to right:
NARS Key Largo (the bronze side)
Armani Eyes to Kill Intense in #6
Rouge Bunny Rouge Abyssinian Catbird
MAC Gilt By Association Mineralized eyeshadow
Urban Decay Smog
Sleek Storm Palette (bottom row, far left).
Anddd some pigments:
Left to right:
MAC Museum Bronze
MAC Vintage Gold
Fyrinnae Te Amo
Fyrinnae Newcastle
Fyrinnae Orangutan
In the first picture, Armani ETKI #6 and RBR look almost identical- they looked very similar IRL but not identical, Abyssinian Catbird is a little more complex with golden undertones. Both have beautiful textures.
Since I'm always on the lookout for another amazing bronze eyeshadow- what are your favourite bronze eyeshadows?
xxkarima