If you follow me on instagram, you'll know that I had eye surgery a few days back (let's not get into it, some of you may be eating). The doctor mentioned casually, in passing, that any makeup near the eyes is to be avoided for a month.
I nodded. Of course. Easy. No worries doc, we're eye to eye on the matter.
At this point I'm nodding excessively and alarm bells are ringing. Eye makeup is my favourite. I'd give up chocolate for eye makeup. A month is a long time, yo! Still nodding away.
I took it as a challenge. This month is lip product month, beginning with corally-pinks and pinky-corals (vague, because that's how I roll). Lip swatches were taken a while back so include eyeshadow and whatnot but upcoming looks will be about the lips, sans eye makeup. I will probably look absurd, but humour me?
Easier to wear than pinks, more flattering than orange and fantabulous on every skintone- behold, corally-pinks-pinky-corals.

Strangely, these swatch rather similarly but transform into vastly different shades on my pigmented lips. Formulas range from chalk to cheese but one commonality exists- all are shimmer free.
Burberry Lip Velvet – Honeysuckle 305
Admittedly trivial, I love the twisty magnetic close. Part of the Burberry's matte lipstick line, Honeysuckle is a somewhat muted, warm coral (which leans more on the orange side of the coral spectrum). Given that my lips are not in the best condition, I can confirm that Honeysuckle is one of the better matte formulas I own as it doesn't draw attention to flakiness.
Chanel Rouge Allure Velvet – La Favorite
Going out on a limb here, La Favorite might be my favourite bright lipstick shade of all time. The colour is just…spot on. The perfect blend of pink and coral, it has a delicate white base to lend an almost neon quality AND it's totally face brightening.
Now you're disgruntled, because this was limited edition from Chanel Spring. Don't be. It tears me apart to say this but the formula is one of the worst I've tried (in terms of highlighting lip texture). Full disclosure: I do have really chapped lips right now.
I'm trying to layer and lipbalm and all that jazz, it's not been particularly fruitful.
But I'll never give up trying.
Burberry Lip Cover – Primrose Hill Pink
A brightened warm pink, this is probably the pinkest in our coral collection today. Quite similar to Burberry Honeysuckle but with a dewy formula, a little sheerer and more on the pink spectrum (so really…not all that similar). Primrose Hill Pink and I have been well acquainted lately; the shade is effortlessly pretty, never looks as though you're trying too hard and the formula is balmy and comfortable. An absolute pleasure to wear and I'd recommend it for most skin tones.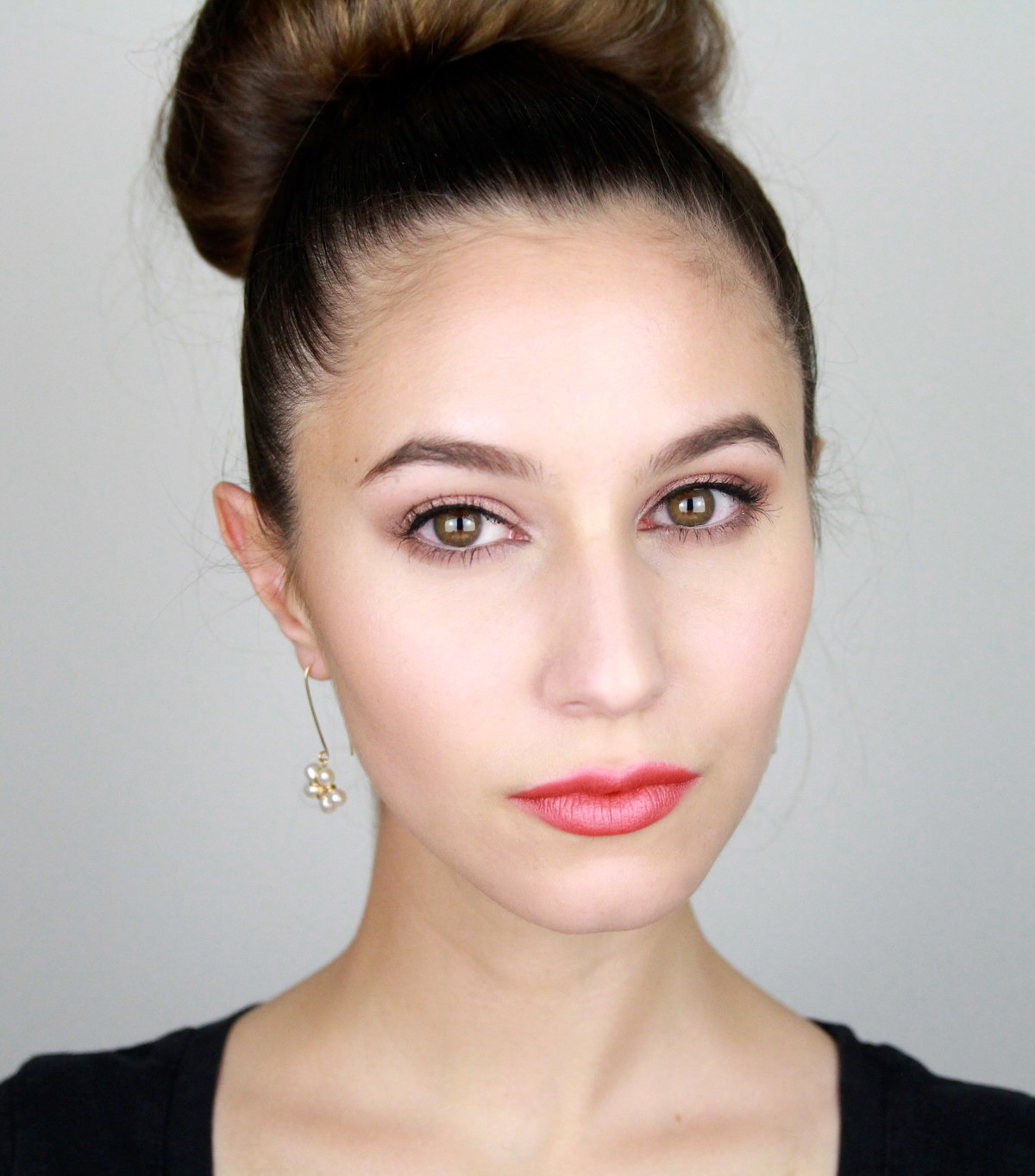 Guerlain Rouge G L'Extrait – Colere
A bright, coral-red with pinkened undertones. A little out of place in this comparison but an honorary mention, because beautiful things deserve praise. A lipstick in liquid form, Colere has a satin finish and the best DANGNABBIT formula that I've ever come across in a lipstick. Even when my anxiety-induced-lip-rubbing-tendency is at its peak, Colere creates a veil that disguises my gravel lips. It's bloody pigmented so I make an absolute mess of myself in the absence of a lip brush, but the extra effort is well worthwhile. Fo' serious, I'm collecting every shade in the Rouge G L'Extrait line.
MAC Amplified Lipstick – Vegas Volt
An orange coral on most, this seems to pull more pink on me (but my skin could make blue look pink, it's crazy). This shade reminds me of spring- it has a pastel quality that stems from a white base. A good introductory shade for those new to corals.
Face constants:
Armani Lasting Silk, Guerlain Four Seasons Bronzer 05 Moyen Brunettes
SUQQU Balancing Brow Powder in Moss Green
Urban Decay Naked, Buck and Toasted on the eyes. MSH Labo Love Liner. Guerlain Noir G Mascara.
Any suggestions for the next lipstick centric post? Hot pinks, maybe?
xxkarima