My Zuneta order arrived (very quickly)!
Here are the products: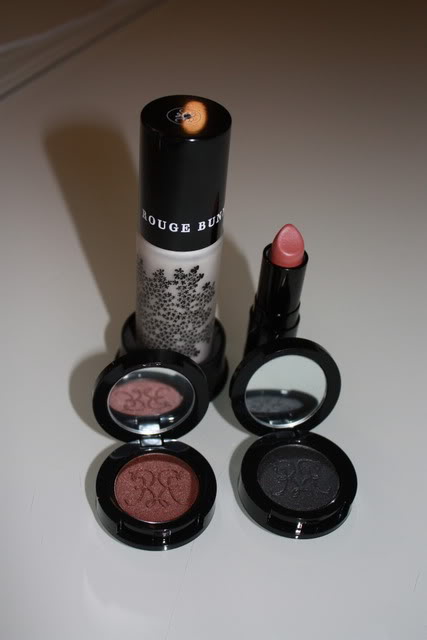 And now the swatches:
Left to right:Sea of Clouds highlighter
Bejewelled Skylark Eyeshadow
Volcano Fairy-Wren Eyeshadow
Irreverence Lipstick
Thoughts:
In my opinion, Becca Shimmering Skin perfectors are more subtle than the Sea of Clouds (I consider this to be quite a dramatic highlighter, which I like!). Sea of Clouds should be used quite sparingly to avoid looking like a disco ball. The texture is fluid and nice- not sticky at all.
The packaging is my only gripe, it's hard to pump out a small amount and a full pump is way too much product.
Both the eyeshadows have great pigment and gorgeous shimmer- quite congruent with the other RBR shadow I own (Abyssinian Catbird). The colours are not incredibly unique (I get a bit of UD Naked vibe, for some reason) but the texture is gorgeous and they are *so* easy to blend, so I think I'll reach for them often.
Irreverence is a kind of My Lip But Better shade, since I have pigmented lips. The texture is light and moisturising and relatively long lasting, too. Zuneta describes this shade as "Creamy, satin finish natural rosy pink", which I actually think is spot on! It was exactly the kind of shade I was looking for, not cool and not warm 🙂
Hopefully, I'll do a FOTD with all this tomorrow, and post for you guys.
xxkarima