A halo smokey eye tutorial that makes the eyes appear much bigger – it's also perfect for hooded eye shapes! I've created this fierce, statement look using the glorious Urban Decay Naked Smoky Palette 🙂 I hope you enjoy and let me know what you think in the comments!
For this tutorial, I was inspired by the monochromatic scheme of the Naked Smoky Palette. I love the Urban Decay's edgy personality and the halo placement paired with the unexpected feature on the lower lash line fits Urban Decay perfectly (in my humble opinion!).
All about the Urban Decay Event
I will be at the Urban Decay counter in the Heinemann Tax & Duty Free store (within Sydney International Airport) on FRIDAY THE 13th of NOVEMBER (please note this date has changed!), between 8am-11am!
Do note that the counter is within the secure part of the airport so to attend, you'll have to be travelling on the day (sowwy!). If you are – yay! I wanna do your makeup (in true Naked Smoky style!) and there will be Naked Smoky Palettes to giveaway on the morning, as well as cool Urban Decay merchandise and fun polaroid photos for you to take home!
Final Look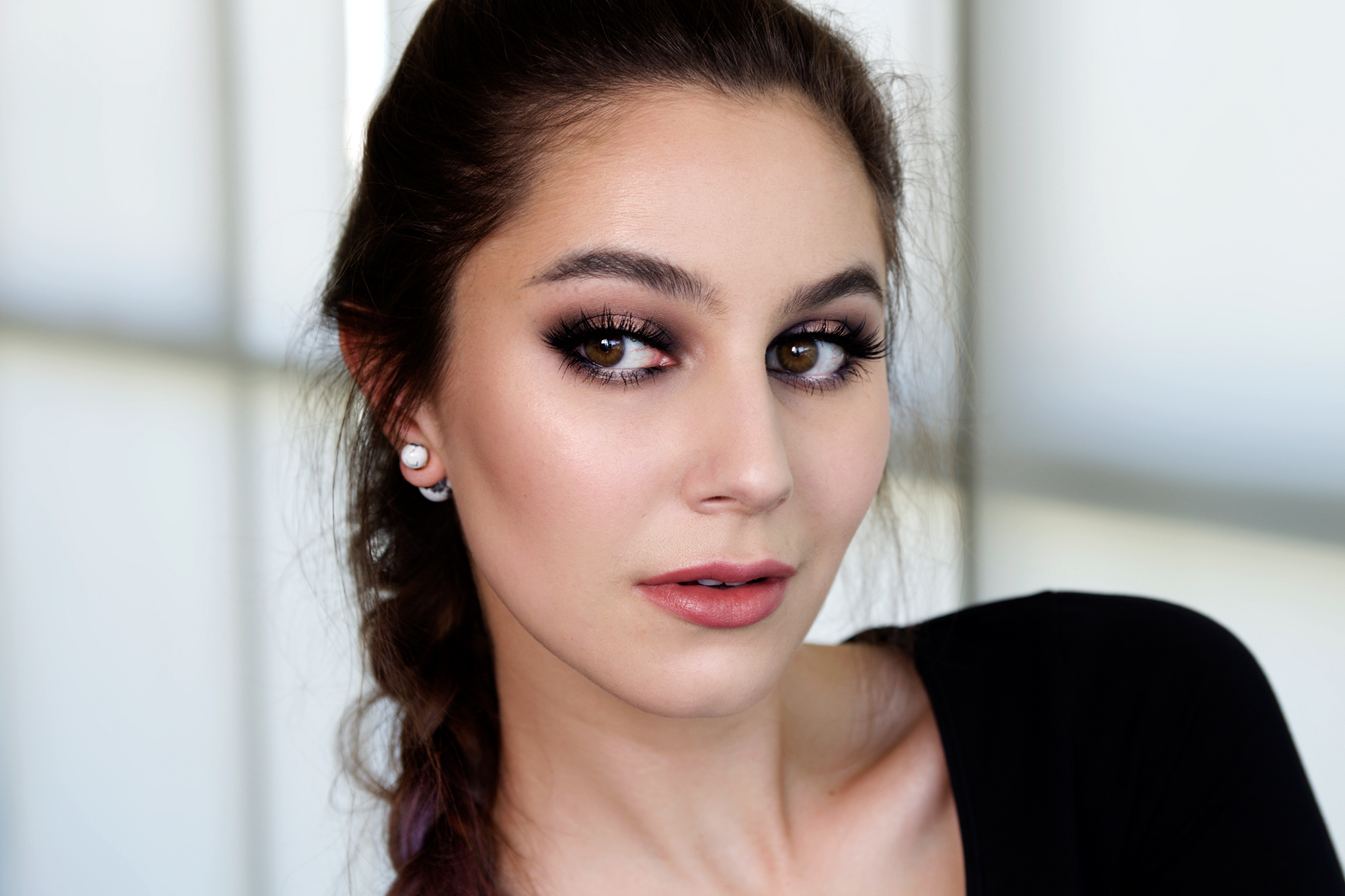 Nail polish I'm wearing in this tutorial
Sally Hansen Creme de la Creme
Jewellery
The ring on my left hand is NOT an engagement ring guys lol, it's an heirloom.
The ring on my left hand is the No.2 by Minoux
The earrings I'm wearing in the tutorial are by Amber Sceats, I purchased them off Shopbop
Complete List of Products Mentioned
Urban Decay – Primer Potion
Urban Decay – Powder Foundation in Fair Neutral*
Urban Decay – Naked Smoky Palette*
Urban Decay – All Nighter Setting Spray
Urban Decay – Naked Concealer in Light Neutral
Urban Decay – All Nighter Eyeliner in Perversion*
Urban Decay – Ink for Eyes Liquid Liner*
Urban Decay – Perversion Mascara*
Urban Decay – Naked Flushed Palette in Naked*
Urban Decay – Eyeshadow in Tease (from Naked 2 Palette)
Urban Decay – Lipstick in Sheer Liar*
Urban Decay – Lip Pencil in Rush*
xxkarima
* Denotes products sent for consideration, I only feature products I love 🙂 This video is a collaboration with Urban Decay, many many thanks to the UD team! I've been collecting Urban Decay since I was 14 so this is a dream come true!