So my previous red lip tutorial was an editorial take, with a nude eye and a lot of contouring, today's red lip is a more classic and balanced version. Lina is an old friend of mine, we met when we were… 11? Stick around for the bloopers, we're a bunch of kids 🙂
View Video Transcript
So my last red lip tutorial was quite an editorial take with a lot of contouring and a nude eye. So today's red lip is a more balanced and classic version. Say hello to Lina, everyone.
Before I applied any make up, I hydrated the lips so they're in perfect condition for our red lipstick. I use Lucas Paw Paw Ointment which is an Australian product, mate. But you could just use a lip balm.
Lina is some sort of unicorn. She has very even skin. I used less than half a pump of satin finish foundation, mostly around the center of the face and blending outwards. So there's barely any product on the perimeter on her face.
Fun fact: Back in the day, a lot of people used to confuse Lina and I. I don't really see the resemblance but I will take that compliment nonetheless.
I then went on to do some spot concealing with my beloved Kevyn Aucoin's Essential Skin Enhancer. Using a fine brush and a scribbling motion, I concealed any minor imperfections. I did a full review and demonstration of these product. You can click the link to hear more about it.
Lina is one of the few people I know who didn't butcher her brows during her teen years because she's smart. Kids, keep your eyebrows. I love hers the way they are but I did add a touch of MAC Brun Eyeshadow in the body and through the tail, just to polish them off the tad. A clear brow gel was used to hold them in to place. Then with a clean spooly, I did a bit of coming to alleviate any crustiness because nobody likes a crusty brow.
The eyes were primed with MAC Painterly Paint Pot. I love this stuff. It evens out any discoloration on the eyelid and eye shadow adheres very well over it. If you have particularly oily eyelids, you can easily layer these over, Urban Decay Primer Persian or equivalent. I also run it on the low lash line because I plan to use eye shadow there too.
For the eye shadows, I used all the shades from the Chanel Enigma Quad which is a neutral palette with a kick. The golden pink shade was used all over the lid and around the tear duct. This is less shimmery in person but strong lighting will do that. I asked Lina to relax her eyelid while I etched the navy shade through her crease.
For some extra definition at the outer corner, I used a deep plumy shade. To finish off the eye shadow, a neutral khaki color was blended in to the lower lash line with a smudge brush. You can take this in as far as you like but make sure to connect it with the shadow at the outer corner. Using a Q-tip, I softened the line until it was barely there. So I had a bit of fun with the liner. Instead of using black, I opted for a khaki pencil. This one is by Japanese brand THREE and it has a pink reflect, which blows my mind. It's a fantastic formula and I highly recommend the line if you're up for a little bit of a splurge. I traced the upper lash line and then used an angle brush to form a little wing.
I had false lashes ready to go because I'm a massive fan of false lashes and will take any opportunity to use them. But one look at Lina's super curly full lashes and I realized there was just no need. Instead I used one coat of black mascara on both the top and bottom lashes. Look at those voluminous lashes. I'm so jelly.
As always, I cleaned up the under eye area with Bioderma before applying some illuminating concealer. Dab that in with a finger and with the aid of the foundation brush that I used earlier. I dusted the face and the under eye area with Guerlain Meteorites. This isn't a setting powder per se, it's a finishing powder in a similar vein to Hourglass Ambient Powders. It imparts the skin with a beautiful glow and it's subtle enough to use all over.
As Lina's upper lip is a tad thinner than her lower lip, I highlighted the Cupid's bow. This catches the light and creates illusion of a more balanced pout. I created a red lip using MAC Cockney which is one of those shades that just seems to work on everyone as it doesn't lean too orange or too blue. It has a translucent quality so it can be applied lightly or built up for a bolder look, so it's very versatile. The translucency also means you can apply it straight from the bullet as it doesn't require the precision of a lip pencil or a lip brush. I'm using lip brush anyway because it enhances the longevity of a red lip.
For an everyday appropriate red lip, you can blot and go. But I built up to full opacity because I can. I used the deeper quadrants in a Guerlain Bronzer around the outer portions of Lina's face. I tend to prefer this technique as opposed to contouring for faces that are already quite angular. Using a flappy brush, the application was very light just to enhance the golden turns in Lina's skin.
Finally, I used the redden coral portion of the bronzer as a blush on the apples of the cheek. The undertones of this blusher match the red lips so it's a no brainer combination.
And that completes the look. The elements of this make up are quite balanced and classic but still fun, I think. Hopefully, this inspires you to wear a red lip in a slightly different way.
And big hugs to Lina. It was an incredible pleasure to work on your face.
Final Look
Nail polish I'm wearing in this tutorial:
Yves Saint Laurent – Parme Graffiti 13
Complete List Of Products
Lucas Paw Paw Ointment
Guerlain Lingerie De Peau – 03
Kevyn Aucoin Sensual Skin Enhancer – SX06
MAC Eyeshadow – Brun
The Makeup Store – Clear Brow Gel
MAC Paint Pot – Painterly
Chanel Eyeshadow Quad – Enigma
THREE Performance Eyeliner – Eye Doll 07
Guerlain Mascara – Noir G
Rouge Bunny Rouge Luminous Skin Wand – Alula
Guerlain Meteorites – Teint Dore
Kevyn Aucoin Celestial Powder – Candlelight
MAC Lipstick – Cockney
Guerlain Four Seasons Bronzer – Ebony 08
While we're here and talking about THREE Performance Eyeliner Eye Doll 07…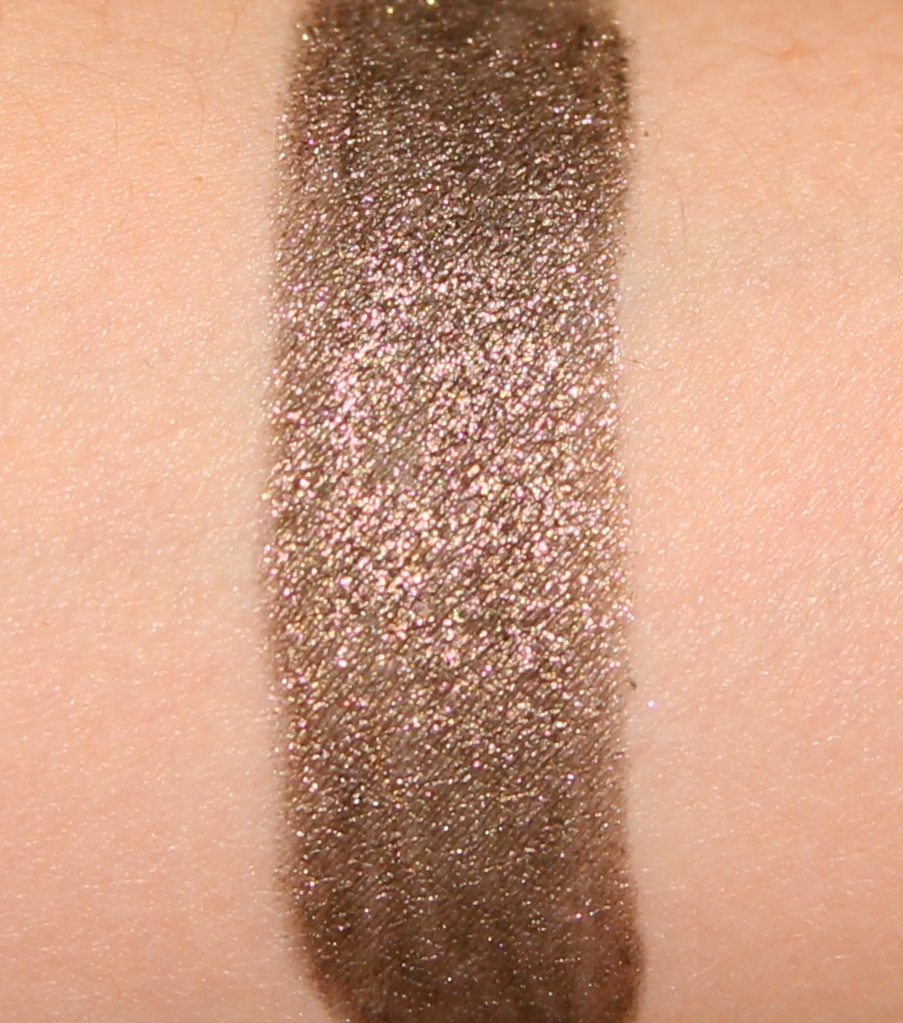 Khaki with pink reflect. And gold reflect. Ultra long wearing yet butter soft- what is this sorcery?!
xxkarima