This video is an everyday drugstore makeup tutorial AND my current drugstore favourites! Coral tones on the eyes and lips for an easy Spring look 🙂
I hope you enjoy it and let me know your favourite drugstore products in the comments below (in case I missed any winners!).
View Video Transcript
Hello, everyone. Welcome back. Today, I'm doing a heavily requested video. This is an everyday drugstore make up tutorial. I do read all your comments. Thank you to those who leave requests. I have been devouring drugstores for months. It's been a very expensive experiment. I have a great selection of products I really like and I would like to tell you. Let's start with foundations. Drugstores have really up their game on the foundation front. For matte option, I really like the L'Oreal True Match. This has a great medium buildable coverage. It's quite silicone heavy. So it functions as a primer in a sense that it fills in the pores and really evens out the texture of the skin. This also have a really good shade range. I think it's about 20 shades. I also really like the dewy version, the L'Oreal True Match Lumi and for satin finish, I really like the Bourjois Healthy Mix. This also has a medium coverage and it's quite silicone laden. Are you sensing a trend here. I'm going to be using this one today.
I'm also going to mix in a pump of the L'Oreal Lumi Magique base. I purchased these because it seemed to be a similar concept to my beloved Chanel Le Blanc de Chanel. I want to say that it's a dupe but it functions in a very similar way, lots of luminosity without any greasiness or shimmer. And shade 52 in Bourjois Healthy Mix also has a bit of a green cast so it's great for those of us who are a little bit oilier. Okay, I'm not going to set up for the moment. I'm just going to let it settle in to the skin. On to the brows, I'm actually going to be using this cool tone brown eye shadow from the sleek palette because I'm really fuzzy with brows and I haven't found a dedicated brow product from the drugstore that I really liked. So if you know of a really ashy brown pencil or an ashy brow powder from the drugstore, then do let me know in the comments. I'm really curious.
And you have to excuse the state of my brows right now. I grow out my eyebrows every few months because apparently I just like torture. Actually tried this Milani brow pen in the hope that it would be somewhat comparable to my SUQQU brow pen but so much fail. It's like a really warm shoppy with a fat nip. I don't know. I do not want. And I guess the great thing about brow powder that you don't get from brow pens is if you go a little bit too far, you can always just take a spooly and brush it out to soften. Okay, for eye shadow, so many eye shadow options. I really like the Wet N Wild eye shadow palettes. These are really pigmented and they're quite complex in color. I also like some of the shades in this NYX palette particularly this awesome redden shade. The textures of these are a little bit drier. It comes down to personal preference, sleek. Love sleek palette. I own a lot.
The issue that I had with drugstore eye shadow is the lack of matte. I can't do walls of shimmer. It makes my eyes look puffier than they already are. I need mattes to contour and this is where sleek really excels. They have a great selection of vibrants, neutral, shimmers, mattes, everything you could possibly need. They do tend to be a little bit of powdery in formula but with the right application, it's totally workable. I'm going to use the sleek storm palette which is a good everyday neutral palettes, the same palette I used on my brows. This time I'm going to take this midtone came shade and I'm just kind of fluffing that all over the lid and in to the crease quite roughly. I'm just adding a little bit of depth to the eye in the crease area. I'm actually going to take a little bit of paper towel and just place that under my eyes while I blend. As I said, the sleek palettes are just a little bit powdery and this will catch the fall out. I also prefer paper towel to caught in because it doesn't link all over your face.
Next, I'm going to take that slightly darker brown and just etch that through my crease for a bit of extra depth. I'm also pushing that on the outer third of my lid. Okay, next step is totally optional but I'm just going to take a little bit of that black eye shadow and push that on the outer corner where my lid and my crease meet. Again, this is just to address the puffiness of my eyes. Okay, for the lower lash line, I think I'm going to take this gorgeous shimmery brown. If you find that your lower lash line is puffy or elevated, then you may opt to use a more matte shade here, as that will recede the area. This smudge brushes are really great for the lower lash line. They're my favorites for the lower lash line because once you've applied your product, you can turn the brush on its side and blend it out.
And finally, for the eye shadow, I'm going to take this rose gold shade and I'm just going to use my finger to pat that over the inner half of the lid and also the tear duct. Okay, for eyeliner, it's a toss up between the Rimmel Scandaleyes and the Milani Liquid Eye. I think that the Milani wins by a little bit because I think the texture is a bit soft and it doesn't scratch my water line, and it also wears a little longer. And I'm just going to tight line with that. I do find that this pencil migrates a little to the lower lash line throughout the day but the only eyeliner pencil that I find that doesn't do that is the Rouge Bunny Rouge long lasting eye pencil, so I'm not terribly concerned. Concealer wise, I found that lot of drugstore under eye concealers are very light reflective. Two good examples, the Maybelline Dream Lumi and the Maybelline Age Rewind. I love these for facial highlighting because the texture is really thin and it doesn't sort of cake up or get heavy on the skin. If I use them too liberally under the eyes, I do get a bit of that reverse panda fix, so I'm going to be using the Maybelline Fit Me concealer today which has a little bit more coverage and it's not quite so light reflective.
The coverage of this one is actually pretty decent that takes a medium coverage and I find that it wears quite nicely throughout the day. It doesn't settle or crack. I think I need to readdress this shade though because I think it might be a touch too yellow under my eyes. I also find that the Maybelline Fit Me concealer is great for facial concealing. So I'm going to put a little bit on my nose because I am so flush today, it is ridiculous. Has this happened to anyone else? I'm not particularly warm. I'm just very rosy. Okay, that's as good as it's going to get. Let's all ignore the fact that I'm beet red right now. And let's move on to mascaras. Probably the easiest place to transition to drugstore, there are so many great mascaras out there. I really like the Maybelline Full and Soft, that's just a classic for an everyday fluttery lash. I also really like the Cover Girl Clump Crusher for separation. And for volume, I actually really like the Giordano Best Lash Extreme. Kudos to Lauren Curtis for this recommendation. I see people having very polar opinions on this one. It's a very extreme lash. It loads the hair right to the tip and that loaded look is not for everyone but on occasion, I quite like it.
And if it starts to look a little bit too loaded for my liking, I just take a clean spooly and comb out the tips. Okay, so now my face has returned to normal human coloring. Let's talk about blush. Guys, guys, oh my God, Milani Luminoso, I know. I know. Everyone talks about this one with a good reason. I think this might be my favorite blush of all time, high end drugstore across the board. It's somewhere between a blush and a highlighter but I'm so fuzzy about shimmer on the face and Luminoso nails it. Sometimes shimmer can pick up on the pores and the pitch fuss and texture on the skin, not this. The shimmer is so refined that it registers as more of a sheen than anything else. I actually have a Tom Ford blush in a similar color family to Luminoso. This is Love Lust, and I think that the shimmer in Luminoso is more refined and more elegant than that of Love Lust. It's one of those products that really leaves out to the height and I will stop now, okay, okay. I love you.
And now for lips, this is my personal favorite category. I've so many loves. Maybelline Vivid, amazing neon shades and really hydrating formulas. I also really like the NYX matte leap creams. They come in a ton of shades and the paler shades do pick up on texture, FYI, if you have chapped lips like myself, but otherwise a really amazing formula. And for my Australians, oh Australia, Sportsgirl lipsticks. Freakin' fantastic matte formulation. Great selection of shades and they're like 10 bucks. Just do it. This one here is my favorite because coral and it's called Fruit Tingle. Just look at that vibrancy. Isn't that such a great coral? And this was meant to be an everyday make up tutorial. Okay, let me just blot that. And before I finish, I just feel the great urge to put some of these Luminoso on my eyes and all of my body but I mean I'm going to stick to the eyes here, adding it to the inner half to mirror that sort of that coral tone. Oh yeah.
And that is my everyday drugstore face. I had too much fun filming this. If you enjoyed it and you would like to see a more dramatic evening tutoring using drugstore products, then let me know by giving this video a thumbs up and tell me in the comment section below. I can absolutely do that. I hope you guys all have a wonderful day and I will see you very soon. B-bye.
Final Look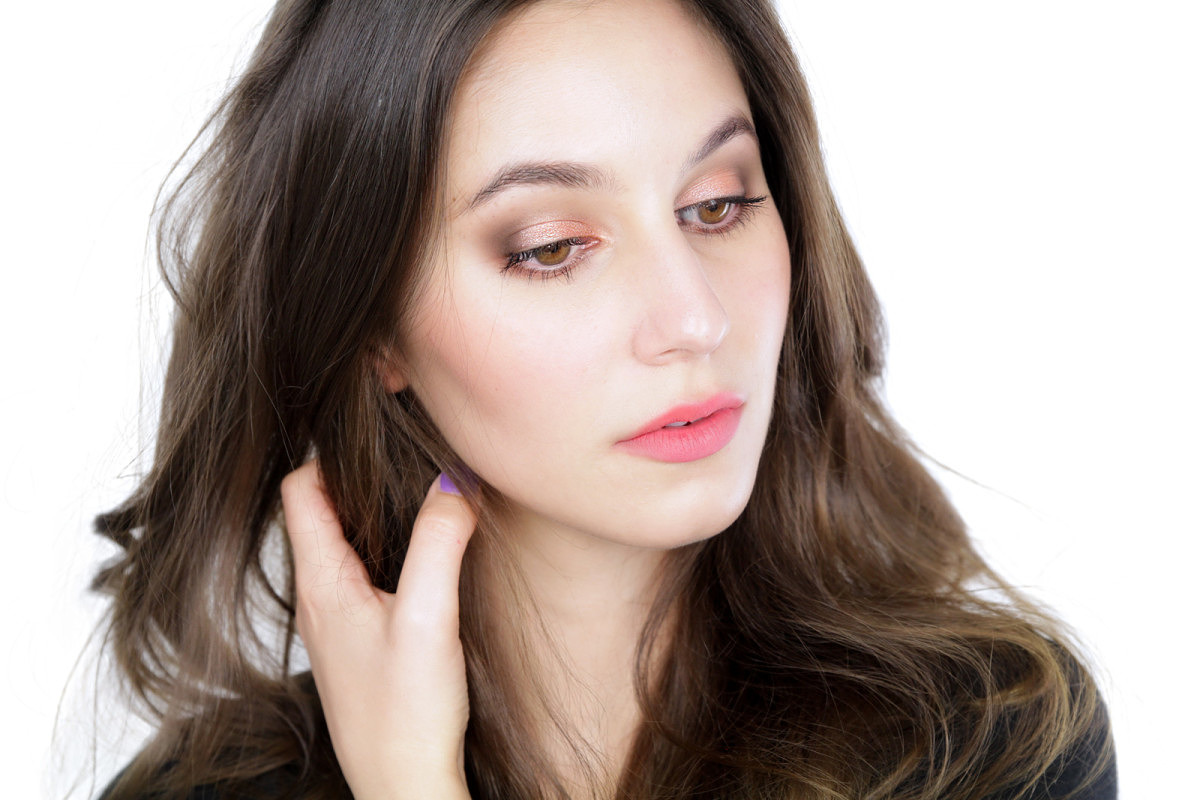 Nail Polish I'm wearing in this tutorial
YSL Parme Graffiti (a mid toned, purple creme)
Complete List of Products used
Bourjois – Healthy Mix Foundation in No.52
L'Oreal – Lumi Magique Primer/Base
Sleek – Storm 578 Palette
Milani – Liquid Eye Kajal in Black
Maybelline – Fit Me Concealer in Sand 20
Jordana – Best Lash Extreme Mascara in Black
Milani – Baked Blush in Luminoso
Sportsgirl – Pout About It Lipcolour in Fruit Tingle
xxkarima