Finally! I come to you a review of the entire Rae Morris Collection Brush Set, which includes 26 brushes. The video mainly discusses the shapes and the functionality of the brushes – there is plenty of nerdy brush jargon after the jump for those who are interested 🙂
1 Deluxe Kabuki – Goat fibre, 40AUD
2 Mini Kabuki – Goat fibre, 30AUD
3 Ultimate Cheek Bone – Blue Squirrel fibre, 80AUD
4 Square Kabuki – Blue Squirrel fibre, 45AUD
5 Flawless Shader – Blue Squirrel fibre, 80AUD
The Rae Plate – Steel, sitting under the kabukis. You'll need two to comfortably house the Collection Set. 35AUD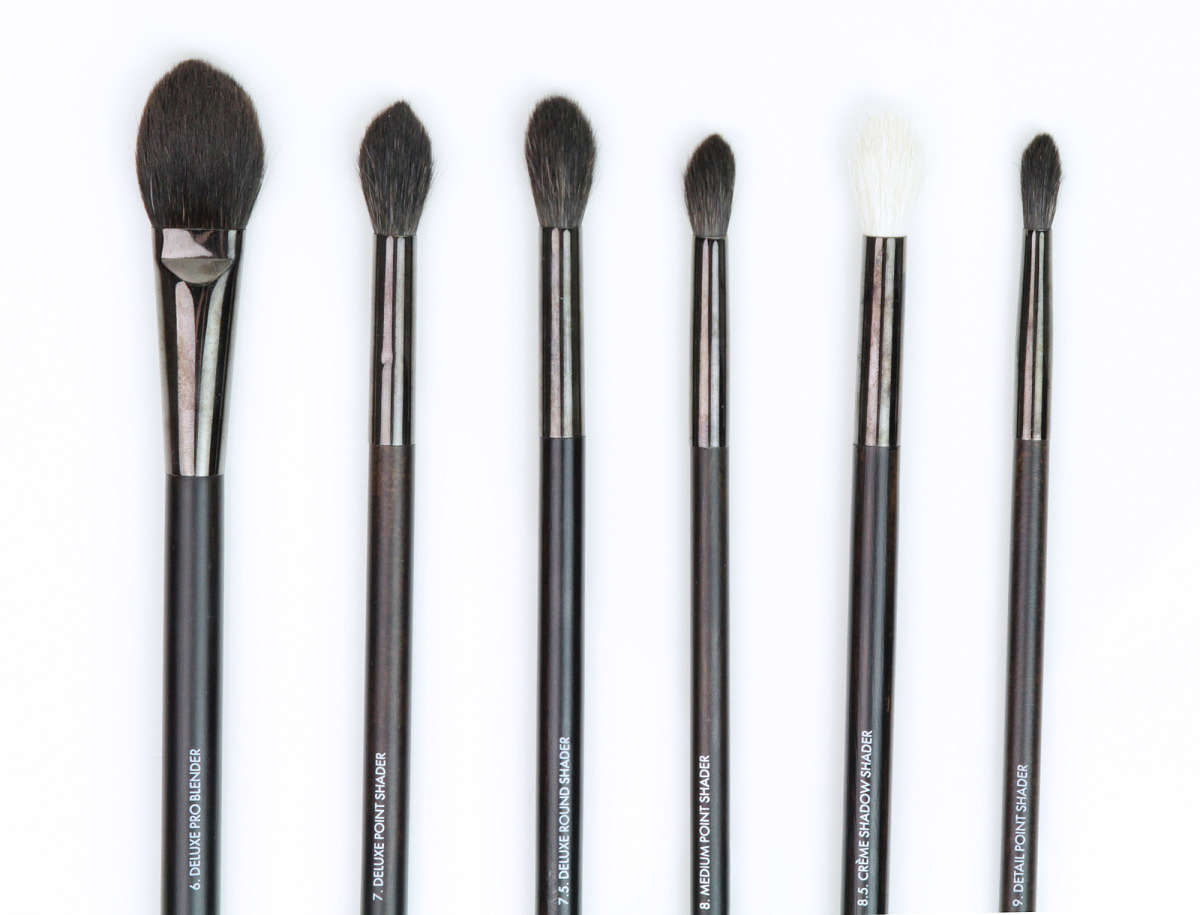 6 Deluxe Pro Blender – Blue Squirrel fibre, 55AUD
7 Deluxe Point Shader – Blue Squirrel fibre, 39AUD
7.5 Deluxe Round Shader – Blue Squirrel fibre, 35AUD
8 Medium Point Shader – Blue Squirrel fibre, 35AUD
8.5 Creme Shadow Shader – Synthetic fibre, 29AUD
9 Detail Point Shader – Blue Squirrel fibre, 29AUD
10 Deluxe Oval Shadow – Blue Squirrel fibre, 42AUD
11 Medium Oval Shadow – Blue Squirrel fibre, 39AUD
12 Lash Line Smudger – Blue Squirrel fibre, 25AUD
13 Deluxe Eyeliner – Synthetic fibre, 24AUD
14 Perfect Eyeliner – Synthetic fibre, 20AUD
15 Precision Bent Liner – Synthetic fibre, 20AUD
16 Brow Definer – Synthetic fibre, 20AUD
17 Mascara Applicator – Metal Comb, 20AUD
18 Brow Brush – Synthetic fibre, 25AUD
19 Lip Brush – Synthetic fibre, 24AUD
20 Concealer Brush – Synthetic fibre, 25AUD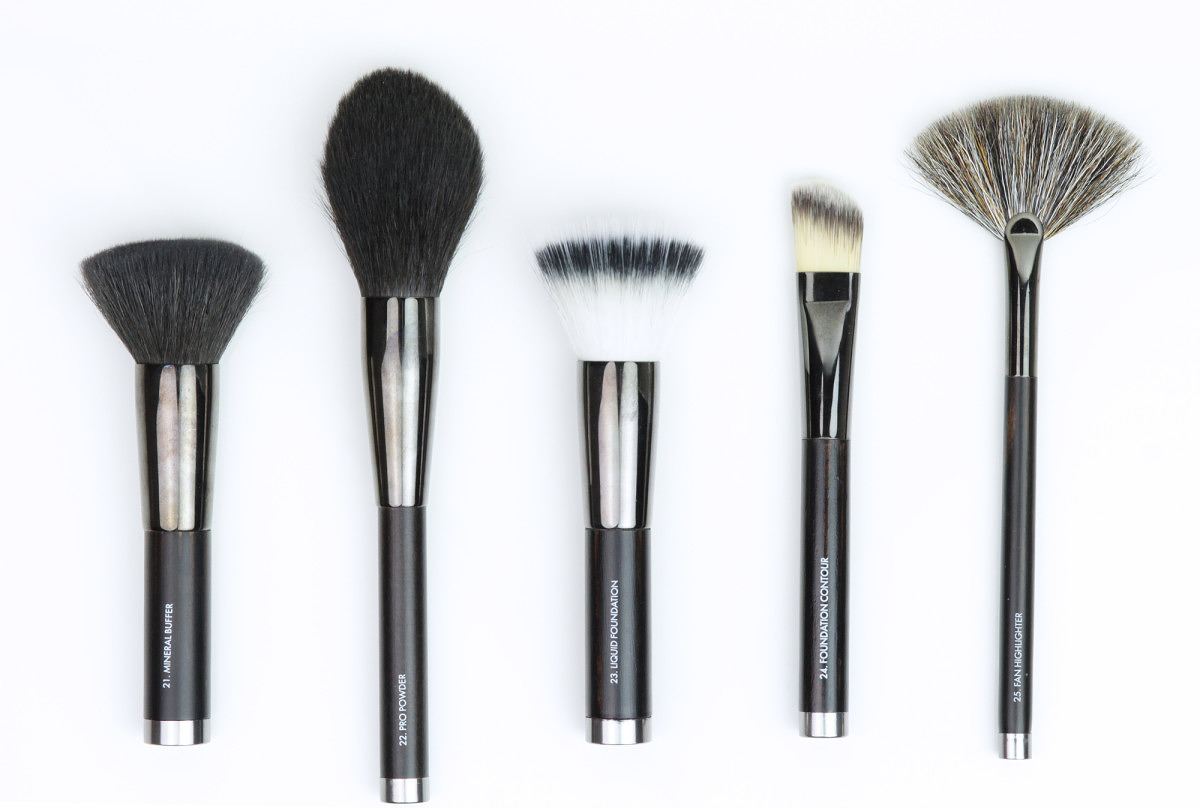 21 Mineral Buffer – Blue Squirrel fibre, 55AUD
22 Pro Powder – Blue Squirrel fibre, 95AUD
23 Liquid Foundation – Synthetic and goat fibre mix, 70AUD
34 Foundation Contour – Synthetic fibre, 55AUD
25 Fan Highlighter – Synthetic fibre, 20AUD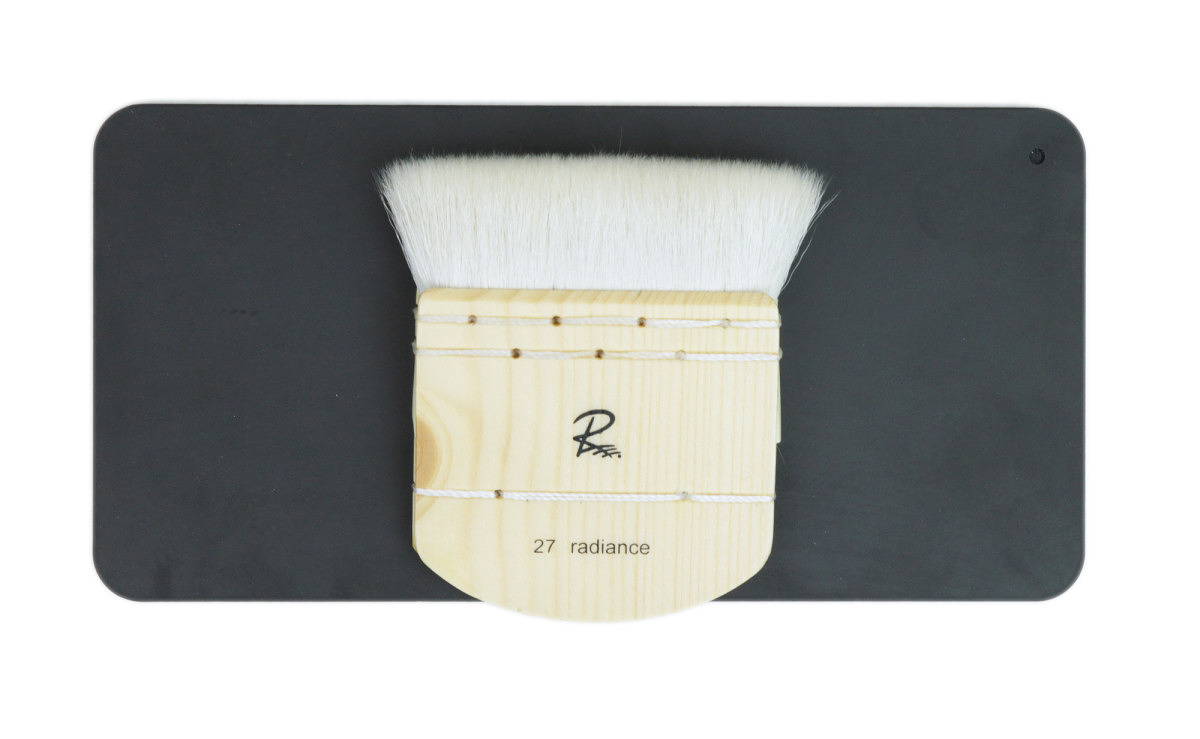 27 Original Radiance Brush – Goat Fibre, 85AUD. Note that there is also a 26 Radiance Brush, from what I understand they are very similar.
The entire Collection Set retails for 999AUD, do note that USD and AUD are no longer on par. At the time of writing, 999AUD equals ~858USD.
Need to Know Details
I enquired as to whether the bristles are laser cut – they are not laser cut, fibres are arranged to construct the shape. According the Rae's FAQ section on her site, the brushes are manufactured in China (inherently I have no problem with this, I think it's an outdated stigma) and production of all brushes is cruelty free.
I haven't noticed any shedding or bleeding. As with all my brushes, I wash the Rae Morris Brushes with the Beauty Blender Liquid Cleanser (I like this one because it doesn't sud up too much) while Rae recommends alcohol – I avoid this method but use your best judgement. I dry them upside down in brush guards and they hold their shape very well.
The Rae Morris brushes can be purchased from the Rae Morris website or Love Makeup.
Softness
Softness varies per brush. On my insanely delicate skin, the softest brushes are the Pro Powder 22 and Deluxe Round Shader 7.5. The brushes that didn't read as soft on me are the Mineral Buffer 21 and the synthetic Creme Shadow Shader 8.5, though that might be a purposeful move to fit their function and neither are downright scratchy.
Price
Price also varies greatly, some of the eye brushes are comparable to MAC prices while the large face brushes come in a bit dearer. I think the individual prices are fair and adequately reflect the quality, the price of the full set is a jaw dropper (999AUD) but it's 26 brushes yo.
The Good
As I said in the video, the shapes and functions of the brushes strike me as unique (even amongst my massive collection), I had quite a few 'ah-ha!' moments – the brushes just fit so well on faces and I've learnt new techniques and placements while experimenting.
The eye brushes seemed to get softer after a few washes which was a nice surprise and the magnetic feature that once irked me now works really well with my studio setup. The brushes are a good weight; if recall with her first launch of brushes, they were a little light for my liking. They've improved 100% since the redesign actually, don't be deterred if the previous set didn't tickle your fancy.
Critiques
I'm being nitpicky, but that's my job right?
The finishing touches on a few brushes could be improved, I noticed a bit visible glue and the little Rae Morris signature on the base of the brushes is wearing away. Minor quality control issues but at this price point, you want perfection.
As a long time fan of the Ultimate Cheek Bone, I prefer the older style to the newer model; the former exhibits a stronger taper and therefore, a crisper contour (the new Flawless Shader 5 is actually closer to the old Ultimate Cheek Bone in terms of taper and density). This point is less of a critique and more of an indulgent whinge 😉
If you store your brushes flat, do note that they have to tendency to stick together at the base (nothing like the first launch but still apparent).
How do they compare to SUQQU and Chikuhodo etc?
I'm going to be candid, they're different to many of my Japanese brushes. I inspected the Rae Morris Blue Squirrel Brushes (Pro Powder, Point Shaders) against the Grey Squirrel SUQQU and Chikuhodo counterparts and noticed that the shape seemed more refined on the Japanese brushes, the Rae Morris fibres don't seem as carefully arranged. I don't feel as though that affects their function nor do I think it's a fair comparison since the SUQQU/Chikuhodo brushes are more expensive, but I thought I'd mention it because I know you will ask 😉
I also noticed that the SUQQU and Chikuhodo bristles seemed glossier than the Rae Morris, although they're not the same fibre so perhaps a moot comparison.
The Blue Squirrel eye brushes are similar softness to the Hakuhodo Blue Squirrel models, thumbs up there. The Rae Morris Kabukis are actually softer than the Hakuhodo Goat Yachiyos.
Wayne Goss brushes are a different animal altogether, although all round I found the Rae Morris shapes to be more unique. There is no comparison between MAC and Rae Morris brushes: the fibres are much softer, the shapes far more inventive and the craftsmanship is superior.
Overall
I thought the brushes were lovely when I received them but the more I used them, the more impressed I became. Quite a few have made it into my daily must haves, namely the: Pro Powder, all three liner brushes, the Lip Brush, all three Point Shaders, Deluxe Round Shader, Fan Highlighter, Medium Oval Shadow and Flawless Shader, although I'm sure that is apparent from my recent tutorials!
I'm thrilled to have tried the entire set, in hindsight I would have overlooked some of my favourite brushes if I had chosen a handful at the counter. They're not cheap, but overall my feelings towards the Rae Morris brushes are overwhelmingly positive (dem feels tho).
Other Resources
…that you might like to check out.
Sonia from Sweet Makeup Temptations produced an incredibly thorough review of the Rae Morris Collection Brush Set. Seriously though, hats off to her.
Chloe Morello has some interesting insight in her Youtube review of the Collection Set.
Shameless plug – if you're new to brushes, check out my post: Why Pay More for Makeup Brushes?
Questions?
Clearly I haven't covered it all, but I'll stop here in the interest of keeping things short(ish) and sweet. I'm sure you have additional questions – do leave them in the comments section below! I'll answer them all, I promise 🙂
NB: The Rae Morris Collection Set was provided for consideration. My job here is to be a critic and I'm especially critical where products are costly because I really value my audience! I had free reign with this review, no obligation to say positive things at all. I am not compensated for this video or blog post.