I get a fair few questions regarding my skincare and foundation base routines so this post will detail my current routine!
Background on my skin:
My skin lies somewhere between combination and normal, my cheeks are drier than my t-zone. I'm not particularly prone to breakouts but I am prone to some redness and I would describe my skin as 'thin'. I have had sensitivity issues in the past but my minimal routine has eradicated this.
Skincare:
My skincare routine is embarrassingly simple- in the past I've overcleansed and overexfoliated, when really, a minimal amount of products suit me best.
In the morning, I rinse with water and apply makeup if I feel like it. In the evening, I remove my eye makeup with Bioderma Crealine and my face makeup is easily removed with my regular night cleanser, Murad AHA/BHA cleanser (review can be found here). If you use a heavier foundation or products that are long wearing, you'll probably need a separate remover here.
I generally skip moisturiser (don't kill me!) unless my skin is acting up due to the weather, in which case I'll use Chantecaille Vital Essence.
About once a fortnight, I'll exfoliate using Kate Somerville (review here).
And that's…pretty much it. I believe a lot of people are using more products than they need, resulting in elaborate routines that are not beneficial for their skin. I'm quite well read in the skincare arena so if you have a question or would like some recommendations, feel free to email me at:
karima(at)shamelessfripperies(dot)com
and I'd be more than happy to give you my opinion.
Foundation routine:
On a day to day basis, I generally use MAC Mineralized Skinfinish Natural (MSFN) with a stippling brush to give a light coverage- I don't feel polished without it.
If I'm going to an event where I'm likely to be pictured, I'll wear a proper foundation as MSFN doesn't picture very well. In that case, I'll wear Giorgio Armani Lasting Silk (I'm currently shade 5.5 and a MAC NC20). This is medium coverage, satin finish foundation than can be sheered out and pictures beautifully. I generally don't set with powder but if you have an oilier skintype, you may want to.
I'm a HUGE fan of Armani foundations, if you're dry then I suggest Luminous Silk but for other skintypes, Lasting Silk is your best bet.
To give a good indication of coverage and finish of different base routines, here are some photos.
Bare face (eek!):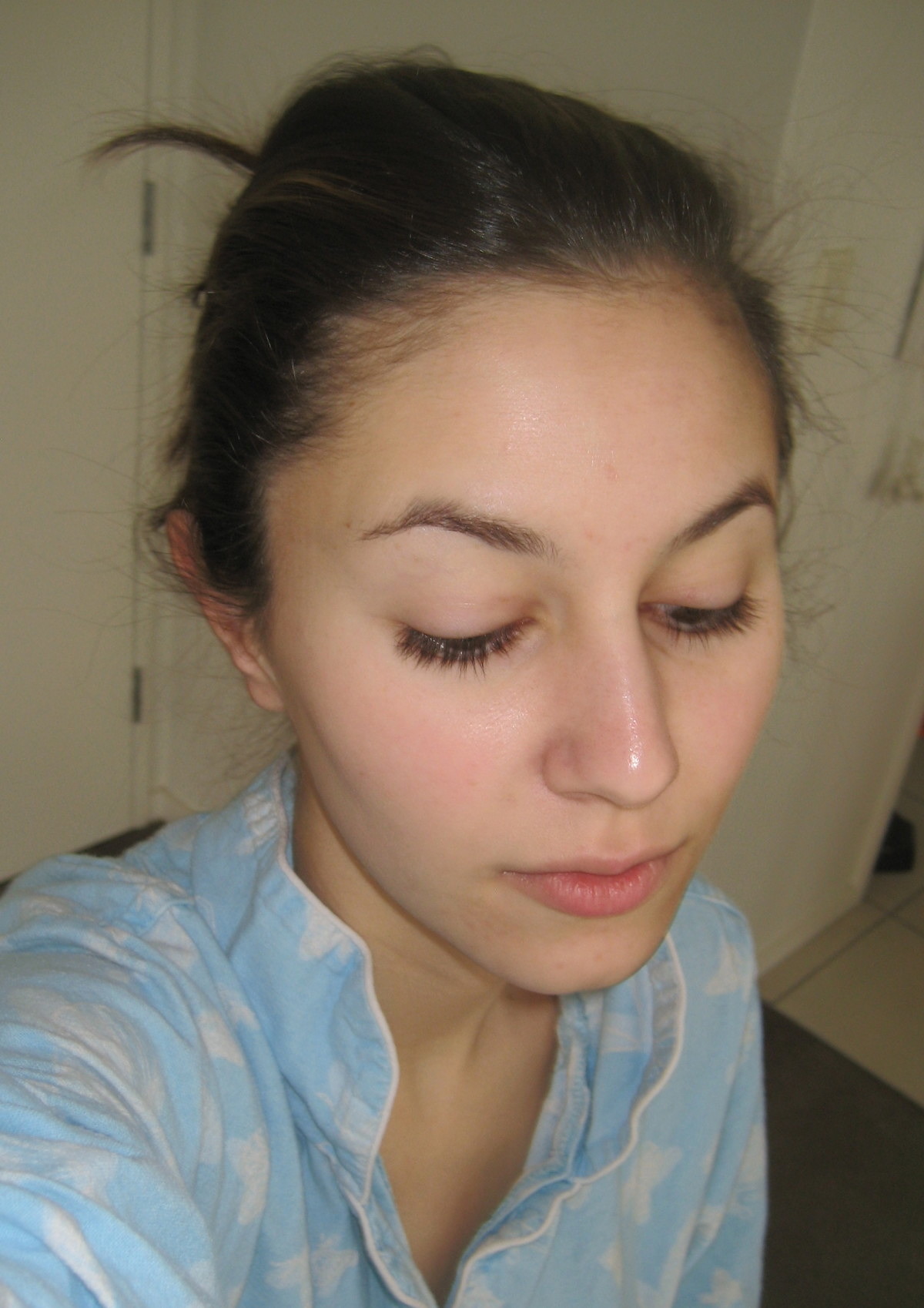 Light dusting of MAC MSFN:
Armani Lasting Silk:
And that pretty much concludes my current skin and foundation routines! Hopefully I answered any questions you may have but if I've missed something, email me or leave a comment in the box below.
xxkarima