Remember how I mentioned that I hauled Make Up Store? Watch me use the products for the first time to create a peachy/olive reflective eye look 🙂
If you are within Australia and would like to mail order this brand, you can email them at this address: enquiries@makeupstore.com.au
I purchased all these products and have no affiliation with Make Up Store, just a fan 🙂
View Video Transcript
Hello, everyone. Today, I'm back with another casual chitchat, Get Ready with Me/First Impressions. And it is inspired by some of the purchases that I made at the Make Up Store. They had 20% off for VIP members. I highly recommend that definitely sign up. I hold something ridiculous so I don't have every single product from every single category but I do have a substantial amount, so let's start. I'm actually going to start with my brows because I always start with my brows. And I'm going to revisit my Viseart palette. You saw this in my last Get Ready With Me video and I have fallen head over heels in love with this thing, the matte formulations are among the best that I've ever tried. And I'm actually going to use this to fill in my brows. Apparently, you can use this wet without any detriment to the shadow so that's what I'm going to do. I'm going to mix a few of these gray shades and a few brown shades to come up with a perfect ashy brown shade for my brows. And I finally groomed my brows, so now they're looking half respectable.
And I'm pleased to report that this works very well in the brows. And next, I'm going to take some clear brow gel. This is by the Make Up Store just to set my brows in to place. Now I have some bald spots in my brows. So what I do after I put on my brow gel is I do a brow comb over. So I know I have a bald spot on the arch of my brow so I pull these hairs across to form a comb over. I'm going to do the base a little bit later because I'm going to be using pigments. And with pigments, you will experience fall out. It's an inevitable part of life, so I would recommend doing the base afterwards. Before I start with my pigments, I'm going to use a sticky base. I always use a sticky base with pigments because it makes the eye shadows more vibrant but also it prevents them from falling down on to your base and making your base look dirty. So I actually have, what is this, high tech lighter from Make Up Store in the shade asteroid. And I'm going to be using this today as my sticky base. Oh, it's a really pretty shade. It's like a pink and coppered bronzy goodness.
I'm just taking this one just to the crease, not above. I'm now going to do the majority of my crease work and my blending. The reason that I do this first is if I tried to do all that blending after I had put the pigment on the lid, I would disperse shimmer everywhere and I really want to keep it just on the lid. So I'm going to take a smog and I'm going to puff that through the crease. I also find that approaching your crease at different angles can help to define the socket. So occasionally what I'll do is I'll actually come from above and I'll push down in to the socket. Just a thought. Give it a go. Next, I'm going to take deadly which is a dark brown. It's sort of similar to something like Mystery by MAC, and I'm going to define the outer corner of my crease.
I also think that Make Up Store does amazing matte eye shadows formulations there, really pigmented but they blend really well. That's something that I would definitely recommend from Make Up Store. If you're going to get anything, I think that the matte eye shadows are total standouts. So now that I've achieved the kind of depth that I'm looking for, I'm going to take an eye shadow that's quite close to my skin color. And any matte skin colored eye shadow will do here. What I'm going to do is I'm going to blend that just under the brow bone. And it's not going to impart much color but it will give us that really perfected gradient, and this is something that I like to do with all of my eye shadow looks regardless of what shades I'm using. I can always come and perfect that eye shadow a little bit later but I really want to get on to the eye dust. So these are loose pigments and I bought three. I think I might start with hot, which if I remember correctly, I swatched in store is sort of like a coppered pink shade. It's very reflective and pretty.
Oh my God, look at that reflective goodness, ha. So pretty. So pretty. I am much impressed. I'm going to take a MAC 219 just the pencil brush to really get in to that inner corner. [Singing] "Where did you go, my lovely?" Next, I'm going to take an eye dust in Misty Forest and I do not recall purchasing this. It was all a blur but I'm going to assume that this is some sort of green. It's not a green. Okay, like a blackened olive perhaps. Hmm, it's pretty. Okay, I'm going to perfect that blending a little bit later but I want to take the final eye dust which is called chocolate fondant. And I'm using the same brush, I'm just sort of wiping it off on a paper towel between.
Oh wow, that's really pretty. It is sort of like a deep brown with maybe like an old gold kind of iridescence. Okay, and for the lower lash line, I think what I might do is I might just stick to the mattes that I used earlier so maybe I'll take Smog first. Next I'm going to take Deadly and I'm going to push that on the outer lash line. Because I have so much going on on my upper lid, I do need to intensify the lower lash line so that it looks balance. I actually don't think that this eye looks it needs any eyeliner but I am just desperate to use this cake eyeliner by Make Up Store. I also have the mixing liquid which is in essence a mixing medium and you mix the mixing medium with the cake eyeliner. I don't know where I'm going with this and then it forms a quite pigmented paste and then you apply it. This is a bit awkward.
Maybe I should put it in a plate. Okay, so what I'm going to do is I'm going to put a little bit of the mixing liquid in my handy dandy plate. All right and the brush that I'm going to use is the Rae Morris angled brow. That's just how I roll. [Singing]. What am I singing? Do you know what I'm singing? Okay, before I put on some mascara, I'm going to use a few of my kiss clusters. I love these and it's sort of my lazy lash when I can't really be bothered doing anything to elaborate. So I put two extra short clusters towards the center of lead and two towards the outer corner so I've got a little bit of lift going on. And I'm going to pop on some mascara. This is Armani Eyes to Kill.
That's right. Okay, let's move on to the rest of the face. Now I'm going to start with foundation and I have very high hopes for this foundation. It is the By Terry – is it Densiliss? This foundation I think retails for about $200, which is like insane. I've never spent that much on a foundation before but it was for science. So the first few times I've worn this, I've worn it on a few occasions. I wasn't terribly blown away. So I'm going to give it a go again today and I'm going to use the Hourglass #12 brush because a friend of mine that owns this uses this. She likes them together. So we're going to see how it goes. I'm going to start slowly. This is also quite a big brush. I also feel like the brush has a lot of give, so it's kind of eating up the product in a way. I feel like I'm not doing this right.
All right, so in conclusion, this is my little mini review. It's not a bad foundation, I do like it. But I feel like my nose looks a little bit dry in areas and if you can see here, some of my redness is still peeking through. It doesn't quite adhere evenly to my skin. I mean by no means is this a bad foundation, I'm just being really picky but for $200, you ought to be picky, right? I don't know. I think so. Let's move on.
Back to Make Up Store, I purchased this concealer/corrector palette thingy. I don't really like face products in cake form for the most part. And I know you're probably thinking, "Well, then why did you buy them, Karima? You moron." Number one, curiosity is a force to be reckoned with, and number two, I'm always trying to prove myself wrong and hey, I've discovered some awesome price that way. So I'm going to try to take this pinky salmon shade and I'm going to use it under the eyes. Hey, that's not so bad. The texture of this is quite nice. I am impressed.
Next, I'm going to take this skin tone shade. I'm not sure that this is actually concealer. I think it might be a highlight but we're going to see how it goes. Well, I'm pretty impressed with that. It hasn't entirely concealed my under eye so but I actually think that I probably should have put a concealer over that. I don't know, I have no idea. But it doesn't look dry or cakey or anything on to the eyes so I'm actually really impressed with that. And what I'll do is in the description box, I'll let you know how it wear, so whether it creases or what not.
Next, I'm going to take a bit of my Laura Mercier secret brightening powder and just set that as I would normally. And that still looks amazing. Wow, I'm really impressed by that. Wow! All right. I am going to do a little bit of contouring. And I have again here with me Masai and for this I'm going to use my Rae Morris Ultimate Cheekbone. She has actually revamped her line so it doesn't look exactly like this anymore but from what I understand it's still pretty much the same brush. So what you'd do with this brush is you put the product on the shorter bristles, you start from the outer cheek bone, and sweep inwards.
And then if you like, you can take the longer bristles and just sort of blend them upwards and this is just I think the easiest and most fool proof way to contour. I really liked that it deposits in a small placement so you just get that depth just under the cheek bone. I really love that. And for the lips, I have this lipstick in bare. It's sort of a pinchy nude shade. I'm going to apply this with a lip brush and this one has sort of like a semi sheer consistency so it does a good job at slightly paling down my pigmented lips so that I can wear such a strong eye. But I don't feel like it blanks out my lips entirely. But I got to say these lipsticks to me smell exactly like crayons. So if you were a crayon eating child, you can rejoice.
So I was going to stop there but I've decided that I could probably do with a bit of blush. What do you think? Yeah. I think you agree with me. So I'm going to go with Milani Luminoso. I love it. I love it. Love, love, love. And I'm just going to put a little bit on my cheeks. I think that this will tie in really nicely with that pink and gold pigment. And I know that I said that that was the end but I wanted to show you guys this pencil. It's a very pale lavender eye pencil and I think that this would be really great in the waterline to brighten the whites of your eyes and I'm one of those people I just have permanently bloodshot eyes so I need all the help I can get. So now that I've put 30 products on my face, I think we are done.
I hope you guys enjoyed this. I always had a bunch of fun. I am going to go and try to take some photos of this now. But if you have any suggestions about what you'd like to see in the next casual chit chat Get Ready With Me/First Impressions kind of video, then you should let me know in the comment section below. You can always hit me up at any of my social media. I love to chat, interact with you guys. I hope you guys will have a wonderful day and I will see you very soon. B-bye.
PS: The Cover All Mix wore well. At about the 10 hour mark it looked a touch drier than upon application (nothing serious) and it didn't crease at all. Thumbs up!
Final Look
Did you want to see my haul?
Yes? Oh goody!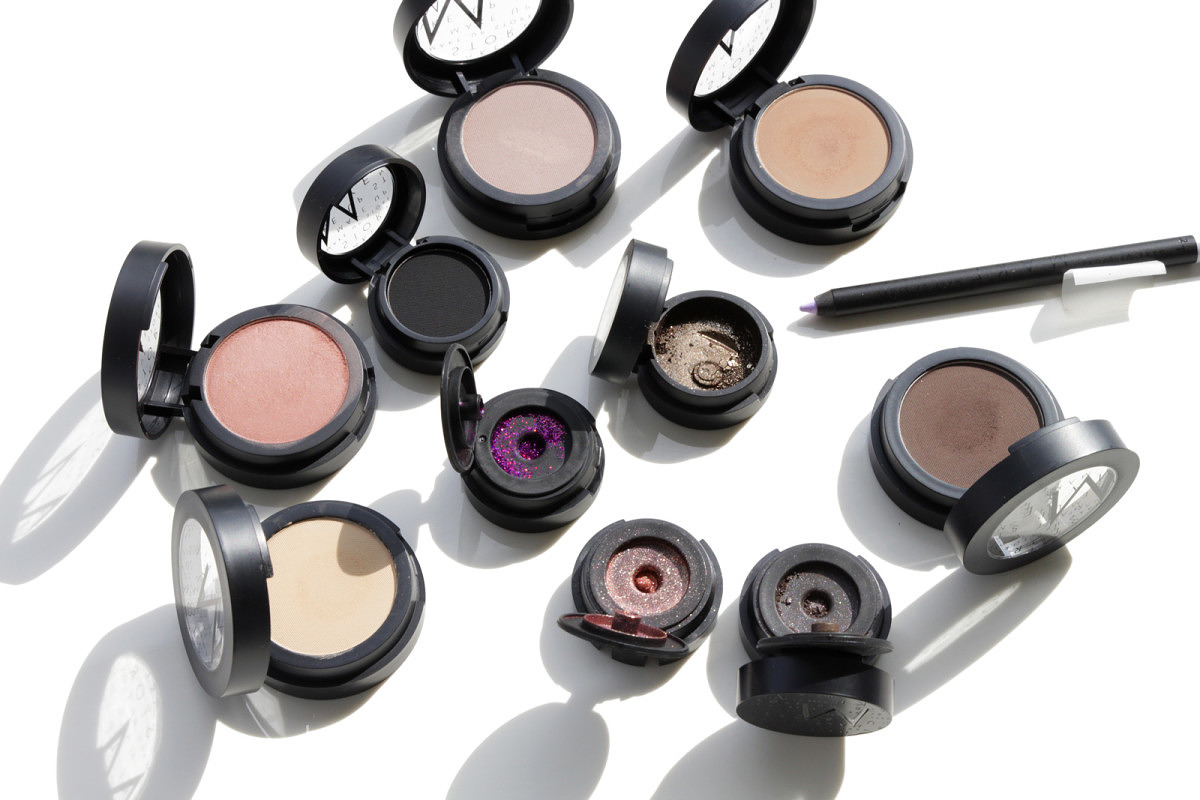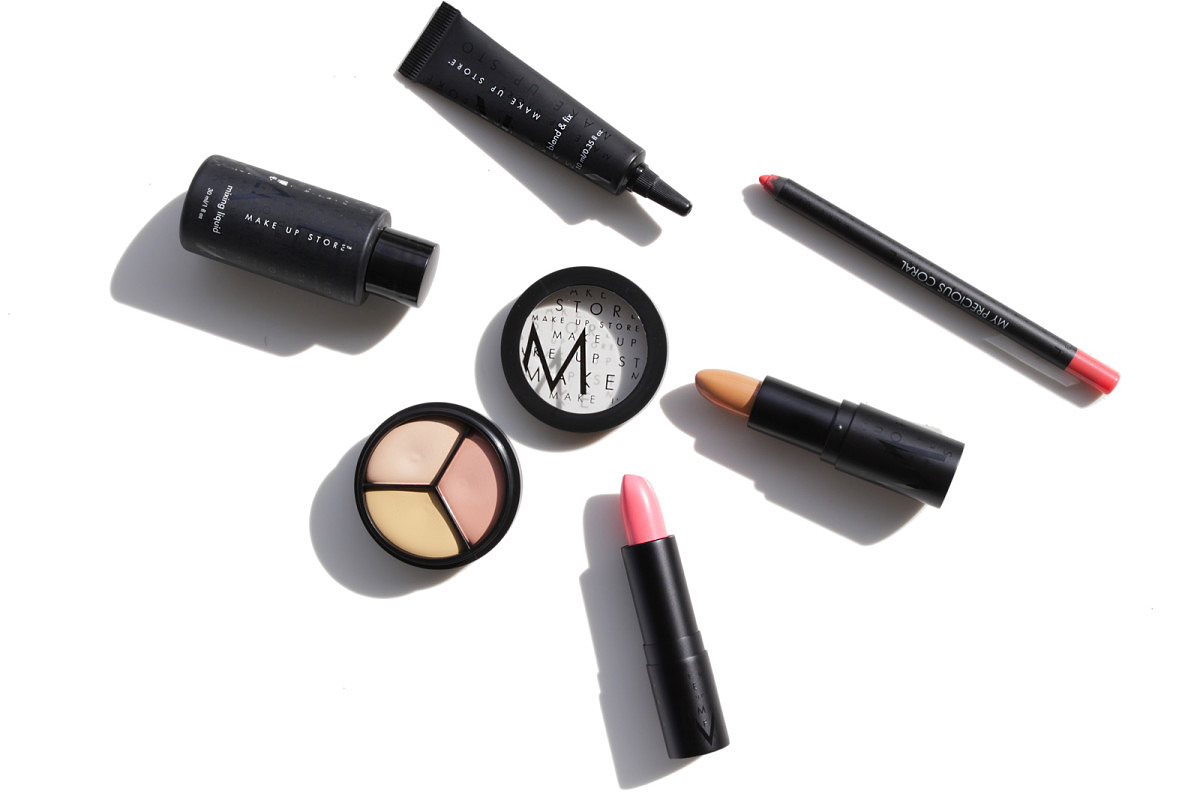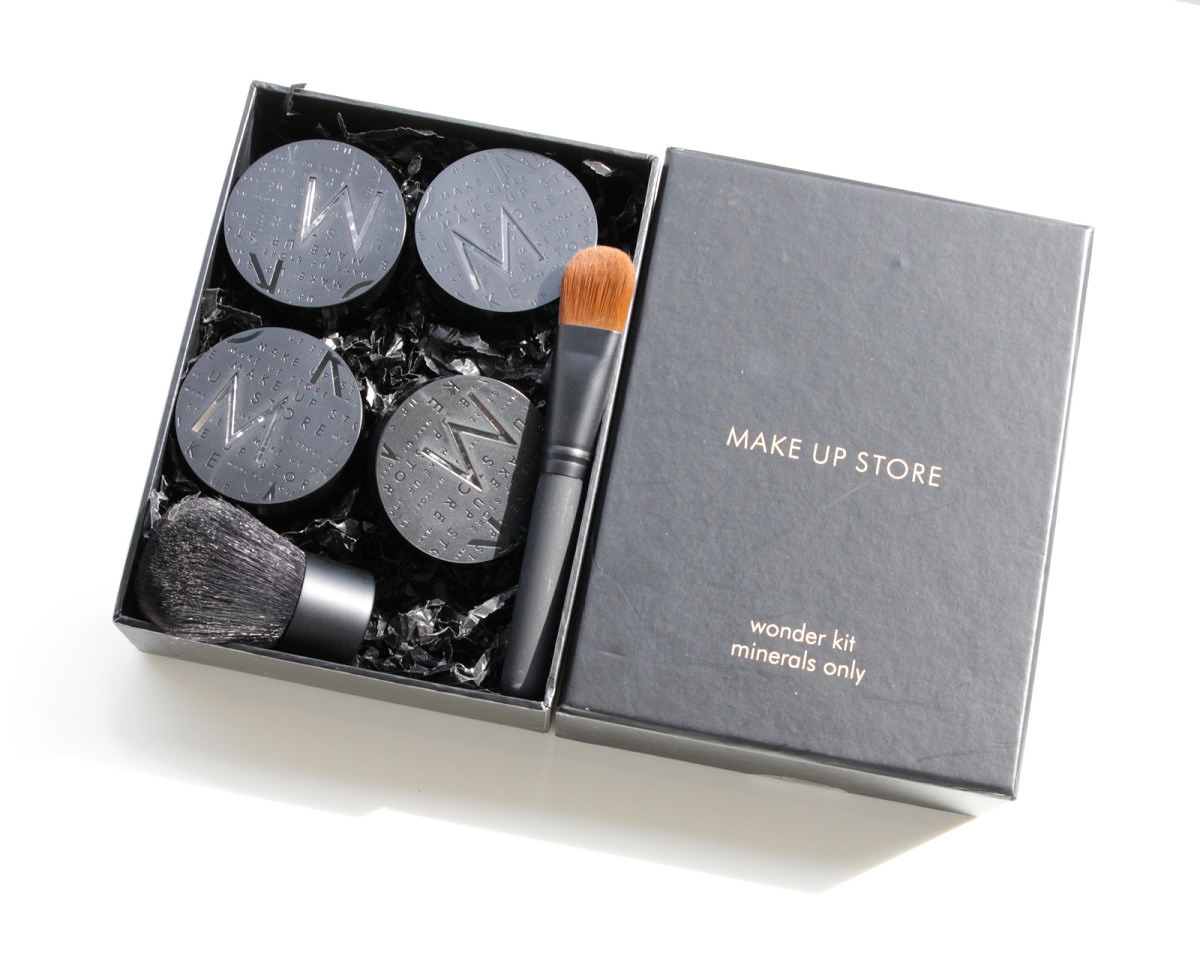 Nail Polish I'm wearing in this video
OPI Dulce De Leche (a nude, pink toned caramel)
Complete List of Products
Viseart – Neutral Palette Matte 01
Make Up Store – Brow Fix in Clear
Make Up Store – High Tech Lighter in Asteroid (Sticky, pinkened copper base. Multi-purpose product for eyes and face)
Make Up Store – Microshadow in Smog (Matte medium brown eyeshadow, neutral to warm)
Make Up Store – Microshadow in Deadly (Matte dark brown eyeshadow, cool toned)
Make Up Store – Microshadow in Desert (Matte pale sandy/vanilla, warm toned)
Make Up Store – Eye Dust in Hot (Pinkened copper pigment with silver reflect)
Make Up Store – Eye Dust in Misty Forrest (Complex blackened olive pigment, softer reflect)
Make Up Store – Eye Dust in Chocolate Fondant (Complex blackened pigment, brownish base with an old gold reflect)
Make Up Store – Cake Eyeliner in Black (Very easy to work with, you can adjust opacity)
Make Up Store – Mixing Liquid (I put this in a plate because it tends to set quickly when dispensed straight into the cake eyeliner)
Kiss Lashes – Trio in Short Combo
Giorgio Armani – Eyes to Kill Mascara
By Terry – Terrybly Densiliss Foundation in #4 (shown in my New York Haul)
Make Up Store – Cover All Mix (A corrector palette with a yellow, salmon and skin toned shade. Judging from testers, this dries up quickly so screw the lid tight!)
Laura Mercier – Secret Brightening Powder
Make Up Store – Microshadow in Masai (Fantastic contour shade, entirely matte and cool toned)
Make Up Store – Sheer Lipstick in Bare (Crayon scented, versatile nude)
Milani – Baked Blush in Luminoso
Make Up Store – Eye Pencil in Illusion (Pale lavender eye pencil, brightens the whites of the eyes)
I tried to include descriptions for those unable to acquire Make Up Store OR for those looking to purchase. How many products can one girl fit ON HER FACE?! Answer: 20.
Phew. xxkarima