Brush reviews are few and far in between on the Sham Frip, it takes many months to adequately navigate brushes to a degree that I feel qualified to review them. I then forget my intentions and the review never eventuates… Wayne Goss brushes, anyone? I will get around to that…
Chikuhodo recently released the Takumi Brush Series and imma give you my nutshell thoughts TODAY and it's not going to be a novel… more of a short story situation.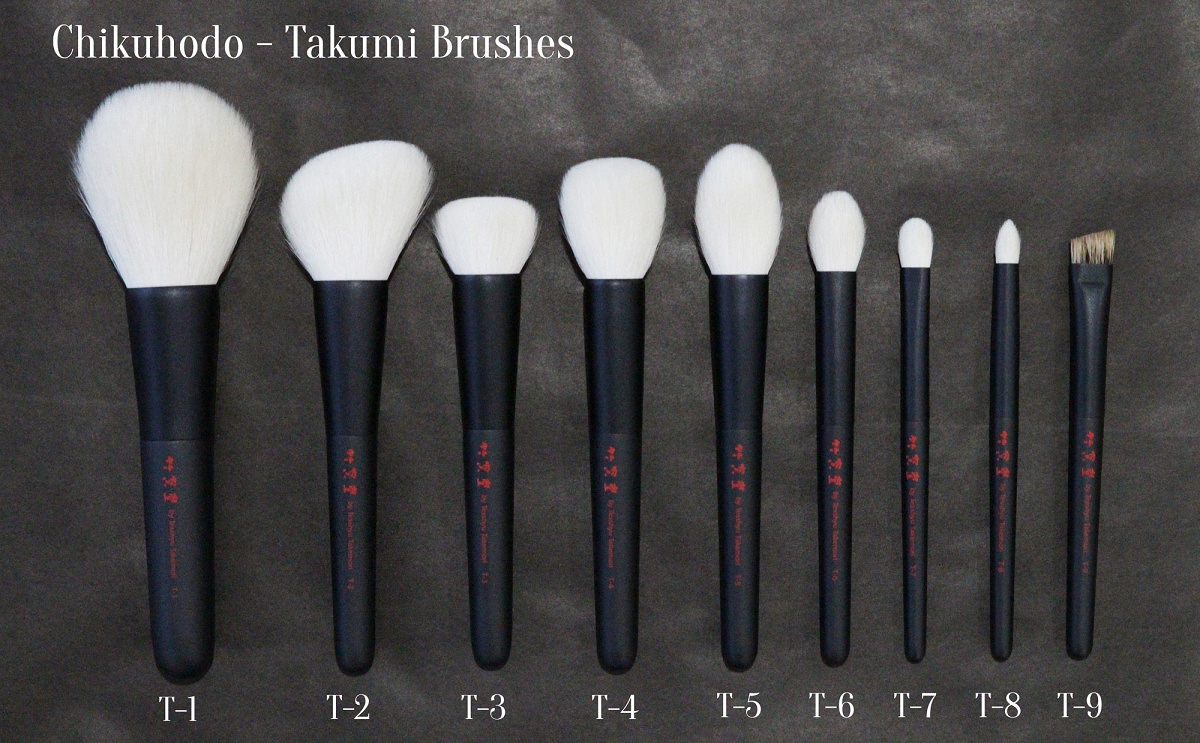 The Lowdown
The Chikuhodo Takumi Brush Series consists of nine brushes: five face brushes, three eye brushes and one brow brush. The handles are of a practical length and the brushes feel sufficiently weighty in the hand. Matte black handles are always the sexiest option (feel free to debate this in the comments) paired with red text to denote brush number.
All bar the brow brush are comprised of goat hair, which typically offers a decent amount of resistance (i.e. not floppy, holds its shape well) but generally speaking, not the softest. I was pleasantly surprised to discover that the Takumi fibre is really freaking soft – by far the softest goat face brushes I've ever encountered.
I wanted to know more about this uber soft goat so I did what any brush-lover does, I went to Sonia's blog. She solved the mystery – Takumi brushes are made with Saikoho (hair from the neck) goat fibre, considered a premium variety of goat. Goes to show, not all brushes are made equal, even within the same fibre family.
The most convenient Chikuhodo stockist is Beautylish, unless you happen to live in Japan. Good news for us Aussies – they also ship to that land down under!
The Brushes
Here is another photo with the addition of a SUQQU Cheek Brush and a MAC 217, for size reference.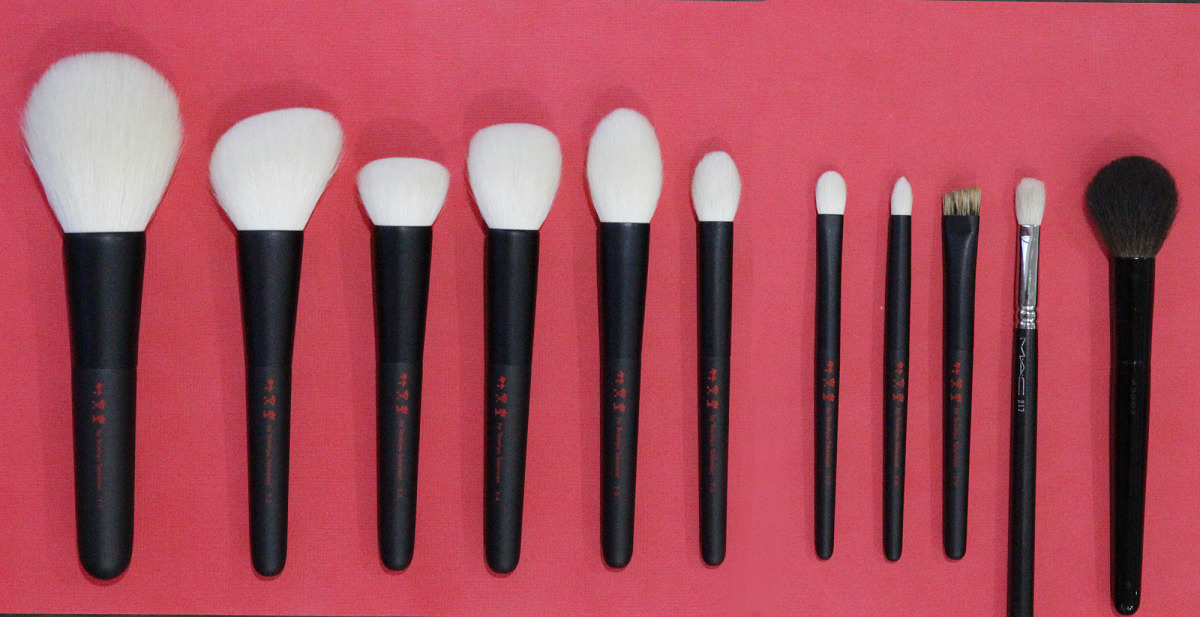 Takumi T-1 125USD // A very large powder brush with moderate density and a good amount of bounce, due to the nature of the fibre. I prefer the T-1 for diffused application of bronzer at the perimeters of my face and a final-full-face-blend.
Takumi T-2 85USD // Denser than the T-1, so provides better colour payoff. Many favour this angled shape for sculpting or contouring, I tend to use the T-2 for very sheer blushers (it packs a greater bunch that the Chikuhodo Z4 or SUQQU Cheek).
Takumi T-3 65USD // Very dense but still decadently soft, similar shape to the Chikuhodo Z3 but ~double the size. To be honest, I haven't yet arrived at the perfect purpose for this brush. I often use it to buff out a heavy-handed contour but I'll continue to experiment.
Takumi T-4 52USD // Perhaps my favourite of the bunch; the shape feels familiar, like the old MAC 109 except infinitely better in every respect. Similar density to the T-2, I actually love the T-4 for buffing mineral or powder foundation. Perfectly proportioned for more precise bronzer placement, too.
Takumi T-5 52USD // Candlestick shapes are totally underrated, ideal for: a soft contour (not that I would know), precise highlight placements, clever blush application (I love wrapping blush around the cheekbone) and even powdering small areas of the face. Slightly less tapered than the Chikuhodo Z2 and I adore both.
Takumi T-6 38USD // A babby version of the T-5 Candlestick shape and technically an eye brush, I'm a rebel so I use it to shade the very hollow of the cheekbone (I demonstrate this technique here). Additionally, a handy tool for blending stubborn crease colours. I imagine it would function well to set undereye concealer too, although I have yet to try that.
Takumi T-7 27USD // A medium, flat utilitarian eyeshadow brush that I've used for brow bone highlights, lower lash line smoking, washes over the lid. It's a jack of all trades, albeit unexciting.
Takumi T-8 24USD // A pointed pencil brush, much like the Chikuhodo Z10 and equally underutilised in my collection. I know some love it for smudging liner, lower lash line work or even mapping out a cut crease but I don't often reach for pencil shapes. It is indeed comfortable to run along the lash line, dense but soft. EDITED TO ADD: Changed my mind, have been using this a lot for smoky lower lash lines 🙂
Takumi T-9 32USD // Perhaps the only Takumi brush that I cannot foresee myself using, the T-9 is an uber large brow brush comprised of water badger. My brows are much too wimpy for a brush of this size, I feel as though it is best suited to the soft, straight Korean brow trend.
The Final Verdict
More often than not, I gravitate towards squirrel fibres for face brushes. Y'see, I have this paranoia about shifting my base makeup and squirrel is so soft and flexible – very little risk of lifting foundation while applying powder/blush/bronzer etc.
That being said, the Takumi are the softest goat brushes I've encountered; if you are a fan of the Tom Ford brushes, Takumi blows Tom Ford out of the water – superior on every level. Additionally, if you are often underwhelmed by squirrel brushes (floppy? lacking oomph?), the Takumi brushes are more sturdy and substantial; colour/intensity can be built with less time and effort.
My favourites within the set are, predictably, the T-4 and T-5. I'm partial to smaller face brushes! If you have any questions, feel free to leave a comment – I respond to every comment on the Sham Frip 🙂
xxkarima
NB: The Takumi Brush Set was sent to me for consideration. I never guarantee reviews, I was not compensated for this review and all opinions are brutally honest, as per usual.