After countless questions (and promises on my end, sorry!), let's address the SUQQU Cheek versus the Chikuhodo Z4 Cheek/Highlight debate. I've structured this comparison based on frequently asked questions.
Are they dupes?
No, they are not dupes. They are similar so when pictured apart, you could be forgiven for thinking they may be perfect substitutes. However, when pictured together…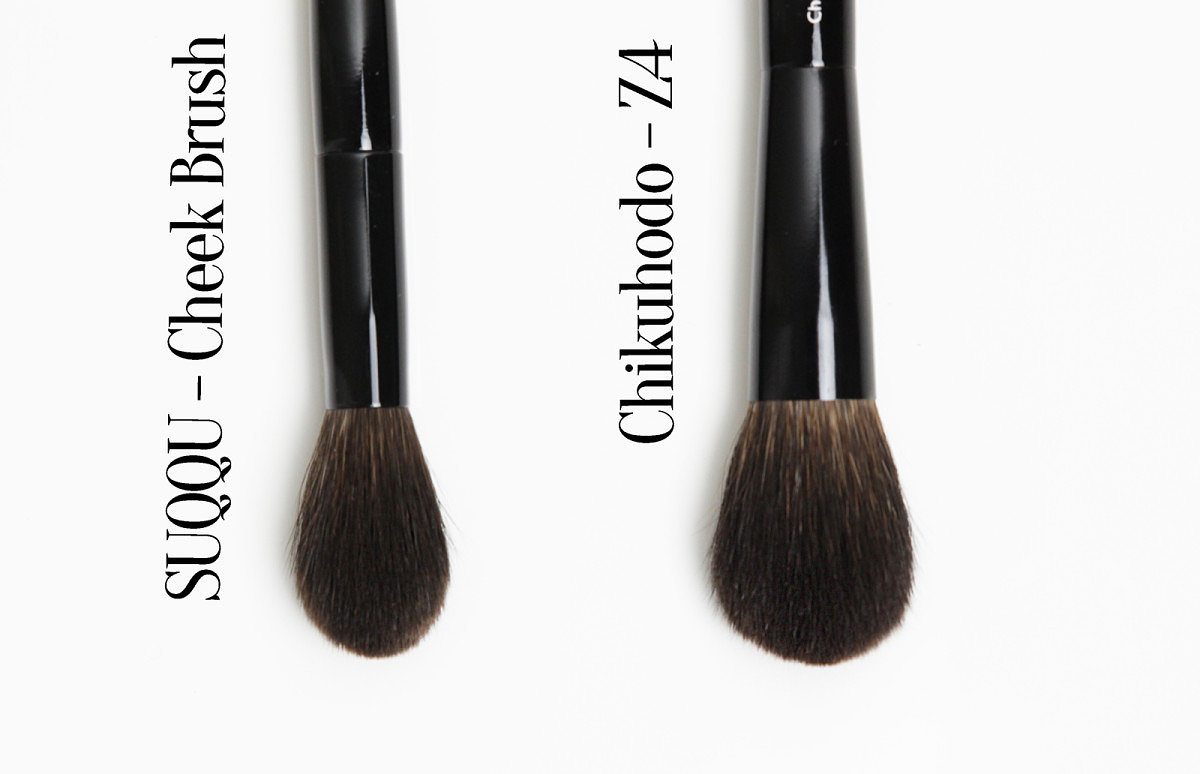 You can see that the Chikuhodo Z4 is discernibly larger and has a flatter, larger surface area of contact, while the SUQQU Cheek is more pointed/tapered. Additionally, the SUQQU Cheek has a perfectly round ferrule, whereas the Z4 is pinched; resulting in an oval footprint.
EDITED TO ADD: A super helpful commenter has brought to my attention that the SUQQU ferrule *is* slightly pinched, but the Z4 is definitely flatter. If my SUQQU Cheek bristles look a bit more rounded than other photos floating about the internet, it's because I dry it in a brush guard (lifesaver, love brush guards).
Upon closer inspection, you can see that the Z4 ferrule is about double the diameter of the SUQQU Cheek – so double the number of hairs and definitely denser. By no means would I classify the Z4 as a dense face brush, it's denser by comparison.
Both are comprised of grey squirrel and both are incredibly well made (wash well, hold their shape, no shedding – just flawless).
Which is softer?
Both are in bunny-softness-league. If I had to pick, I'd say the suqqu is a TEENY bit softer to touch. This is not a function of the fibres used (equally soft, in my opinion) but rather the density; where the Z4 has greater resistance, the suqqu has far more give and flexibility so it reads a bit softer on my face. This is me getting nit picky here.
Which is better?
Let's all huddle around in a circle. This is an important exercise. Let us erase the word 'better' from our makeup vocabulary. What's better for me may differ from your definition of better which differs to the next person. Better is an arbitrary judgement based on the three P's: Price Payoff, Purpose and the big one, Preference.
'Worth the money' also fits into this category (I'm a poor judge of this anyway, I can justify almost anything)
Which one would suit me best?
This is the real question, one I can actually help answer! Take a look at your blush/bronzer/cheek whatever stash. Are the vast majority of your products on the sheer spectrum? I reach for the Z4 when using Chanel Blushers, pale bronzers and such, you'll get a better payoff with less effort and time.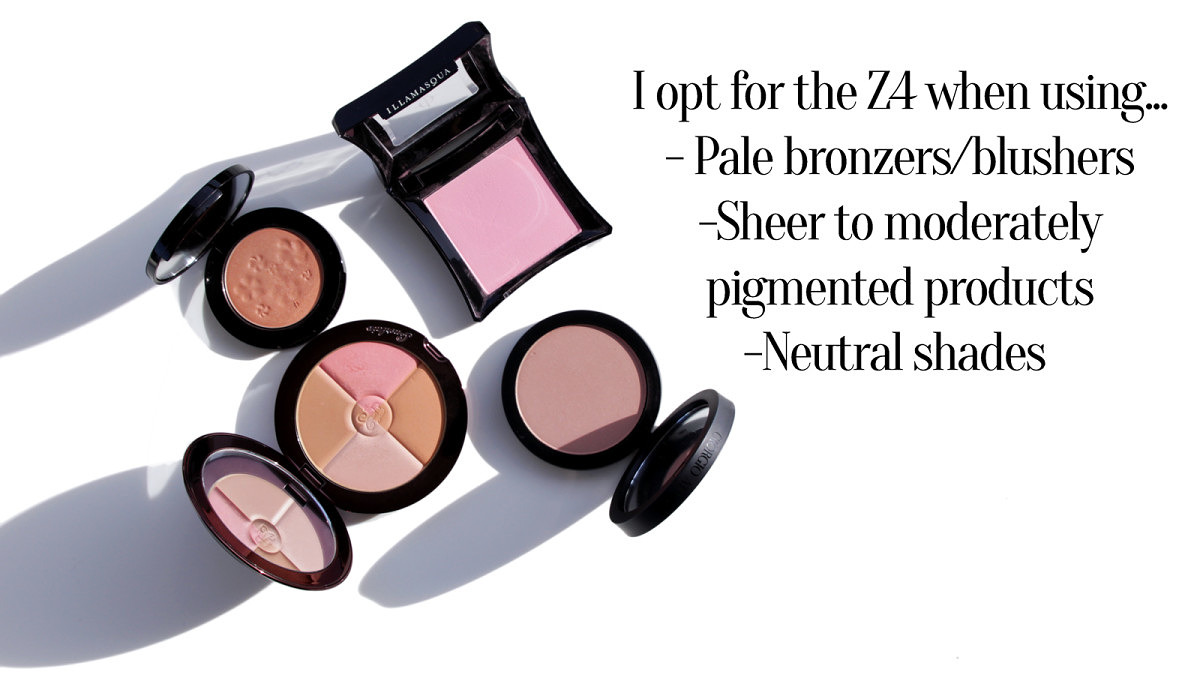 If you have a soft spot for strong cheek colours and pigmented bronzers, the SUQQU cheek will change your makeup life. As I said in the original review, the SUQQU cheek excels at pigmented/bright/strong products, as you can build colour slowly and never have to worry about blending; it does all the work.
Both are perfect for powder, I tend to prefer more precise brushes for highlight and contour but they do work well for those products, too.
Other important factors – how small do you like your face brushes? When I received the SUQQU Cheek, I was taken aback by how small it is; perfect for small features but some might find it laboursome so if you dislike small face brushes, you might fare better with the Z4 (which is still considered a small face brush by most standards!).
Which do you prefer?
Do you prefer eyeliner or foundation? I'm being awfully cryptic today, sorry, I'll stop being an asshole. Moderately pigmented blushers and bronzers, I go for Z4 – still blends beautifully and requires less building. For Guerlain bronzers, bright blushers and such, suqqu can't be beat.
Essentially, what I'm saying is that they both have their place in my collection. These two and I have my entire cheek wardrobe covered, I barely even side-eye my other cheek brushes. I'm thrilled that I own both. Frankly, I don't think you could go wrong with either and… they're worth the money 😛
Right, I'm convinced. Where can I buy?
SUQQU Cheek Brush can be purchased off either Ichibankao (postage prices included) or Selfridges (flat rate shipping is pricy but if you're located outside the UK, there is a 20% VAT reduction on purchases). Chikuhodo Z4 is available off Beautylish here.
xxkarima