I had some sort of strange anxiety about writing this review – how could I convey the magic of my holy grail foundation? What if my vocabulary fails me? What if this becomes a novel in which I confuse the crap out of everyone? Beauty-blogger-first-world-problems (BBFWP).
Giorgio Armani Luminous Silk was my holy grail foundation for yonks… until I discovered Armani Lasting Silk. I've been using the latter religiously for three years and I think it's perfect in almost every way, the fact that I continue to try other options is a matter of insanity.
What sets Armani bases apart from other foundations is that they've perfected the concept of light bouncing pigment. I don't pretend to fully understand the science behind it but all I can say is: these offer that soft focus, imperfection-blurring effect that is so sought after. The exception is Maestro, which entirely missed the boat (my boat, anyway).
I figured it would be a good idea to compare Lasting and Luminous because they're both awesome but hopefully, this would provide some clarity as to why I've found Lasting Silk to be awesome-er. I figure, after three years, I'm finally qualified to write this review.
These photos were taken in natural (and notoriously unflattering) daylight with no flash, no primer, no powder and no concealer.
Before
Observe: problem areas around the nose and apples of the cheeks, where we can see some localised redness. Do your best not to observe: any bruising around the eye.
After
Lasting Silk on your the left half, Luminous Silk on the right half. Can you detect a difference? We'll discuss it more later.
Luminous Silk
Perhaps the most raved about Armani product- this can be classified as an oil free yet dewy finish foundation. Coverage can be sheered out to almost nothing or built up to a fuller medium.
The soft-focus quality I spoke about earlier? This has it, that's what initially drew me in.
The texture is a slippery liquid, a sure sign of a silicone heavy formula. Hence, if your skin is sensitive to silicones, both Luminous and Lasting are going to wreak havoc. This silicone additive allows Luminous to glide on, concealing minor textural issues and omitting the need for a primer. I hate the term 'built-in-primer' (hello marketing) but I guess it sort of functions that way, as most primers are comprised of silicone.
I am normal-skinned and have found that Luminous Silk lasts a full 15 hours without a setting powder, no unsightly melting around the face. If your skin is more combination to oily, I predict that you will have longevity issues.
Armani foundation shades work like this: full numbers are more neutral and 0.5 shades tend to be warmer. I own Luminous Silk in shade #5 and while it is a decent match, I would prefer a slightly more yellow undertone (for reference, I believe I'm somewhere between an NC20-25 but don't quote me on that).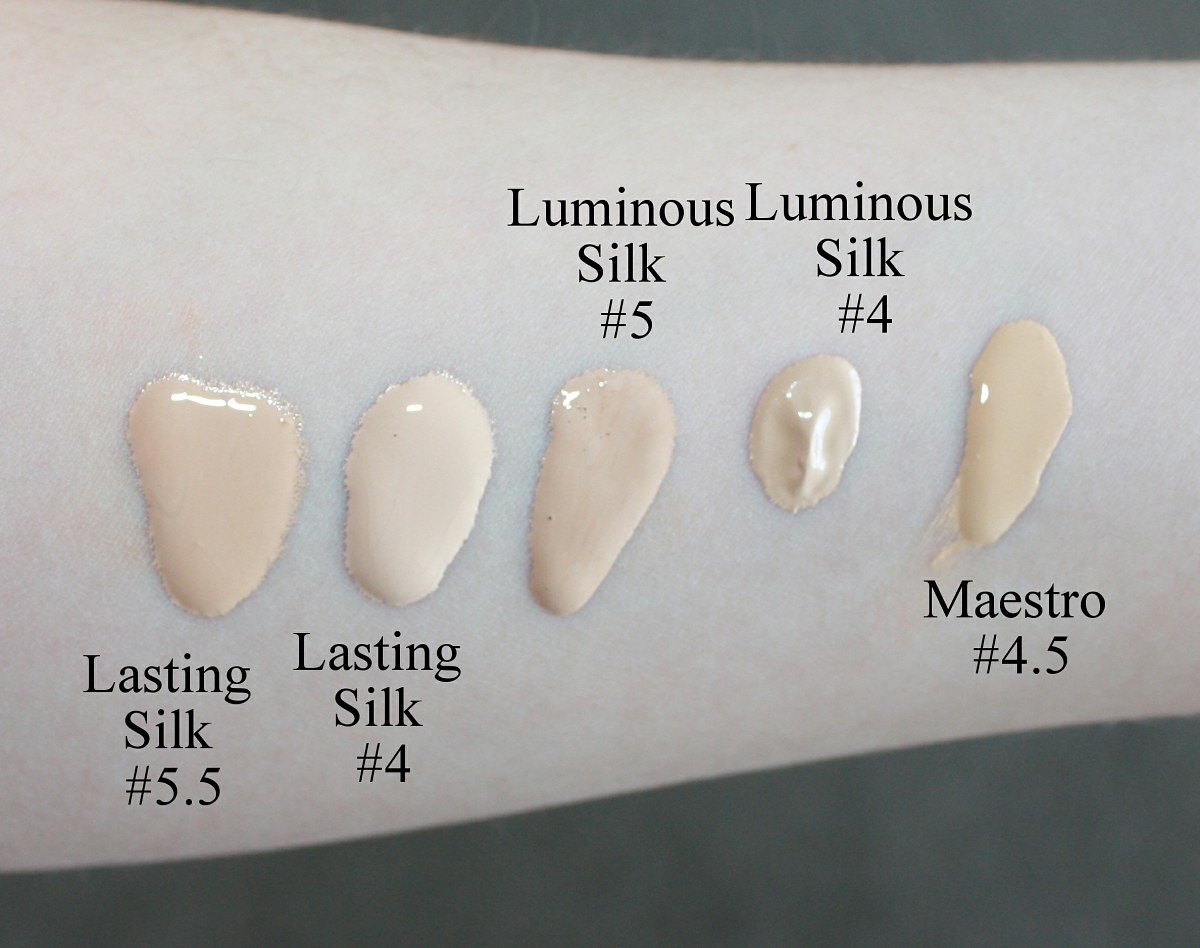 One final note on Luminous Silk – it photographs beautifully. I once worked with an incredible makeup artist who specialised in television makeup and she claimed that nothing photographed better. Something about the way it diffuses light, she said. Damn straight.
Armani Lasting Silk UV

Oh boy, where do I start. It's some sort of perfect unicorn, y'know? The end.
No, I kid.
While Luminous Silk is veers on dewy, Lasting has a distinct satin finish. I hear some people refer to this as matte and I disagree, it never appears flat or dull.
I'm back with that vague 'blurring' buzzword again, as it is even more pronounced in the Lasting formulation – it makes my skin look soft and supple and almost angelic (maybe I'm getting carried away here but you get the gist).
Lasting Silk offers a tad more coverage than Luminous but still within the medium range, any blemishes require a concealer and my irksome rosiness still peaks through, somewhat. Let's zoom in on that before and after, to get a better idea of the coverage Lasting provides.

Lasting also has a silicone heavy formula (as discussed above) to create the illusion of pore-less-ness. Neither foundation accentuates the mild flakiness that I occasionally suffer (Mandelic Peel… looking at you).
Both formulations are oil-free but include alcohol and fragrance. Thankfully, I've had no issues, I assume the silicone acts as an occlusive to keep things hydrated, but ultra sensitive skins be warned.
Shall we address the 'Lasting' element? I rarely set this foundation with powder (don't want to dull the beautiful) and it never moves. Although it has superior longevity than Luminous Silk, oilier skintypes will still crave a blot and powder at some point throughout the day.
My summer shade is #5.5 which, as expected, leans warm. Shade matches between Luminous and Lasting Silk do not perfectly correspond and this is where things get tricky- this is my ONLY beef with Lasting Silk: the spf 15 can be deceiving as it applies quite a bit lighter and deepens within the first 5 minutes. I strongly recommend wearing it for an hour before committing to a shade, just to be sure that you don't end up with some surprise oompa loompa disaster.
The SPF does produce a minor flashback (not visible in our non-flash photos) – it's nothing major but worth noting. If I were doing my makeup for my wedding (not that I'm getting married, Dad, calm your farm), I'd reach for Luminous because I'm entirely confident that it pictures true. For other 99.99% of the time, I'm partial to Lasting (this may shock you but I generally shun photography unless it's for some greater good, ie: makeup blogging).
Application wise, I apply both these foundations with my fingers, using a rolling and dabbing motion. I enjoy the tactile experience and greater control, but I've used all sorts of brushes and everything worked well. The BeautyBlender doesn't do the foundation justice, but that's really a matter of preference.
Final Verdict – In the instance that my wordiness has you seeing stars…
Lasting Silk triumphs over Luminous Silk for me because; I generally prefer a satin finish (the happy medium) and the enhanced DARN blurring effect. Pores, see ya later. In instances where I must endure flash photography, Luminous Silk takes the cake.
Both foundations are housed in a 1oz bottle with a pump, because companies producing foundations sans pumps are behind the times and it's freaking irritating and get your sh*t together.
Fellow Aussies, Armani foundations are available at David Jones for $90AUD. Pricy, yes, but I was on the same bottle of Lasting Silk for almost three years (and I used it about 4 times a week). Not bad, eh?
If Armani ever discontinues either of these foundations, there will be rage. I will egg houses. I'm serious.
xxkarima
NB: Some of the above links are affiliate links.