If you were to look at my brush collection, it would become apparent that I have an unhealthy obsession with eye brushes. Face brushes offer me very little excitement but eye brushes… gotta catch em allll POKEMON (evidently a 90's child).
This installment of reviews focuses on Hakuhodo precision eye brushes. Namely; B5510, J163H, K007 and H2339 Lip Brush (for good measure? Poorly thought out, I know).
Pictured here, left to right:
MAC 217 (for size reference, as I imagine most of you have no knowledge of Australian coins)
B5510 Eyeshadow Brush
J163H Eyebrow Brush
H2339 Lip Brush
K007 Eyeliner Brush
Let's get cracking.
B5510 Eyeshadow Brush Round & Flat Short
I purchased this under the assumption that I could use it as a smudge brush for the lower lash line (pictured next to Make Up Store Smudge Brush 112, a dead on dupe for the NARS Smudge Brush). Clearly, I hadn't done my research because this brush is made of horse hair (typically not soft enough for the lash line) and verges on scratchy.
Despite resembling a smudge brush, the rounded bristles are short and provide little resistance- great for control and packing on colour.
So I fiddled, attempting to discover an alternate use for B5510. Discover I did- if any of you recall this tutorial by Lisa Eldridge, she discusses creating a 'new lower lashline' to give the illusion of larger eyes. This brush is perfection for this purpose, the tip is tapered enough to provide a defined line of shadow, as opposed to a smudgey haze. You can view my first and rough attempt of this technique here.
Okay, so that's a pretty limited application. I've also found that it works well for a precise, under brow highlight. It performed terribly to tightline as it was much too big. At a pinch, it can be used to smudge out eyeliner or set eyeliner with a powder counterpart.
Quality wise, it is durable after washing and hasn't shed at all.
Final Verdict: C. I'm trying to put aside my love for big eyes here, because B5510 works wonders for that. I imagine that many will find that this brush is not quite soft enough for the lash line and for that reason, it lacks versatility. If you're a big fan of the technique I mentioned above and you don't have particularly sensitive eyes, purchase away.
J163H Eyebrow Brush Angled
Pictured next to MAC 266, here we have another horse hair brush. Thankfully, horse fibres make for great eyebrow brushes as the resistance allows for superior application of brow powder.
As you can probably tell, J163H is much smaller and denser than the MAC 266, so offers a stronger application in smaller areas. If you're a fan of bold brows (or if you have sad brows like myself, and need a bit of extra help) then this is the ideal eyebrow brush. That being said, those who prefer super natural brows will also enjoy this tool- simply pick up less product.
The MAC 266 frequently irritated me, getting any decent payoff was arduous and my eyebrow tails appeared undefined. Dare I say… the J163H may be my Holy Grail eyebrow brush (as far as brushes go because I'm still partial to my SUQQU Brow Pen).
Construction wise, it did soften a bit after the first wash but no shedding or complaints.
Final Verdict: A. I'd say J163H is a versatile tool for those who prefer brow powder, regardless of whether you favour a barely-there brow or ultra defined arches. I reserve an A+ for my SUQQU Brow Pen (here she goes again…)
K007 Eyeliner Brush Round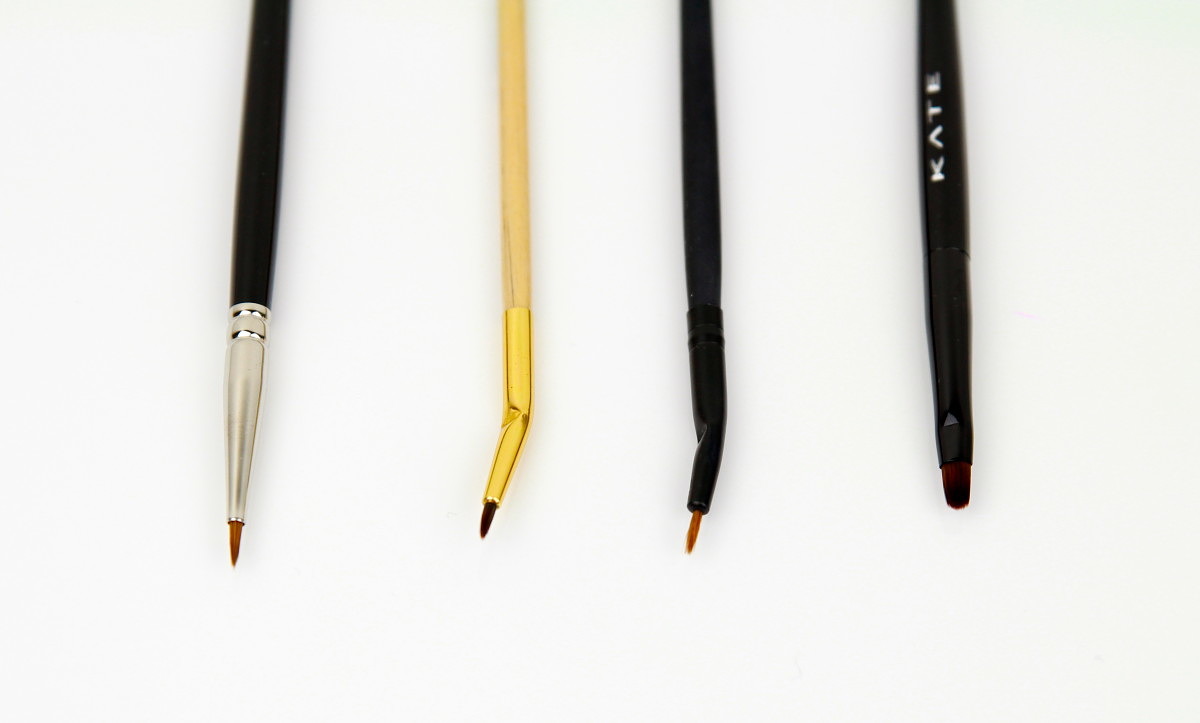 Left to right:
Hakuhodo K007
Rae Morris Precision Bent Liner
Make Up Store Bent Liner
KATE Gel Eyeliner Brush
I feel somewhat unqualified to review eyeliner brushes, as I'm not a fan of gel/cream eyeliners. I almost always opt for pen-style liquid liners. That aside, I'll do my best; this super fine eyeliner brush is comprised of Weasel hair and has a moderate amount of resistance.
I've easily constructed intricate graphic eyeliner using this brush- it's particularly good at creating fine-tipped wings. Less stiff than the Rae Morris counterpart, I find that it fares best with wet formulas- drier products cling to the fibres and refuse to transfer onto the skin.
K007 is by far the most precise of the brushes pictured above, although I still prefer the synthetic KATE brush, as the flat silhouette allows for either thick or thin application.
Good news in terms of quality and durability- K007 washes well and retains it's shape. It has been cleansed many times and as you can see, it hasn't frayed at all.
Final Verdict: B+. Objectively, this is an excellent liner brush for those fond of fine tip shapes. I mainly utilise K007 when I'm creating custom liquid liners (via a coloured shadow & a mixing medium) as it applies thin formulas brilliantly.
H2339 Retractable Cover Lip Brush Flat
My Holy Grail lip brush. Two Holy Grails in one post, quite the occasion!
Consisting of Weasel fibre, H2339 has a sleek finish, deeming it ideal for slathering on lipstick. Boasting the perfect level of resistance, lip product adheres smoothly to the lips- any stiffer and it would displace lipstick as it applies. Most importantly, the flat shape allows for precision and clean lines.
The travel friendly cap design is handy for those who reapply throughout the day but it also protects my brush roll from nasty smears (because ain't nobody got time for that).
I've always found lip brushes agonising to clean but a pre-cleanse with an emulsifying oil and this baby is squeaky clean. It has remained sleek and glossy after many washes so thumbs up to Hakuhodo quality assurance.
To view a clip of this brush in use, click here and fast forward to 8:15.
Final Verdict: A+. I can't think of anything I would change about this brush. It wouldn't be suitable for those who always apply lipstick from the bullet because…well…duh.
This was a long post! I can only imagine what greatness I could achieve if I applied this level of dedication to Uni studies. Keep your eyes peeled for more Hakuhodo reviews to come 😉
xxkarima