It occurred to me that I haven't dedicated a post to Makeup Geek? Blasphemous, I'm very fond of the brand – not just great quality for the price, great quality period.
Quick overview of my (humble) Makeup Geek stash and a token makeup look at the end 🙂
Makeup Geek – Eyeshadows
Makeup Geek eyeshadows have gathered somewhat of a cult status and with good reason: the payoff is true to pan, easy to blend, consistent formula between shades and playful colour selection. Eyeshadow preferences vary greatly but if you're familiar with the MAC formula, Makeup Geek are very comparable and in some cases, more pigmented and smoother in texture (as a loose rule, Makeup Geek Matte formula > MAC Matte formula).
At 6USD a pan, the friendly price point is a bonus – I wouldn't hesitate spending twice that!
Left to right:
Peach Smoothie, Creme Brûlée, Preppy, Frappe
Boo Berry, Unexpected, Cocoa Bear, Chickadee
Bitten, Prom Night, Mercury, Shimma Shimma
Cinderella, Gold Digger, Mango Tango, Corrupt
Lookin' a bit worse for wear but you know they're well loved. As much as I would love to evade my accounting study to swatch them all, realistically there are an excessive number of Makeup Geek eyeshadow swatches online (Marlena's in particular are accurate) but if you'd like to see an eyeshadow featured in a look, feel free to request in the comments!
Again, your colour preferences may be chalk to my cheese but my most used shades are: Peach Smoothie (a very pale matte peach, barely registers on my skintone but makes for a perfect warm transition), Creme Brûlée (a light/medium matte warm sand) and Corrupt (the blackest eyeshadow on the market hands down and yes, there is fallout from this shadow, such is life).
Makeup Geek – Blushes
As y'all know, I'm not big on blush so I find myself short of words here (rare occasion). Flattering shades, easy-peasy to blend, lasts all day on my skin and no ridiculous frost (or at least, not in the shades below). It's damn near impossible to stuff up application, each shade is sheer at first yet entirely buildable.
Clockwise from top: Smitten, Bliss, Spellbound, Honeymoon, Head Over Heels.
Feeling a bit sheepish – when assembled together, I can't deny my inclination towards soft peach blushes! My natural skin tone exhibits an abundance of pinkened and reddened tones, gimme something different.
My most used shades are: Smitten (a matte pale apricot, similar to Illamasqua Lover) and Bliss (a matte peachy coral with a very soft, almost translucent quality on my NC20 skin). I perceive that both shades will play best with skin tones under NC25, any deeper and they may appear ashy.
Makeup Geek – Gel Eyeliners
I return with my tail between my legs. If you recall, I gave Makeup Geek Gel Liners a poor review here… and here… and here :-/ I found them to be patchy, impossible to correct if your hand slipped and irritating on the waterline.
I recently fell in love with some new eyeliner brushes (Rae Morris by the way, all three of her liner brushes are game changers for me) and voila, no patchiness whatsoever, so perhaps my brush choice was less than ideal? I maintain that these gel liners are beyond indelible and require an oil cleanser for removal, bioderma on a q-tip will not cut it so hold your breath and hope for the best – there are no corrections. Beginners be wary.
I avoid them on the waterline (fussy eyes) but otherwise, I adore these liners. Sorry about earlier, Makeup Geek, forgive me?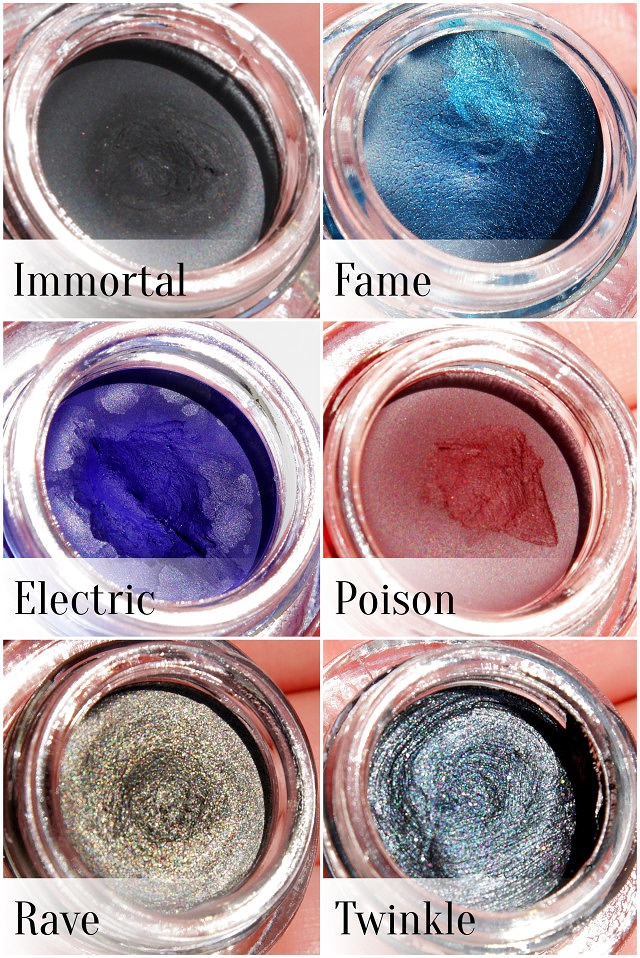 I cranked something serious to capture accurate colour depictions but GLORIOUS, no? Pinterest that ish! I reach for all, depending on my mood of the day.
Makeup Geek Look – Heavy Hazes
Heavy black shading around the entirety of the eye is less than flattering on me so to make it more wearable, I added strong highlights (central lid highlights, in this case) and bold lashes (both upper and lower falsies). Counterintuitive but this is an instance where more is more.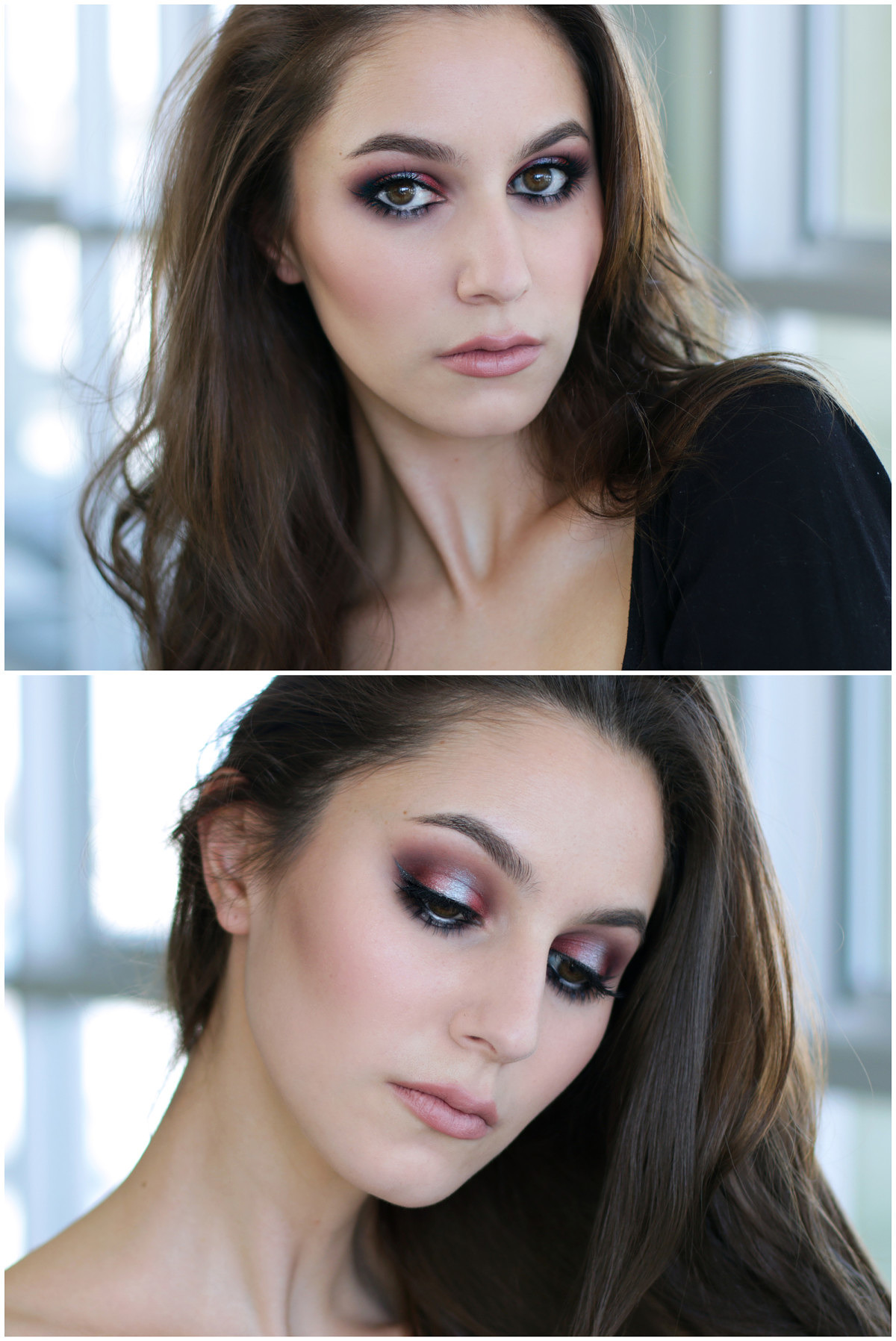 The technique here is very similar to the steps outlined in my Bright Mermaid Tutorial, I simply switched up the shades. The inner and outer portions of the lid were shaded with a mixture of Bitten and Mango Tango. I then packed Mercury on the centre of the lid with a damp brush, this shade does have a blue-tinge which refused to show up in my swatches below. Finally, a mixture of Bitten and Corrupt was blended through the crease and towards the brow in a large, diffused placement.
I am wearing blush (!?), both Spellbound on the backs of the cheekbones and Honeymoon as a highlight (this doesn't impart much flush on my skin tone).
If you look closely at the eyes, you may notice that the liner is not black but actually a reflective pewter – that is Twinkle 🙂 Pretty amiright?

I should mention that I own a handful of Makeup Geek brushes and for the most part, I find the synthetic fibre too abrasive for my delicate skin. Real Technique brushes are my preferred choice for synthetic fibres.
Ermagerd. Stop typing now Karima. What are your favourite Makeup Geek shades? I'd love to expand my collection!
xxkarima
Some of the products mentioned have been provided for consideration while some I purchased myself. All opinions are my own and I am not compensated/paid for any reviews. I am under no obligation to feature any product bla bla.