Karima the foundation critic is back with MAC Face & Body; a makeup artist cult favourite and old classic. Many months and three shades later, I bring you my final verdict.
Not the most glamorous packaging eh? It reminds me of craft glue or something and the glue comparison doesn't stop there, it also SMELLS like craft glue. Available in both 50ml (27USD) and 120ml (35USD) bottles, it is far more economical to buy Costco-style but don't get sucked in: F&B is notorious for turning quickly so opt for the smaller size if you only plan to use it occasionally (or keep the large size in the fridge and notify your family that it is not edible- seriously, my grandfather once ate my face mask).
Shade wise, F&B offers a bit of flexibility as it lacks the opaque base of most foundations on the market (semi-translucent quality, I'd say). I own the parts of the warm C range because I have yellow olive-y skin and neutral foundations look ridiculous on me; my winter match is C1 which fits my NC20 skin pretty well, if I'm looking paler than usual it's because I am! I'd eyeball C2 to be an NC-almost-30 and C6 is my bizarre shade for working on others who have enviable tans. There is also a white shade available for paler ladies and gents, if you don't mind mixing.

(click for bigger picture)
The consistency of F&B is downright odd. Let me first say that I pride myself on my ability to wrap my head around tricky textures (and sometimes shitty textures) so I was surprised that I encountered a fair amount of trial and error. It is water based so straight out of the bottle, the consistency is very liquid but you have a window of 30 seconds before the product starts to set, leaving you with a grippy/rubbery/sticky dilemma.
Remember this video? (Fast forward to the 4 minute mark)
We all recoiled in horror as Mary smacked and scrunched that poor model's face (her expression is priceless though, you must admit). Turns out, Mary's technique matches her reputation- it really is the best way to apply MAC F&B. I work in sections: dispense just enough for that section (because it's already setting on your hand yo), spread and initiate rubbing and smacking. My usual light hand resulted in patchy, uneven coverage. Moral of my anecdote: work fast.
If you cannot fathom such rigorous facial contact, then I will say that the Beauty Blender produces a more than satisfactory result but I still prefer fingers. Don't even bother with a brush, it eats up the product like cray.
Once you've conquered the application, MAC F&B is a beautiful product. I prefer it applied lightly for sheer coverage but you can let it set and apply another thin layer for medium coverage. Full coverage would be a stretch, I don't think the good people at MAC created it for that purpose.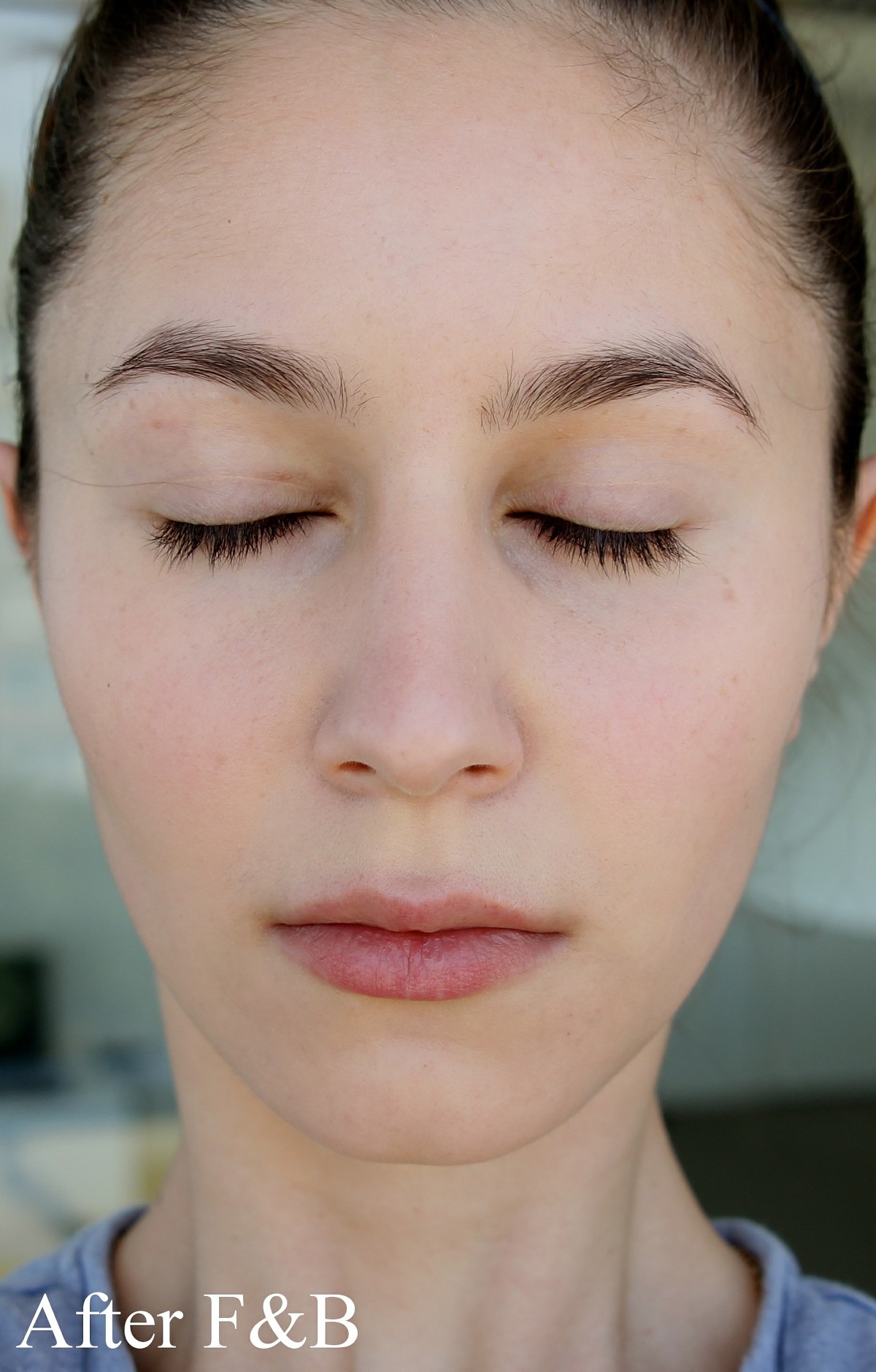 Here I've applied C1 lightly, with fingers, focusing on my flushed and problematic nose area and feathering out to nothing. It hasn't concealed all my nose-crease redness or the slight marks on my chin (leftover blemish marks) but I'm totally okay with that. As always, no primer, powder or concealer.
The effect is ultra natural; this is the foundation to fool your family and friends, the pigment is oh-so-fine and utterly undetectable. The only aspect that might give it away is the sheen, F&B is definitely on the dewy spectrum so I like to set with a powder, MAC Mineralized Skinfinish in Natural bumps up the coverage a tad but I actually prefer SUQQU Loose Powder to tone down the tackiness for a soft, diffused finish.
But dewy finishes never last on my skin, Karima. Well, much like SUQQU Frame Fix Cream Foundation, MAC F&B starts to look a bit shiny after 6 hours on my normal skin BUT it is transfer resistant and doesn't migrate, courtesy of the fill form technology (science-y stuff I don't pretend to comprehend). Drier skins can enjoy the luminosity but normal to combination skins will require a blot after 6 or so hours, while oilier skintypes will have to commit to frequent blotting and powdering, which may prove too much hassle.
I was pleasantly surprised by the fact that F&B doesn't appear to oxidise throughout the day, because that is an awful inconvenience. It also photographs relatively well but not my most photogenic foundation due to 1) the sheen, which picks up on flash and 2) the sheerer coverage, because the tale that slightly heavier makeup photographs better runs true, in my experience.
In a nutshell, MAC F&B is ideal for:
– Those who enjoy a dewy finish but detest migration and transfer.
– Ladies and gents who'd like to perfect their chest/décolleté area without having to worry about dirty clothing.
– Anyone who isn't afraid of a bit of shine, a midday blot and a light to medium coverage.
Skip it if:
– You have particularly oily skin, who wants to tend to their face every two hours?
– Some will find the application to be tedious, I will admit that it can be a problematic formula.
– You're seeking a true medium to full coverage base. Eh, there are better foundations on the market for that purpose.
Overall, I really dig the my-skin-but-better illusion that MAC F&B provides. It is a staple, albeit occasional product in my foundation wardrobe. Hence, you will find it in the butter compartment of my fridge 😀
Have you tried MAC Face and Body? What are your thoughts?
xxkarima