SUQQU Frame Fix Cream Foundation is one of the various goodies that I purchased while in Japan. My first impression was that it's a very special foundation indeed – dozens of applications later and I can confirm that it is unlike anything I've tried.
As the name suggests, SUQQU Frame Fix Cream has a creamy, dense consistency – somewhat similar to that of Kevyn Aucoin Sensual Skin Enhancer but far more pliable (and not as heavily pigmented, obviously). A pump would be useless and a waste of product, hence it is housed in a glass jar. Not my favourite packaging but the performance… totally worth it.
Token SPF emerges once again, 25 in this case. Either a pro or a con depending on your tastes, I couldn't care less.
Comprendo? Me either. If you have an ingredient list in English, be a sweet and let me know!
At a whopping 100USD for 30 grams, you'll be wanting to scrape out every last drop of product. That figure is for those lucky enough to purchase in Japan, international buyers can purchase online at Ichibankao for 127USD. It's a pretty penny…. and still worth it.
Let's talk about shade range. Diagram courtesy of Ichibankao.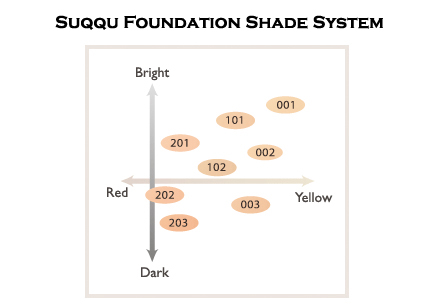 Shades preceded with a 2 are considered to have a pinker undertone, 1 being a happy medium, while 0 depicts yellow shades. The final digit denotes depth, 1 being lightest and 3 being deepest. Pretty simple, no?
I was advised time and time again that I would match 102. I dotted my chest with shade 002 and whatayaknow, seamless match for my slightly olive, winter NC20 skin. I'm just contrary like that.
(click for bigger picture)
I have a little anecdote regarding application. I first trialled this foundation while in Japan, patting it on with my fingers because a) I wanted to get to know the foundation, make friends with it and b) my brushes were on the other side of the globe. I deduced that it was a full coverage foundation with a dewy texture that seemed to emphasise the pores on my nose. So once I was home, I did something I never do – I buffed that foundation into the skin. I have always been under the impression that buffing is poor practice, it kicks up flaky skin and the brush eats all the product anyway. Well, I backpedal with my tail between my legs because sweet baby cheeses, this is PERFECT.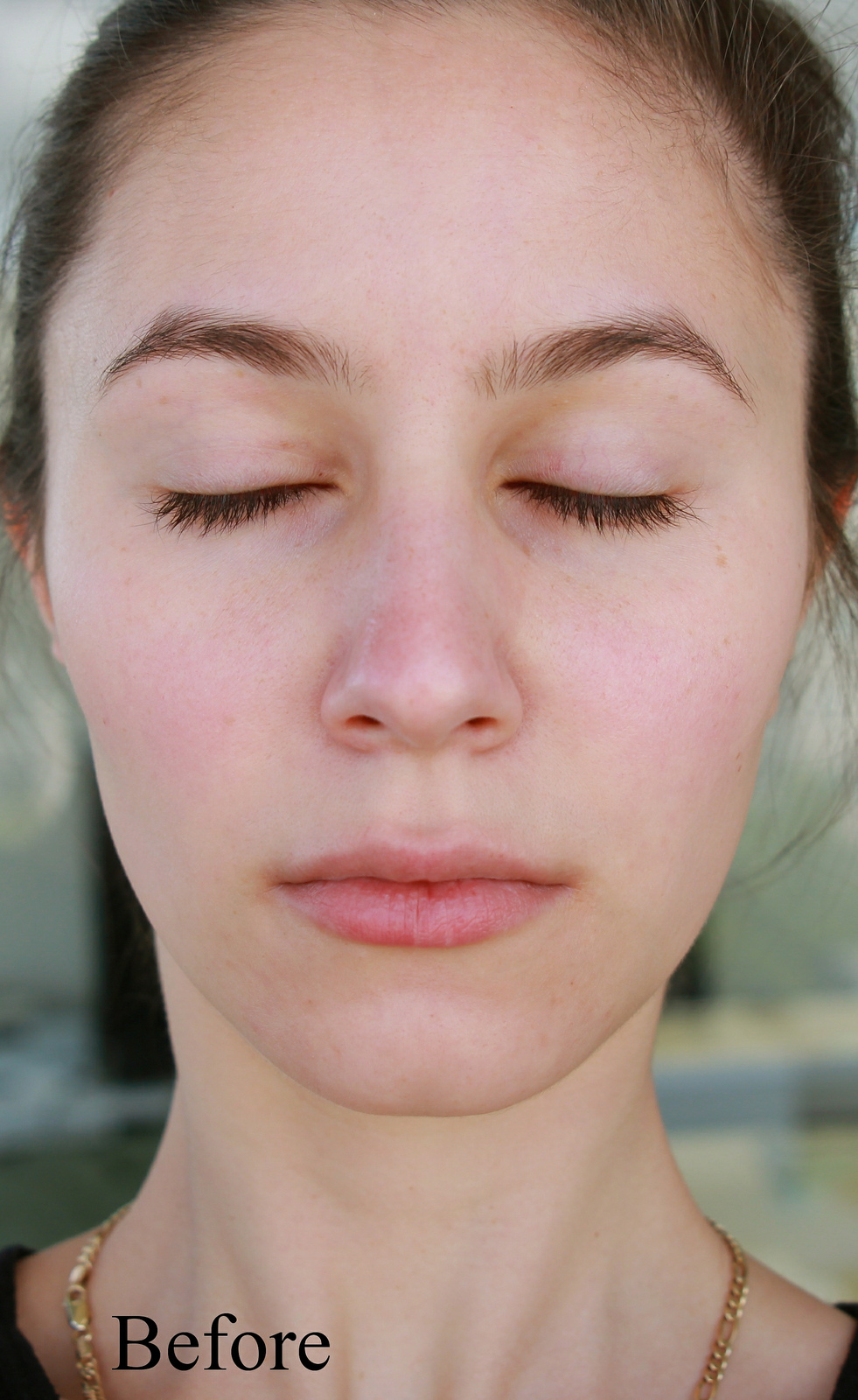 Look at that. No primer, powder or concealer. What you see there is less than half a pea sized amount of SUQQU Frame Fix Cream buffed into the skin with a Real Techniques Buffing Brush. The illusion of porelessness rivals my holy grail Armani Lasting Silk (the finish of which I described as angelic). Guise, I think this is my new favourite foundation.
I'm excessively excited and getting ahead of myself. Here's what you need to know about SUQQU Frame Fix Cream Foundation:
– It's a high coverage foundation. I prefer a sheer coverage yet gravitate to high coverage bases. Why? Because I can thin the layers down to almost nothing, which is far less detectable than piling on the tinted moisturizer (nothing against those, FYI).
– It's a dewy finish foundation. Luminous but never greasy. Greasy is bad.
– It's bloody long wearing. If sky-high Japanese humidity isn't the ultimate test of longevity, I don't know what is. A dewy foundation that stays put? Mind blown.
Well that sounds wonderful, any cons?
As with all dewy foundations, I notice a minute amount of settling around the nose towards the end of the day, I view this as a testament to my fussiness as opposed to a downfall of the product. Oil control will always be an issue with luminous bases- I do have a bit of breakthrough shine on the nose after about 6 hours. Surprisingly, any oil seems to disperse elegantly with no caking or migration.
I took the liberty to explore an array of primers and powders to mitigate these two issues and address the concerns of my oilier ladies and gents. My findings are as follows.
Primer wise: Armani Fluid Master Primer and Hourglass No28 Primer Serum performed poorly, with no oil control benefits (no benefits at all, to be frank). Rouge Bunny Rouge Mattifying Primer is a godsend, keeping my nose matte all day and diminishing any settling.
Powder wise: MAC Mineralized Skinfinish Natural proved to be a powdery mess over SUQQU Frame Fix Cream. Guerlain Meteorites imparted the skin with beautiful luminosity but provided no oil control benefits. SUQQU Loose Powder in Natural topped the list as a match made in heaven – airbrush finish that kept nose oilies in check.
Overall
While the SUQQU Frame Fix Cream works well by itself, it stuns me when paired with a bit of primer on the nose and topped with a powder. A bit of extra effort and completely worth it.
I can't adopt a lazy approach and use my fingers but again, worth it.
It's a bit hard to find, pricy and not so travel friendly (don't forget the qtips!) but for me, totally worth it.
I'm a fussy hoor when it comes to foundation but SUQQU Frame Fix Cream, you impress me.
xxkarima