During my time working in high end cosmetics/skincare, in addition to numerous personal pursuits, I have tried a plethora of exfoliators.
Exfoliators are employed to decongest, brighten and smooth skin- but finding one that suits your skin can require a lot of trial and error. Here are my reviews for four different exfoliators. Their merits deem them noteworthy, even if they aren't a perfect match for my skintype (they may be for yours!).
Some background: my skin is combination, dry on my cheeks and somewhat oilier on my t-zone. In the past I've had issues with sensitivity, but a minimal routine has eliminated this entirely.
Disclaimer: I should mention this before I start- I'm all about results. I'll touch on aspects like smell, colour and consistency because I know some may be interested. Overall, I'm reviewing the difference in skin, not the secondary attributes of the product.
Let's get onto the reviews!
Kate Somerville Exfolikate:
So this one is pricy. Available at Sephora for $85 (for 2 oz) but there is a sampler tube available for $19 (for 0.5 oz).
This bright green paste has both physical (beads) and chemical (AHA's as well as BHA's) exfoliants, making it a great all rounder. Upon application, I experienced a minor burning sensation for the first 30 seconds (and a strong herbal smell) but was rewarded with soft and smooth skin post rinsing (albeit a little tight, nothing a moisturiser couldn't fix).
Best for: normal skins looking for a solution to congestion or dullness. Sensitive and dry skins might want to give this a miss.
Strength: 7/10. I did feel a slight burn, and I am not an AHA/BHA novice!
REN Glycolactic:
REN Glycolactic can also be found at Sephora for $55 (1.7oz). This orange gel works entirely on a chemical basis- it contains Lactic, Citric, and Glycolic Acids which help loosen dead skin cells without any abrasive beads. Handy pump bottle, too!
This one is noticeably weaker than the Exfolikate contender: I can leave this on for a few hours and experience no burning sensation whatsoever. That being said, my results are considerably weaker, my skin feels a tad softer and I experience no tightness/dryness.
Overall, I would not purchase again. It doesn't seem to make a visible difference to my skin, probably because I've moved onto stronger products. Best for: Beginner exfoliators or people with sensitive skin.
Strength: 4/10. Again, if you know you're sensitive or if you're new to exfoliants, this would be a good place to start.
Murad AHA/BHA cleanser:
Another Sephora product, retailing at $35 for 6.75oz. This is an exfoliating cleanser, is it not as potent as our other contenders but if you're looking for gentle, daily exfoliation then this might be your thing. I could write a novel about AHA's and BHA's but in short, they are two different chemical exfoliants and this product contains both: thumbs up!
I use this once a day (at night) in place of a cleanser/makeup remover (it will remove light makeup) and it leaves my skin bright and shiny. I do experience a little bit of tightness due to the foaming activity and I'm not particularly dry, so this may not be a good daily option for dry skintypes.
Best for: Combo/Oily skins if you plan to use it daily. For sensitive/dry skintypes, once or twice a week would be tolerated.
Strength: 3/10, but with daily use this provides adequate exfoliation. Also take note that although the exfoliating strength is low, the cleansing strength is high! Overdoing it may leave your skin flaky.
Dr Brandt Microdermabrasion: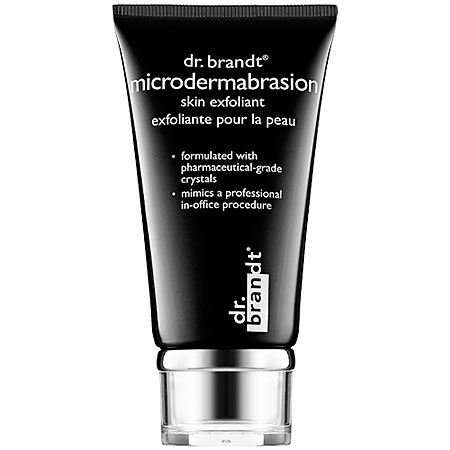 Another Sephora product! $75 for 1.7oz (SORRY SORRY I tend to review expensive stuff).
Exfoliants have come a long way since St Ives Apricot Scrub (apologies to those who still swear by it) whose formula has large jagged beads that a few and far in between. This paste consists of small round beads that are densely packed but has no chemical attributes, so good for those who are sensitive to AHA/BHA's.
My skin was pink afterwards due to friction, but softer, the overall exfoliation level was decent and my dry patches were buffed away. I personally prefer chemical exfoliation as I find it does the job with minimal abrasion to the skin, therefore I probably would not repurchase.
Best for: Skins that don't tolerate chemical exfoliants. Otherwise, all skin types except delicate.
Strength: 6/10
Has this been helpful to anyone? What are your favourite exfoliants?
Drop me a line in the comment box below 🙂
xxkarima