You may have noticed something about Shameless Fripperies. Something has been missing. I'm here to fill the gaping void in your heart: we are going to talk about blush.
But why don't you like blush, Karima? I do like blush…on other people. For as long as I can remember, I've had an irksome rosiness in my cheeks and it seems so counter-intuitive to conceal my natural flush to then reinstate it. For those who are naturally rosy 24/7 like myself, here are some mechanisms I've learnt to pull off blush and actually look good.
1. To work with your natural flush, counteract redness in the areas where saturation is undesirable- generally speaking this is on the jawline, close to the nose and on the temples. Let your cheeks run bare, I tend to employ this technique most of the time.
2. A lot of 'gurus' say you should select a blush shade based on the shade you naturally flush, I've always found this unflattering and frankly, it makes me look sunburnt. Instead I opt for tones I do not naturally exhibit to give my flush a slightly different nuance. EG: I have reddened cheeks so I opt for peach hues.
3. My most successful blush placement has been just off the apples of the cheek, more towards the side of my face. Again, I steer well away from the center of my face to avoid a permanently embarrassed-looking complexion.
Enough about that, please welcome Tom Ford Love Lust.
In the pan, Love Lust can be described as a decidedly warm, brightened coral with golden shimmers. On the skin, however, it pulls a more golden muted coral with a fine, even shimmer (I detect gold, peach and perhaps a bit of pink). As a blush noob and non-collector, I was surprised to find that I had somewhat similar colour families in my existing blush wardrobe.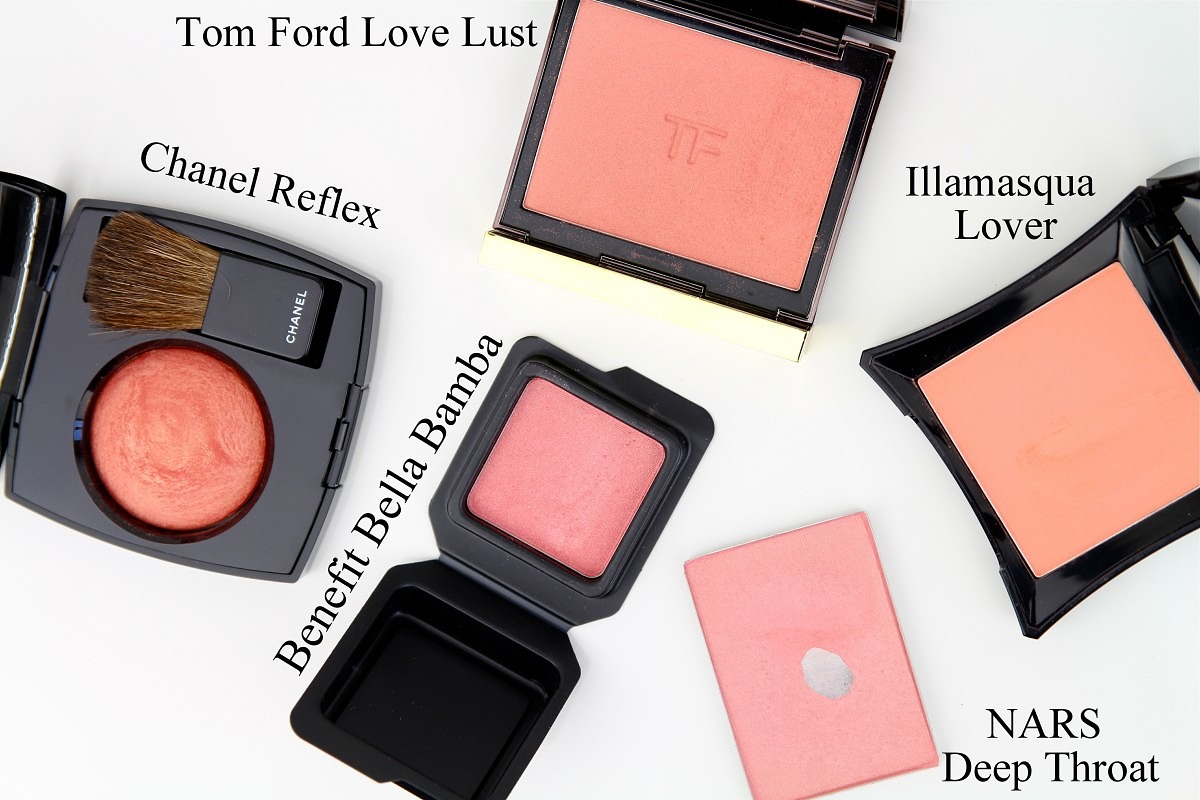 Behold brightened corals, pinky corals and Illamasqua Lover thrown in for good measure (and to contextualize the warmth and shimmer of Love Lust).
Natural light (as always, you can click for bigger picture)
And direct sunlight
Compared to Love Lust, By Terry Rose De Rose Liquid Blush Coral Rose has a peachier base with A LOT OF cooler shimmer. Chanel Joues Contraste Reflex has a harder texture (courtesy of the baked formula), rosier hue and the iridescence, although fine, is not as densely packed. Benefit Bella Bamba is pinker and a hellovalot grittier. NARS Deep Throat is pinker (why do people keep calling this peach?!) and less shimmery. Illamasqua Lover is unapologetically matte and downright orange by comparison, so there. Additionally, Love Lust is not a dupe of NARS Orgasm, which I disliked so intensely that I purged immediately without hesitation.
Here we have a familiar face.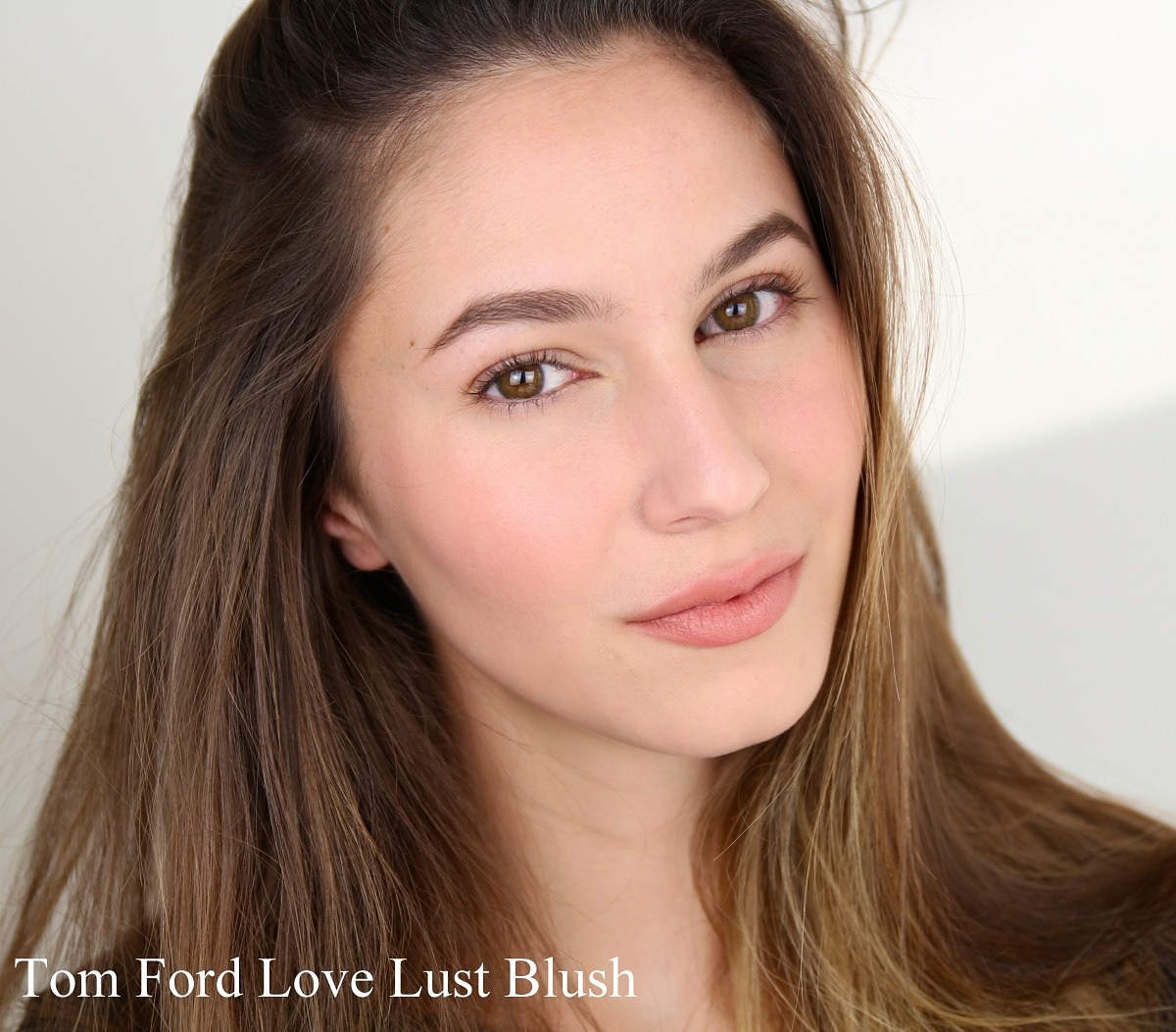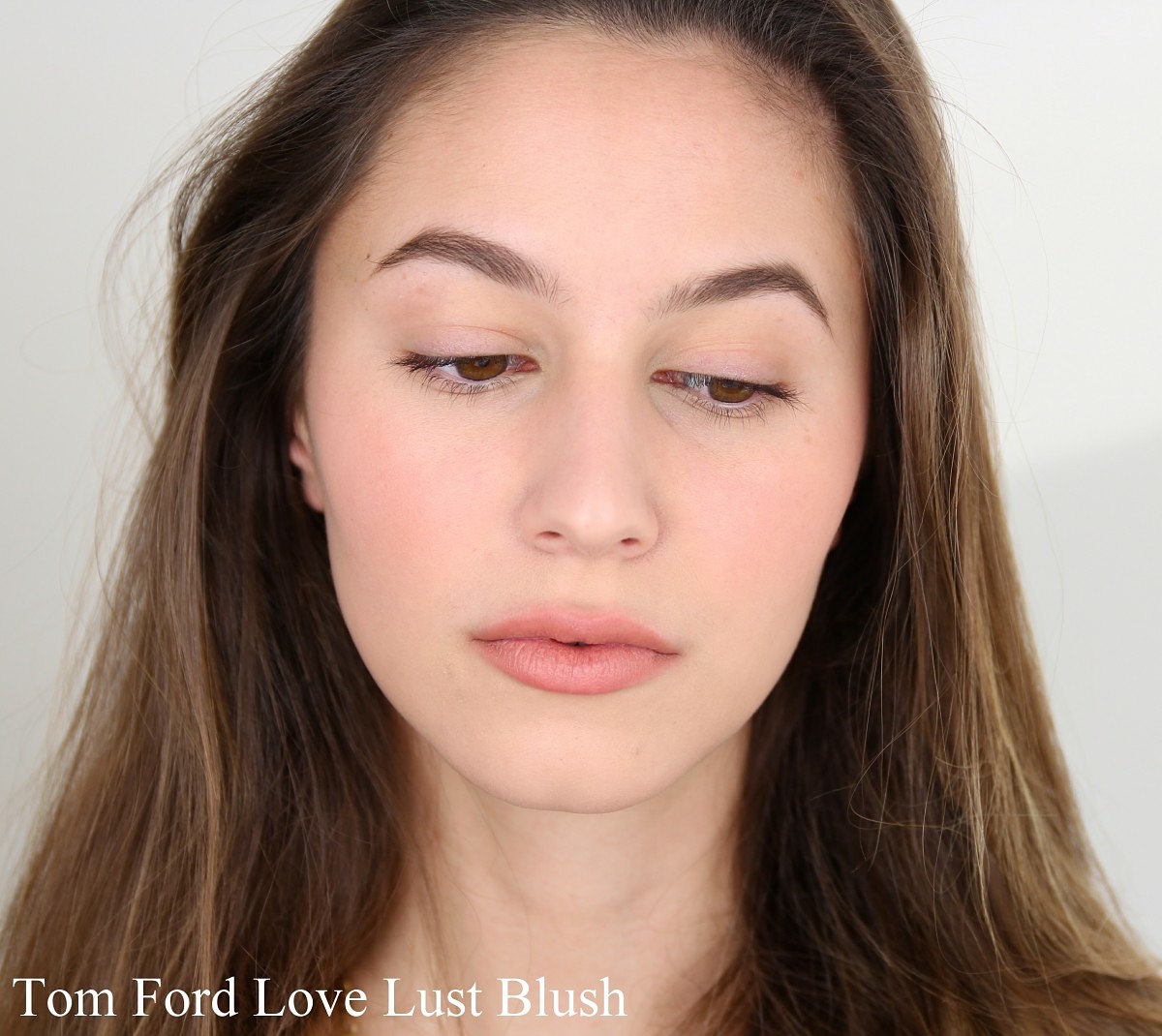 And dramatic zoom. DUN DUN DUN. Get in close and personal.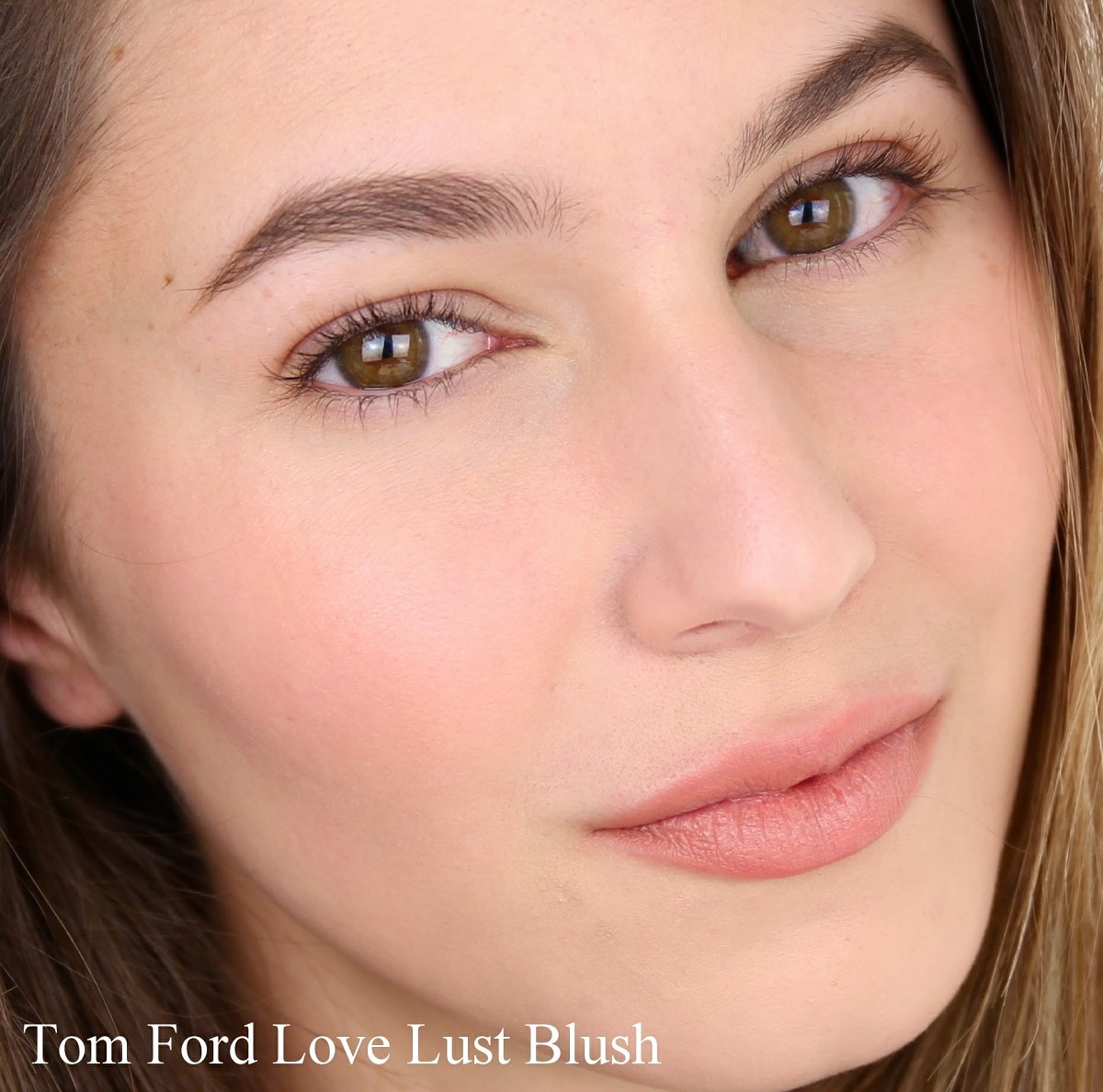 The lowdown
Let's start with the good. The colour is undeniably pretty and warm enough that it doesn't exacerbate my natural redness; I anticipate that the muted coral paired with the golden shimmer will mesh beautifully with tan skintones. The texture is among the softest of the aforementioned above and the pigmentation is moderate – pronounced enough that application is effortless but not so pigmented that you ought to proceed with care. Longevity is a major plus: Love Lust refused to budge over a 12 hour day (this included a post-dinner nap, of which I indulge frequently and am now known for).
Now for the bad. You'd think that fine and evenly dispersed shimmer would be desirable but in practice, it reads a bit frosty. Any uneven skin texture screams "OH HAI I'M HERE", which I noticed most in direct sunlight so I'm thinking this is more of an evening blush, as the shimmer pictures beautifully. Price isn't usually a downfall for me but at 55USD you'd expect both love and lust at first swipe (see what I did there?) but the frostiness limits the practicality of this blush.
Overall, I enjoy Love Lust enough to keep it, which says a lot because I am a purge-a-holic, but I'm not raving about it…it's just a 'nice' blush to me.
Do you own any of the Tom Ford Blushes? I wouldn't mind getting one more, for science. Send me your recommendations!
xxkarima