Friends! I hear your requests for another concealer smackdown, welcome to instalment #3 🙂 If you are not familiar with the Sham Frip Smackdown series, essentially I select a category and review a whole bunch of brands within that category so you can be a savvy consumer.
Let's do dis.

Clarins – Instant Concealer in 01
The Clarins Instant Concealer would be my pick for those who prefer 'a skin-like finish', it sits very close to the skin. Uber lightweight with a medium buildable coverage that blends effortlessly. Two gripes: sucky colour range (three shades to cover the population? Nay) and it must be set with powder almost immediately or it will collect in fine lines, so I wouldn't consider it inherently long wearing.
Shiseido – Natural Finish Cream Concealer in 2
…not what I would describe as a natural finish, it's full coverage and looks it – I can really see product sitting on the skin. Very thick in consistency so the product can be tricky to spread and blend. It seems to have good longevity but wears not-so-elegantly, sorta cakey towards the end of the day.
Benefit – Fake Up in 02 Medium*
Super slippy and balmy in consistency with sheer coverage, I find Fake Up to be sufficient for no-makeup-makeup days (I quite like this striped and blended on the face in place of foundation) but not beefy enough for a full-face look. If creasing is a deal breaker, skip it.
Paula's Choice – Soft Cream Concealer in Soft Neutral*
A medium coverage cream concealer that remains tacky on the skin, I foresee that oilier skin types will experience creasing instantly. The shade range is limited and all shades seem to run rather yellow so if you have significant blue/purple discolouration, it might throw some ashy tones.
I don't hate it but I don't love it (apologies to the diehard Paula's Choice fans), overall I think it would be better suited to concealing larger areas of the face, particularly for drier skin types.
Viseart – Concealer Corrector Palette in 01
I was part of a shoot recently and the Viseart Concealer Palette came in handy because of the colour range and variety of correctors but a bit excessive if you're only working on one face (your own). I tried to repurpose it for foundation, sheering the product out with primer and moisturiser but the product kept separating, too much faff and hassle. Used as an undereye concealer, it offers medium coverage that is prone to creasing. A resounding meh.
Mac – Pro Conceal & Correct Palette in Light
This palette contains a range of Studio fix shades, which can be purchased individually. This formula only adheres on the skin if warmed up first and I often whip it out for concealing significant portions of the face (pigmentation and such). The coverage is medium to full but it doesn't have illuminating properties that I require for my hollow-y undereyes (thanks eye surgery, you asshole).
Make Up Store – Cover All Mix
Hard to the touch but surprisingly, once warmed up by body temperature, it's not half as dry or crepey as I would have expected. If you love the idea of a corrector, this is definitely one to check out – the pink toned portion really knocks back any blue tones. Topped with the flesh shade and I achieved full coverage. Two cons: I don't have a perfect shade match (the lighter kit caters for NC15's and the deeper kit is entirely too dark) and judging by the *godawful* counter testers, the creams are prone to drying up so be diligent with the lid!
Charlotte Tilbury – The Retoucher in 2
Hey! This stuff is actually great, one of the better pens thus far; not as much coverage nor as smoothing as By Terry Touché Veloutee or Clarins Instant concealer but a suitable amount of coverage for day-to-day with a skin-like finish.
If I'm doing a smokey eye, I seek something a bit more but The Retoucher rivals the Ellis Faas concealer as my quick go-to. Shade 2 is perfect for my NC20 undereyes and doesn't pull any weird ashyness.
A note regarding application: I tend to apply this prior to my base because it can disturb foundation if applied after.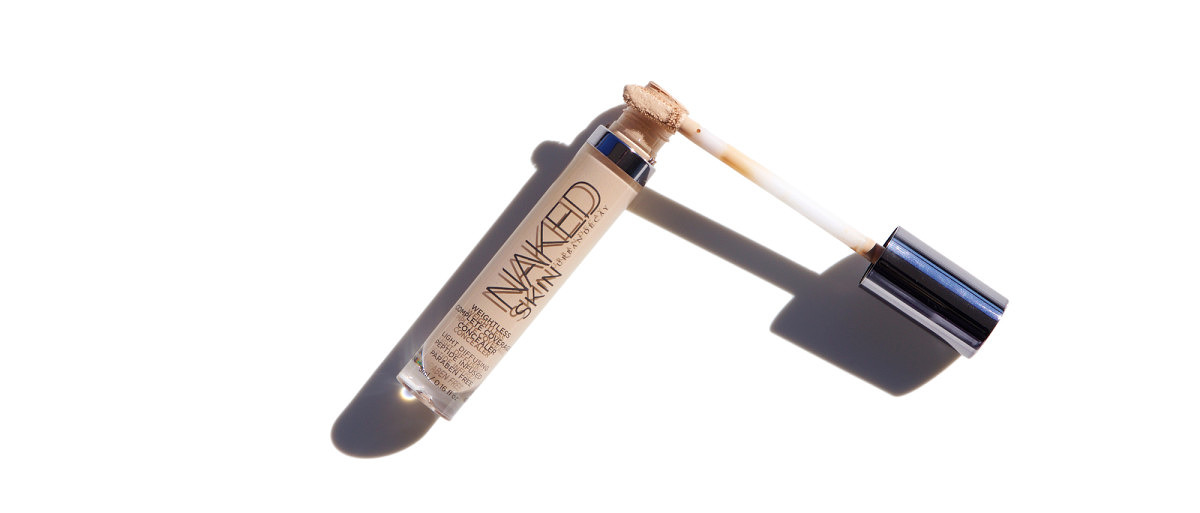 Urban Decay – Naked Concealer in Light Neutral
Saved my favourite for last, the Urban Decay Naked Concealer wins first place in this smackdown and it's darn near perfect (on my skin type and skintone, based on my preferences etc).
The coverage is ideal for smokey eyes or insomnia-induced circles and can be applied sparingly for minimal makeup days. The formula definitely sets to a demi matte finish; one must blend edges rather quickly.
Much like matte foundations, I probably wouldn't recommend this formula for ultra dry or mature skin types (although an emollient eye cream might prove a decent workaround).
In some ways, the Naked Concealer is similar to the NARS Creamy Concealer but the former is thinner in consistency, smoothing on fine lines and far less prone to creasing. So entirely different? LOL derp.
My only caveat (darn near perfect instead of perfect period) lies in the shade range, the colour selection confuses me; random leaps in depth while some undertones lean greyish.
Tl;dr version, if you can find a decent shade match, I highly recommend it.
Products reviewed in previous undereye concealer smackdowns
By Terry – Touche Veloutee Concealer
Giorgio Armani – High Precision Retouch Concealer
MAC – Prolongwear Concealer
Rouge Bunny Rouge – Luminous Skin Wand
YSL – Touche Eclat Pen
Bobbi Brown – Correctors and Concealers
NARS – Radiant Creamy Concealer
Maybelline – Fit Me Concealer
Maybelline – Age Rewind Concealer
Maybelline – Dream Lumi Concealer
Dior – Diorskin Nude Concealer
Make Up Forever – Full Cover Concealer
Ellis Faas – Concealer
Clinique – Airbrush Concealer
Wait!
Are we bored of undereye concealer smackdowns yet? If you're still keen, leave some undereye concealer recommendations in the comments and maybe I'll have a fourth instalment for you 😉
xxkarima
* Denotes products sent for consideration. I'm always honest when I review products 🙂