Sorry for the delay on this review, uni has been a bit busy lately!
So a while back I made a purchase from www.frenchcosmeticsforless.com (not affiliated) which included these three products: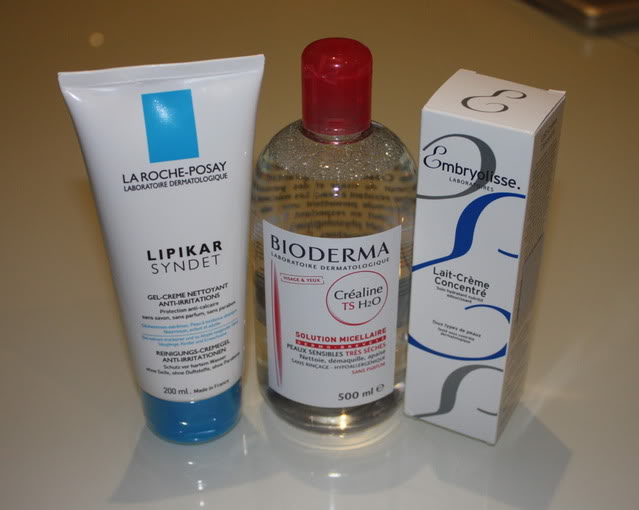 Left to right:La Roche Posay Lipikar Syndet
Bioderma Crealine
Embryolisse Lait Creme Concentre
To preface this review, a little background on my skin: Combo, sensitive, not really clog prone anymore, thin, delicate and prone to broken capillaries.
I've used all three for a few months and have gathered my opinions about each, so here goes!
La Roche Posay Lipikar Syndet
This is actually a body wash for sensitive skins- I was recommended it by a skin-boarder on MakeupAlley. I use it on my face (after removing my makeup with Shu Green cleansing oil) and I've found it's the perfect way to remove any oil/makeup residue without stripping the skin. It does have sulphates but does not irritate me in any way (like some other cleansers containing sulphates do).
It's reasonably priced- $19.95 from the above website, so I bought four tubes last time I went to Europe! A good, basic cleanser for dry to combo skins that are prone to sensitivity. I will never stray, it's total HG status.
Bioderma Crealine
I bought this hoping it would replace my oil cleanser (Shu Green cleansing oil) to remove makeup but alas, it doesn't hold a candle to cleansing oils. Despite walking around with a damp cotton pad pressed against my eye for 10 minutes, I still find that it doesn't remove all eye makeup and frequently leaves 'shadows' of mascara on my undereye area.
On the bright side, I found another purpose for this product! Up until this point, I would always do my eye makeup first (to avoid ruining my foundation due to fallout) and clean under the eye area with a makeup remover wipe. I found this worked okay but using Bioderma Crealine on a q-tip is far more precise, gentle and doesn't leave any oil residue that could cause eye makeup to migrate.
Although I don't use this product as I intended (as a makeup remover), I still use it daily and would repurchase. I'd only recommend this as a makeup remover to those who wear very minimal makeup- otherwise I think a cleansing oil does a better job.
Embryolisse Lait Creme Concentre
A very basic moisturiser with a velvety feel, embryolisse is best suited to those who are on the dryer side. It works fantastically as a primer and a barrier against the elements. I do prefer my MD Skincare Hydrapure Oil Free moisturiser for daily use, because I felt that Embryolisse could be the cause of some congestion.
I wouldn't purchase this again for myself, but if you have dry/delicate skin that has no congestion issues, you'll probably find that this is a good all round moisturiser that works perfectly under makeup.
Have any of you guys tried these products? Please share your experiences 🙂
xxkarima