A look into some of the brow products you may have seen me using; the good, the bad and the final verdict.
A quick overview of my brow preferences: I prefer ashy shades (hell, give me GREY!) and precision (fine points over stubby nibs everyday of the week- have you seen my brow tails? Neither have I because they're gone).
Messy scribbles of today's contenders, so you can compare the undertones of each. Undoubtedly the ugliest of swatches to grace the ShamFrip.
SUQQU Balancing Eyebrow – 01 Moss Green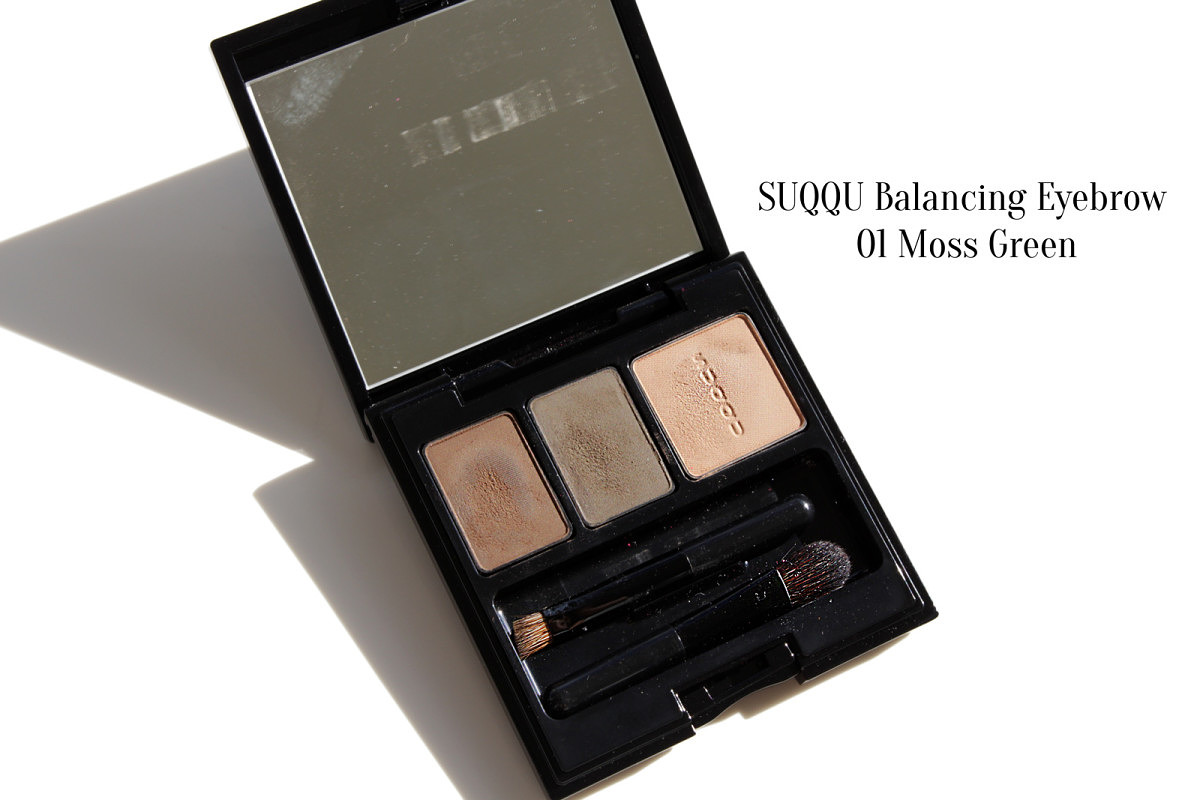 A handy little powder palette consisting of a neutral brown, a greyed tone and a pale camel shade; I'm under the impression that the third shade is intended to be a nose contour but it is nothingness on my skin so I use it as a mixer to lighten where required. Balancing Brow palette also includes two tools: a slanted brow brush and a teeny, flattened crease brush thingymabobby. Unlike the implements frequently included in western compacts, these are not an afterthought – incredibly well-shaped, well made, durable and USEABLE! I actually favour the brow brush over my full sized counterparts!
Let's address the green eyebrow concern, despite being labelled 'Moss Green' the shades are not green – the greyed shadow has a very slight cool-green cast that registers as an ashy undertone. When I'm going for a soft brow, I opt for the brown shadow alone as it's slightly lighter in shade, otherwise I dab in each with no real rhyme or reason and the result is always a perfect, ashy brown.
The formula is very long wearing for a powder product and I frequently use a damp brush in the pan with no change in texture and no sealing issues. Overall, my favourite brow product in the powder category, you can see one such outcome here. FYI: SUQQU products are accessible to almost everyone via Ichibankao, yes the markup is significant but includes shipping.
MAC Eyeshadow – Brun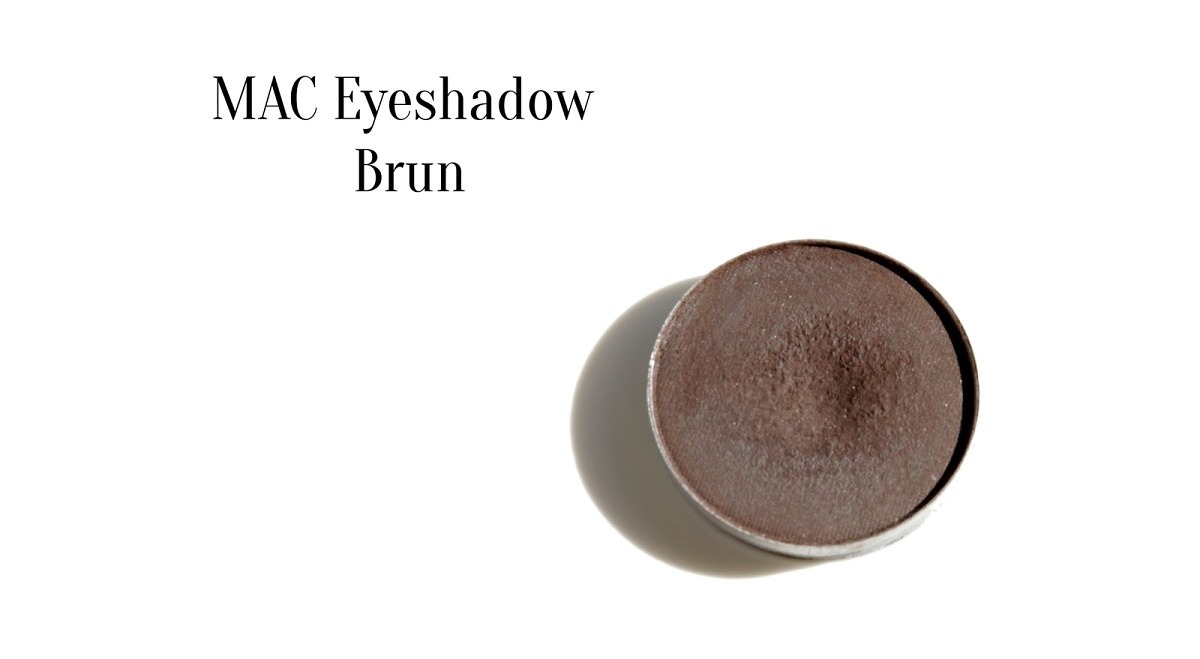 One of MAC's sh*ttier formulas: dry, hard and not so pigmented – which makes it a great brow powder option! No fallout, fear of over application or excessively harsh lines. Brun is a deep, greyed brown and I'd probably recommend it to those with deeper colouring than myself as it sometimes reads a touch too dark on me.
I haven't reached for it since I purchased the SUQQU Balancing Eyebrow (I like that I can feather the paler shades of that palette towards the inner brow) but I maintain that it's good option if you're seeking a moderately priced, easily accessible brow solution (dependant on your colouring, obviously and always).
SUQQU Eyebrow Pencil – 01 Gray

The only SUQQU product that I find is more work than it's worth. Don't get me wrong, the shade is great; an ashy grey void of any warmth (the perfect shade for those with naturally black brows). But the formula, oh lordy, so hard that I find myself STAMPING the product on with such vigour that my eyebrow area actually starts to look a bit irritated. Alternatively, I've tried using light strokes and while it works well, it takes a solid 10 minutes to achieve the depth I'm looking for- that's a pretty laborious brow!
Additionally, the pencil point is a little larger than I'd prefer so I lose a bit of precision. So I have irritated and stumpy brows? I do have something good to say about this product though, the packaging is sturdy and has a reliable twist up mechanism. I also love that it has no lid, which is just another thing for me to lose.
As a disclaimer, I also had the similar issues with Shu Uemura Hard Brow Pencils (a favourite among many) although I'd definitely say the SUQQU pencil is discernibly harder. Some have suggested that I take a lighter to the pencil but really, when you cough up that sorta dough, fire shouldn't enter the equation.

Anastasia Beverly Hills Brow Wiz – Medium Ash
You have to own this to consider yourself a genuine, bonafide youtuber (I might as well jump on the Sigma bandwagon now… KIDDING!). Seriously though, I do see why it's so popular – very fine tip point and a softer formula for a quick, slap n dash option. Hopefully you can see in the product shot above that the Brow Wiz point has a much smaller diameter when compared to the SUQQU Brow Pencil – about half the thickness, perfect for creating a crisp tail.
My only critique is the shade: Medium Ash is a good depth for my medium brunette colouring but is a touch too warm for my liking. I don't see this bothering many people as I'm aware that my preferences are excessively ashy but nonetheless, I'm searching for a grey shade in the line (maybe Granite? Can anyone weigh in here?)
I've used this one a lot recently simply because it's so darn easy, I've used it in all of my looks here, here and here (so you can see how it performs).
Make Up Forever Aqua Brow – Shade 10 & 25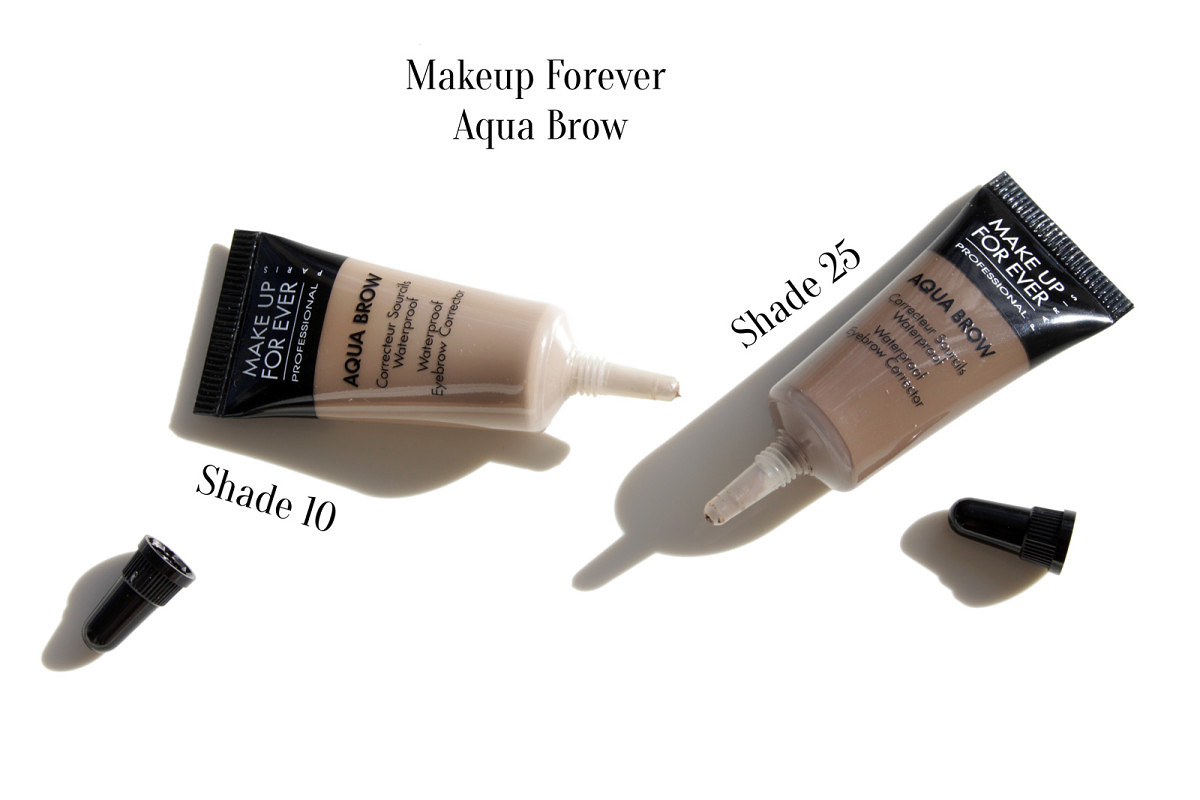 An interesting waterproof-liquid formulation, Aqua Brow boasts seriously long wear time and I'd recommend it to those who struggle with fading brows. Aqua Brow is definitely not a slap it on and go product: you'll need a brow brush, a few extra minutes and some patience when navigating the application learning curve. Depending on your choice of brush, Aqua Brow is also rather versatile. Using a less tapered brush and fine strokes, you can achieve a softer result (exhibit A) or opt for a tapered brush and a fluid motion for a more graphic brow (exhibit B).
In particular, I tend to reach for Aqua Brow when I'm working on people with very little brow to begin with, it seems to create realistic depth and shape where there is none. I also favour shade 10 for blondes, a neutral chestnut shade that never reads as overpowering on fair features. Shade 25 gets less love from me because, you guessed it, it's warm. Have I established myself as the ashy brow police yet?
All merits aside, when people ask me for a waterproof brow recommendation, I inadvertently embark on SUQQU Pen word vomit. Speak of the devil…
SUQQU Brow Pen – Brown & Moss Green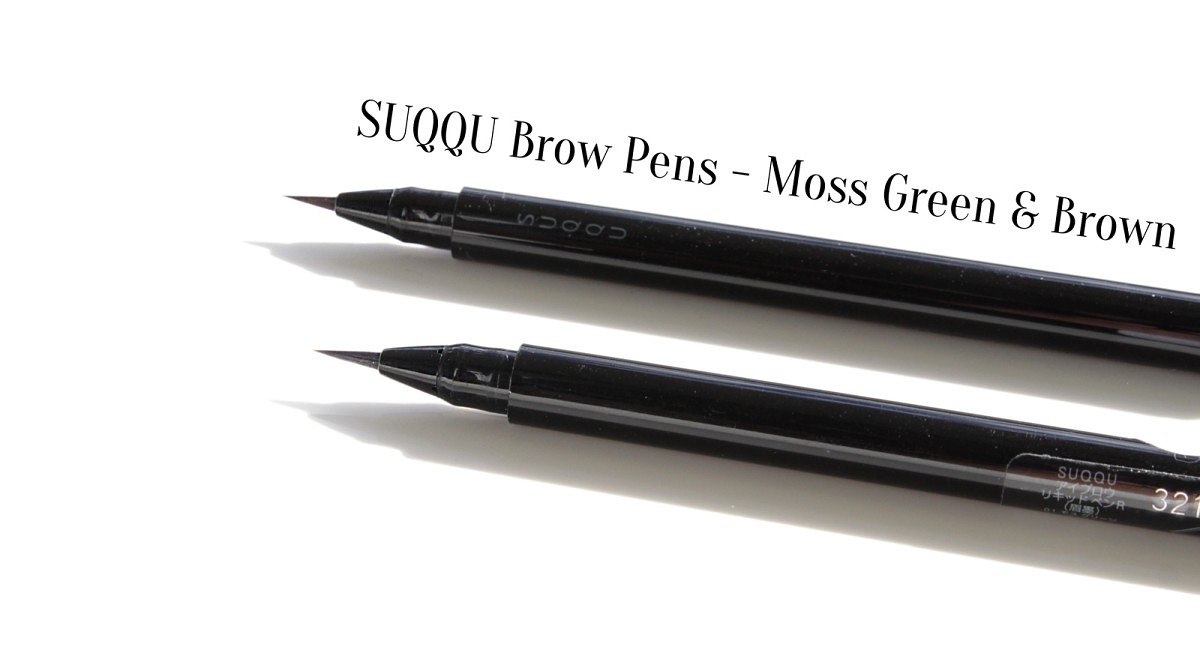 Actually, I always recommend SUQQU Brow Pen, waterproof recommendations and otherwise. I feel like the spokesperson for this product (hello why aren't I on the payroll?) and I've already done a dedicated review but here goes again: SUQQU Brow Pen has a brush-like applicator (not felt) and a very, very fine point which allows realistic hair strokes. It dispenses a fluid pigment reminiscent of watercolour (visible in swatches) and is legitimately waterproof, I challenge you to remove this in one go – it functions as a stain so you will.have.brows.for.days.
As the tip is so fine, it almost feels like nothing on the skin but word of warning: detach yourself from the mirror. It's easy to go crazy and realise, in no time at all, that you've given yourself some crazy ass brows (that won't come off, Murphy's Law). Another application tidbit, I personally avoid using this in the innermost portion of my brow as even the lightest hand can look a bit blunt – sometimes I use a bit of brow powder to ease the transition but mostly I leave it be.
This baby comes in two shades: Brown (my pick for softer or warmer looks, third look here) and Moss Green (stop scaring them off, SUQQU! Actually a cool grey, used here) suitable for black hair, ashy preferences or stronger makeup pairings. For a super natural brow to a kick arse arch, I really can't recommend this product enough. It is truly the closest imitation of brow hairs that I've encountered and one of the few products that I can wholeheartedly guarantee I'd repurchase, again and again (who needs food when you got a wholesome diet of two minute noodles?)
What are your favourite brow products? Y'all know that I'm always open to enabling and suggestion.
xxkarima