So I hear you lucky US ladies had an online Inglot sale? *Weeps* I bought this full Australian price! Australians out there, check Inglot Australia for the ridiculously marked up prices. The good news: I do have a counter near me. I went in yesterday and two and a half hours later I emerged with this beautiful thing.
I pretty much tested EVERY SINGLE eyeshadow and it confirmed what I had read online- some of Inglot's eyeshadows are hit and miss. Some are chalky and patchy and I'm glad I didn't try buy online. In the end, I chose the shadows that had a unique colour, a good formulation and great pigmentation payoff.
Inglot has five different lines of eyeshadow within the Freedom System:
Matte, which has no sheen or shimmer.
Pearl, which has both shimmer and sheen and is my personal favourite.
Double Sparkle (or DS) is a satin formulation with microfine shimmer.
AMC is similar to DS but with less sparkle, the shimmer is few and far in between.
AMC Shine is a more metallic/frosty finish eyeshadow with a high level of sheen.
Let's talk about the palette itself. DO NOT TRY to pry out these eyeshadows with a knife or sharp object- I gouged a purple one this morning. My best advice would be to buy a strong magnet from a hardware store (or similar) and use that to release these magnetic eyeshadows. I know Inglot insists that the eyeshadows can be removed using the magnet on the palette lid- I found this magnet not strong enough to work every time (only when it feels like it, apparently).
Regarding the organisation of this palette, this is a method to my madness:
Row 1 consists of Primary Mattes
Row 2 consists of Assorted Mattes
Row 3 consists of Neutral Mattes
Row 4 consists of Jewel Toned Shimmers
Row 5 consists of Darker Shimmer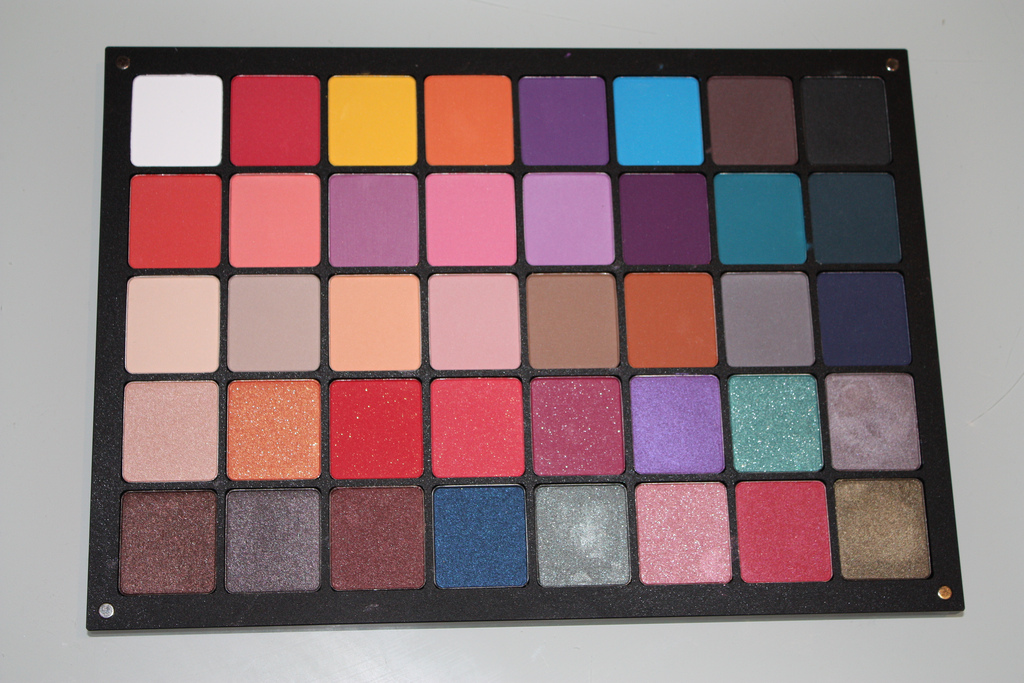 And here are the swatches! These are done without a base- with a base the eyeshadows come up more pigmented and the shimmer (where applicable) more pronounced.
Row 1: Matte Primary Colours
318 matte
382 matte
323 matte
383 matte
320 matte
322 matte
326 matte
63 AMC
Row 2: Assorted Mattes
311 matte
366 matte
392 matte
362 matte
334 matte
325 matte
338 matte
340 matte
Row 3: Neutral Mattes
353 matte
390 matte
368 matte
319 matte
357 matte
335 matte
339 matte
321 matte
Row 4: Jewel Toned shades with shimmer
397 Pearl
15 AMC Shine
50 AMC
495 DS
74 AMC
441 Pearl
32 AMC Shine
420 Pearl
Row 5: Darker shades with shimmer
423 Pearl
434 Pearl
452 Pearl
428 Pearl
18 AMC Shine
48 AMC Shine
449 Pearl
419 Pearl
Overall, I've been really impressed with this brand. With it's wide range of colours and various textures, Inglot may be MAC's biggest competition.
I'm looking forwards to doing some FOTD's and eyeshadow tutorials with these 🙂
Interested in a particular shade? Let me know in the box below and I'll use it in a look.
xxkarima