The sun has come out (both literally and metaphorically) so here are the SUQQU EX-11 Sumiredama swatches!
To view the original haul and first impressions, head over to my Ichibankao Haul Post.
Quick recap, here is the quad…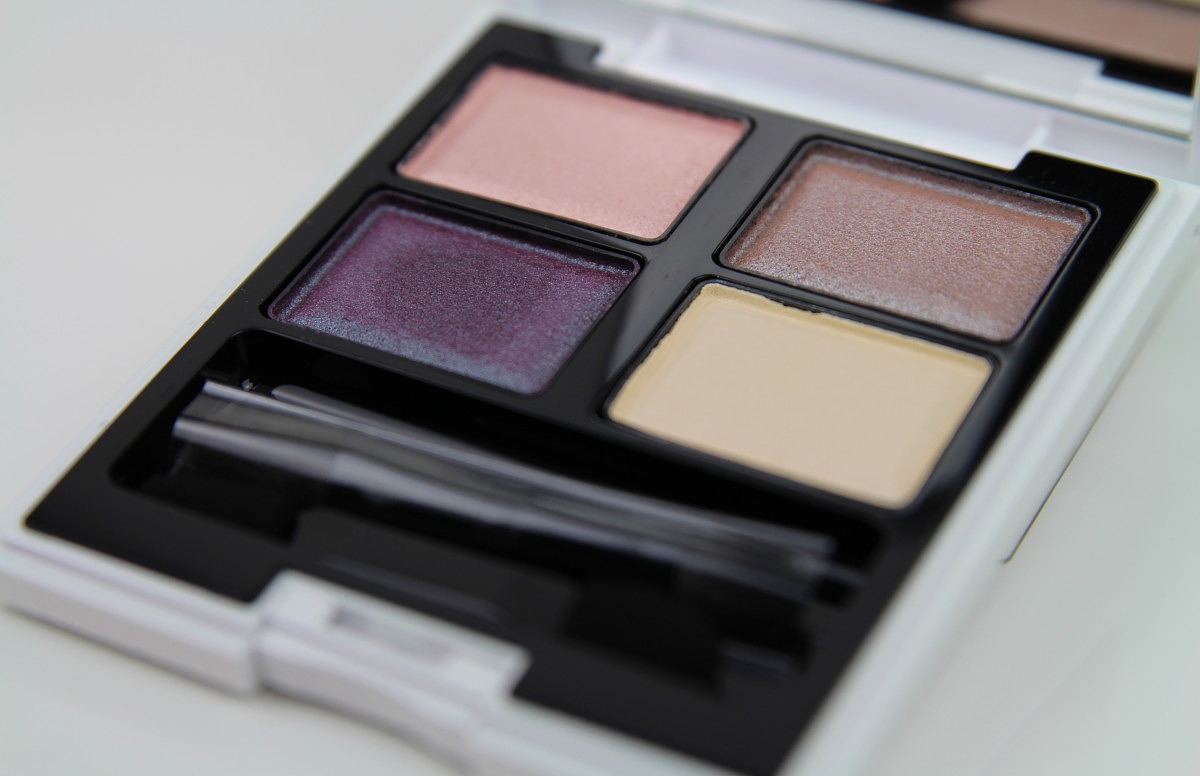 And the swatches! Unfortunately, my photography skills are lacking and I couldn't quite capture the duochromey goodness that was jaw-droppingly visible in person.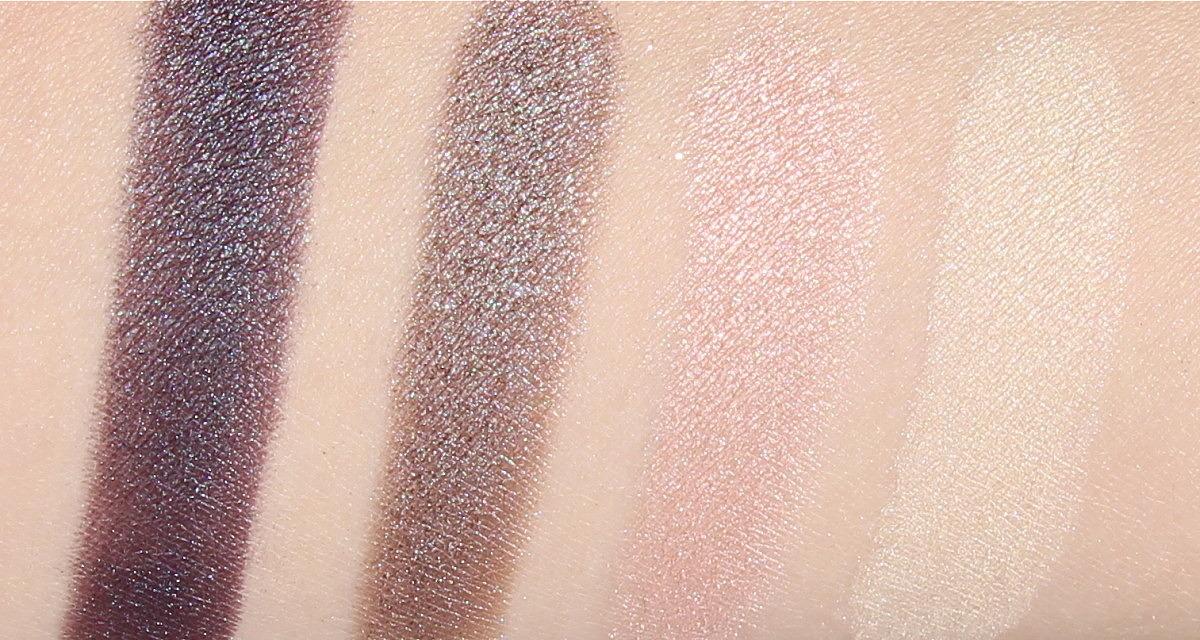 And in partial sunlight, to accurately depict the smokey nature of the purple and taupe shades…
In the interests of being ultra thorough, a final picture to demonstrate that both the Plum and Taupe shades are equally duochromey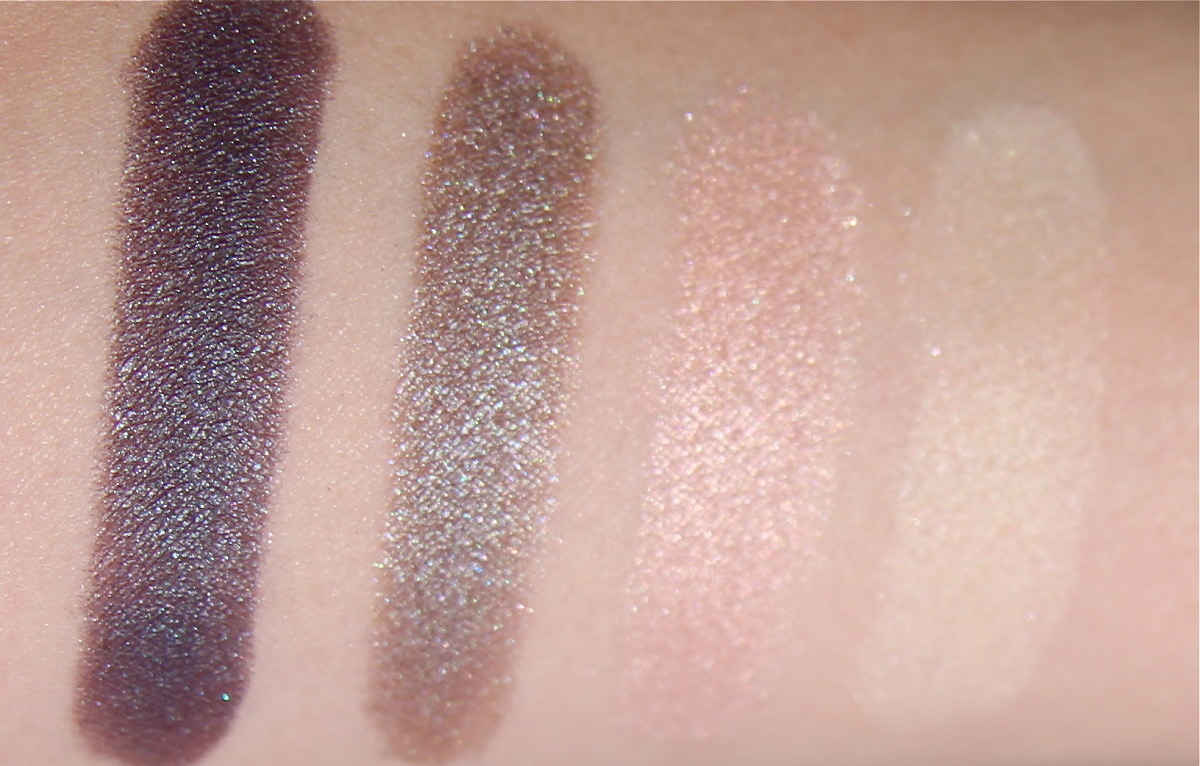 Some added analysis ramble of each shadow….
Plummy shadow (bottom left)
A deep purple plum base with blue reflection. As said in my previous post, this chameleon shade is either pewter, plum or blue toned depending on angle. The magenta lean that was discussed earlier is not so pronounced in swatches but lends a plummy characteristic (as opposed to a cool toned purple). This shadow exhibits A+ pigmentation, smooth application and superior complexity than visible above.
Taupe shadow (top right)
Initially, I was under the impression that this shadow had a warm fawn base with a cool shimmer overlay. I stand corrected, this is full on duochrome. It leans blue, it leans purple, I'm not even sure that I can classify it as a taupe. Regardless, it's beautiful and I'm highly impressed. Mirroring the plum shade in pigmentation and formula…it's divine, okay?
Iridescent Pink shadow (top left)
Confirming my initial impressions, this is a iridescent, light pink that leans warm. Noticeably sheerer, it is aligned with the majority of SUQQU quads that contain a layering shade (to enhance complexity and highlight sans frost). A perfect example of grown-up/tasteful shimmer yet not all that impressive to my bold tastes.
Pale Yellow Iridescent shadow (bottom right)
Another supporting act to the two show-stopping shades. Applies sheer, with a more refined shimmer than the pink counterpart. While pale yellow in the pan, it appears more cream toned on my medium toned skin (sadly…I was hoping for yellow because I'm tacky like that). A subtle inner corner highlight (perhaps?) that is well coordinated with the other shades.
SUQQU doesn't always captivate me with their quads (but when they do…), they make for great subtle looks. I'm either bare faced or in-your-face.
However, this is a winner. Bordering on bold, undeniably smokey and great textures to boot.
Be the voice of reason and demand that I not purchase EX-13 Ginusudama? All the damas are calling me.
xxkarima