This combination was an accidental discovery. Equal parts pretty and grunge (yin and yang?) and dipping the toes into colour clashing. Loosely inspired by Burberry Beauty.
View Video Transcript
Hello, everyone. Today's tutorial is Brown Smokey eye using Burberry eyeshadows. Now if you observe the Burberry beauty promotional pictures, you'll notice that the eyeshadow is deliberately effortless with the heavy and hazy low lash line. My look is similar but I've prettied it up with a bubble gum lip and cheek. I think it's unexpected and fun and I hope you enjoy. On to the tutorial…
I've gone ahead and filled in my brows. They are not looking quite full and textured which mirrors the Burberry aesthetic. I drew the genetic short straw with my brows so to inject them with some substance and length, I've used the SUQQU brow pen and to achieve that textured look, I used the MAC Brow set in Showoff. Next, I'm going to apply my base. I'm using the Chanel Vitalumiere Aqua. And I actually prefer to apply this foundation with my fingers. I find that the heat from my hands really helps to melt and blend the foundation to the skin. This foundation provides a medium coverage and a very velvet finish which is quite skin like. I think it would be suitable for most skin types except those who are very dry or perhaps those who are sensitive to alcohols as this is quite an alcohol heavy formula.
I'm going to stop the eyes now and complete the base later so the fall out isn't an issue. The two Burberry eyeshadows I'll be using today are Burberry Midnight brown which is a medium cocoa shade infused with warm shimmer. Also Burberry taupe brown, which can be described as a deep gray brown. This shade reads quite neutral and matte to my eye. I've applied a bit of MAC Painterly Paint Pot just to give the eyeshadow something to cling to. I'm then going to take midnight brown on a dense packing brush and I'm going to confine that shimmery shades to the lid only. I'm also going to run that rather roughly on the lower lash line. Then taking Burberry taupe brown on a fluffy crease brush, I'm going to build some depth in the socket. I'm going to blend upwards, little further than I normally would and quite in a rounded shape so not particularly winged out at the edge.
Taking the same fluffy crease brush, I'm going to run taupe brown underneath the eye on the lower lash line. I'm taking this quite far down to create that grungy iconic Burberry look. Don't worry if this starts to look messy because a, it's meant to be messy and b, you can always perfect it when you go to do your under eye concealer. Carrying on, I'm going to take a brown pencil liner and I'm going to run that on the upper lid really aiming to get as close to the lashes as I can. I'm also going to take that brown pencil on the lower lash line about two thirds in, so keep that inner third untouched. Taking a soft precise brush, I'm going to dab that brush in taupe brown just a little bit and I'm going to diffuse that lower liner just so that it appears hazy and undefined. The Burberry visual indicates a whisper of highlight in the inner corner. It looks like a pale Bali shade and to emulate this, I'm going to be using Rouge Bunny Rouge golden rhea.
So just very lightly placing that in the inner corner and in the inner third. Next, I'm going to take a black pencil liner and line my upper water line. This is just to fake fuller lashes. Really aim to get between the lashes when you do this. As always, curl your lashes and apply your mascara. And that's the eyes done. I'm going to clean any fall out with my Bioderma Crealine which I love for this purpose because it doesn't leave an oily residue. At this point, you could also correct your eyeshadow and take off a bit if you feel like you brought it too far down. I want to retain that drama so I'm just going to take off any fall out on the direct cheek area. Then I'm going to take an under eye concealer just in the inner corner so that I don't disrupt that dramatic low lash line. So being very careful not to erase that haziness.
Now for the bubble gum lip and cheeks. I'm going to be using a multi purpose product by BECCA and this is called Beach Tint in shade lychee. In short, it is slightly viscous liquid that can be used to stain either the lips or the cheeks. I absolutely love this formula. It has quite a high silicone content so it blends effortlessly. So I'm just going to take a bit of that product on the back of my hand and I'm going to blend that on to the cheeks using a dabbing motion. Going pretty slowly with this product because it's easier to add more than it is to take away.
I'm also going to apply that beach tint on my lips using my finger a little bit more liberally than I did my cheeks. Last step, the Burberry models have beautifully chiseled bone structure so I'm going to mimic that with a bit of contour. I'm using a powder contour today. This is Chanel Notorious which was sadly limited edition. But you could use any cool contour powder like NYX Taupe Blusher or Kevyn Aucoin's Sculpting Powder. I should mention that I'm not going to powder my face because the Chanel Vitalumiere Aqua dries down to quite a velvety finish anyways. So I'm going to take a small brush, dip it in to a bit of that contour powder, then I'm going to start with the hollows of my cheek bones. So very lightly shading and I'm blending upwards.
Avoid blending down at all because this can actually draw the face down. I'm also going to run over that contour on the outer hairline just to provide some balance. I'm also going to take a bit of that contour on the outer jaw. I'm going through this rather quickly because contouring is a separate video entirely but if you'd like to hear more then comment in the section below and let me know. I shall see what I can do. And there we have our Burberry inspired look with a twist. Heavy low lash lines may not be everyone's cup of tea but experiment and play with it and make it yours. I hope you all have a wonderful week and I shall see you later.
Final Look:
Nail Polish I'm wearing in this tutorial:
Chanel Rose Exuberant (a bright, warm pink)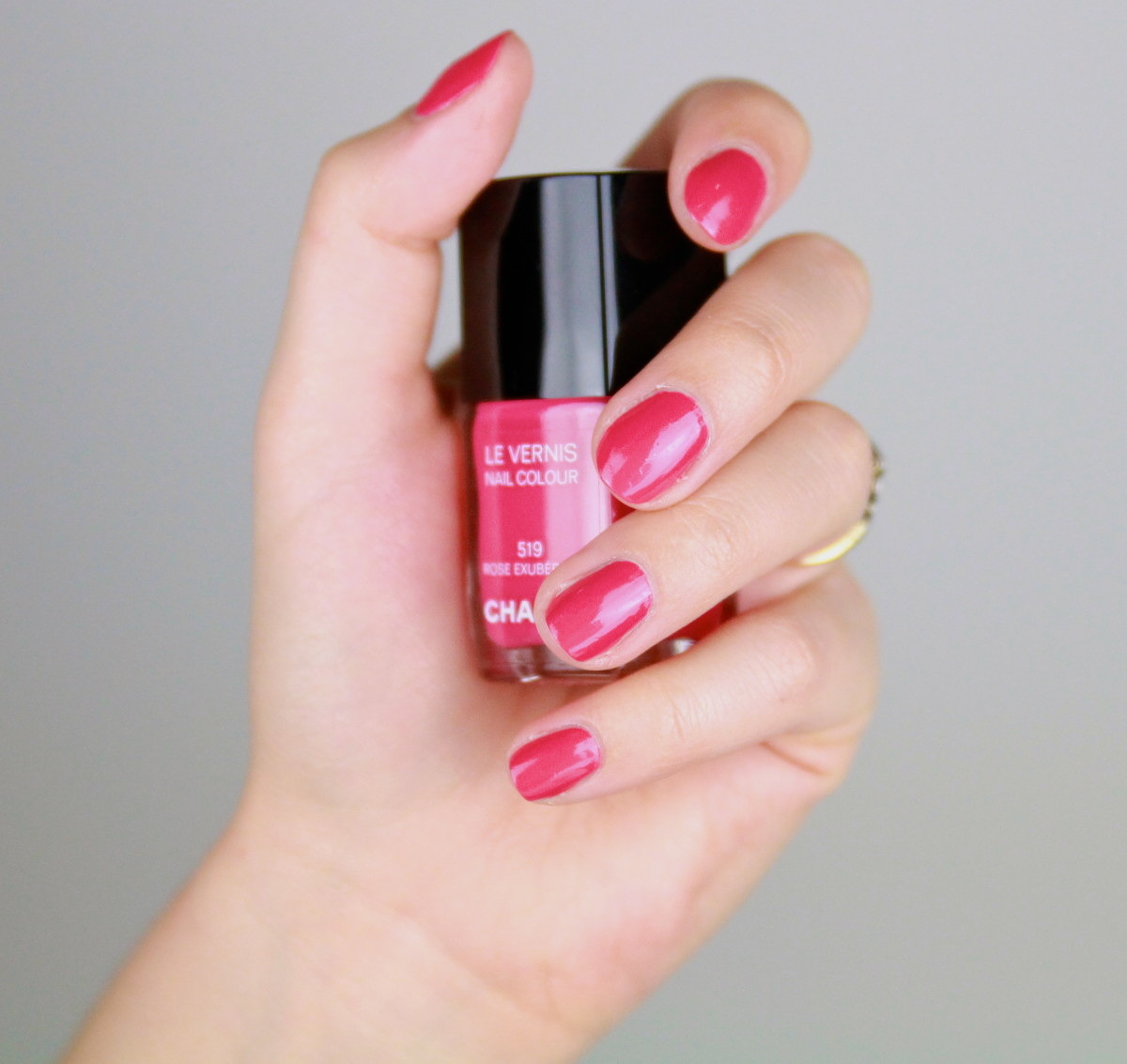 Complete list of products:
SUQQU Brow Pen – Brown
MAC Brow Set – Show Off
Chanel Vitalumiere Aqua Foundation – B30 Beige
Burberry Eyeshadow – Midnight Brown
Burberry Eyeshadow – Taupe Brown
MAC Eye Pencil – Teddy
Rouge Bunny Rouge Eyeshadow – Golden Rhea
Rouge Bunny Rouge Eye Kohl – Salome
Rouge Bunny Rouge Big Lash Mascara – Pure Obsidian
Rouge Bunny Rouge Skin Wand – Alula
Becca Beach Tint – Lychee
Chanel Contour Powder – Notorious
xxkarima