Ask Karima #1 went down so well that we're back with a #2! Recap of this new Sham Frip segment, essentially: you ask and I answer and we turn it into a post 😀 If you have a question that you'd like answered in the next Ask Karima post, leave it in the comment section. Makeup/youtube/blogging/personal questions all welcome 😉 I'm an open book.
Do you have any updates about your eye? A long time ago you mentioned a possible surgery, but then decided against it.

– Amy
Not much to report on this front! At this stage, any procedure would be experimental (hale no) and I don't feel so strongly about it to risk my sight. Mostly I forget about my black spot until someone points it out and even then, it doesn't upset me anymore.
I want to share a story that I omitted in the original post. In the midst of my ugly-face-crying-meltdown in the specialist's foyer, I was thinking 'Well, worst case scenario I go blind in one eye… what then?' and I kid you not, my best solution was and is still 'I'd have to become REAL good at doing makeup with one eye'.
How did you meet your boyfriend Adrian? 🙂 You guys look like such a sweet couple. Xoxoxo

– Francesca
Aw, thanks! We met at a 21st birthday party, Adrian was a friend of a friend's brother, did ya catch that? 😛
Curious to know, what is your biggest makeup splurge product in your collection so far? & was it worth it? Xx
– Vikki
This one might come as a surprise, I think the most I've spent on a single makeup item is ~550AUD (don't quote me on that figure) and it was…. drumroll… my Inglot 40 palette!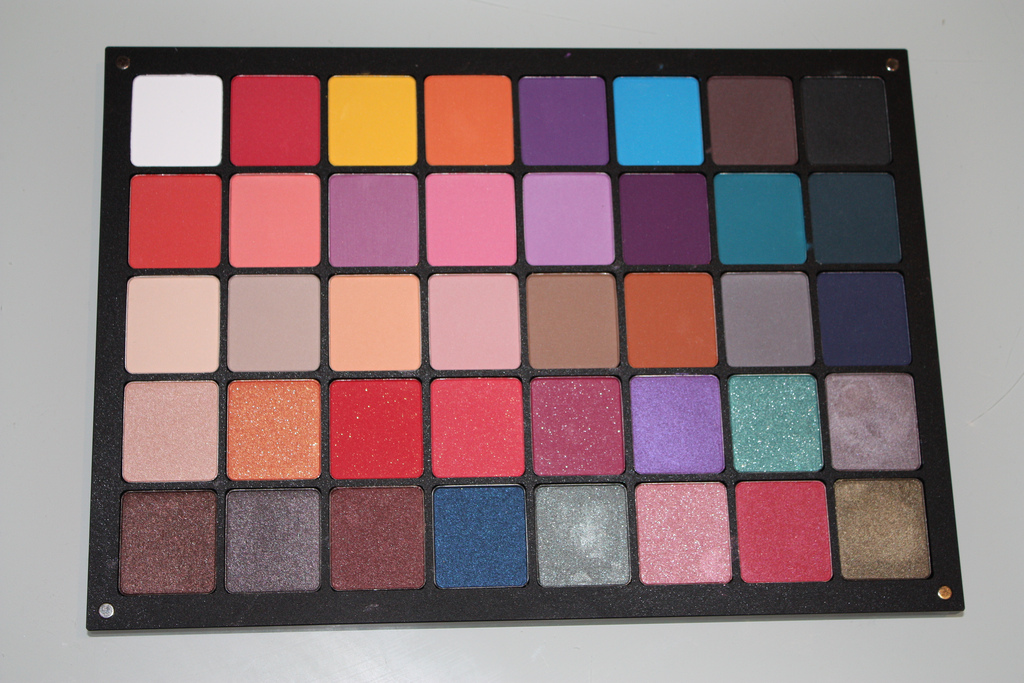 Much to my chagrin (holla 50 shades!), I haven't used it much at all. The 40 palette seemed like a grand idea in theory but in practice, it's a pain in the ass so I'm considering splitting the shades into multiple 5 well palettes.
What would you recommend highly from Australian Drugstores?

– Hannah, similar question comes from Lisa
I feel like most noteworthy Australian brands are high end and have gone global (Lipstick Queen, Becca, Jurlique, Alpha-H and the list goes on). Drugstore wise, I do love the Australis AC on Tour Kit (available at Priceline) if you are NC25 or deeper and Sportsgirl Pout About It Lipsticks are BOMB SRSLY (not exactly drugstore but very affordable). Chi Chi has some pretty lipsticks, also.
If you love false lashes as much as I do, Manicare makes some phenomenal styles (my favourite is the Alessandra lash, also at Priceline) and they're totally synthetic! You wouldn't even know it, super layered and fluttery.
Skincare and hair wise, check out A'kin, Al'Chemy, Puretopia and Grown Alchemist – these are gorgeous all-natural brands available at Priceline. If you're a tourist and looking for native bits, just go to Priceline Pharmacy, it's epic.
What are you favourite online makeup websites to purchase from? [that ship to Australia]

– Hannah, also
Oh YAS gurl, I love me some online shopping. CultBeauty, Beautylish, CameraReadyCosmetics, PMstudio, SephoraAU, MakeupAndGlow and MadameMadeline.
How do you pick a coordinating (harmonious) blush and lip for an eye? I can come up with lid, crease, transition and outer v colors okay, but I don't know how to pick a blush and lip to go with them. Thank you!
– Angie
Great question and one that I've received many, many times. The most basic/traditional means to coordinating a lip/cheek to an eye: determine whether the eye runs warm or cool and match based on temperature. For example, if your eye is a mix of blues and greys, you might find a cooler pink to sit best on the lips and cheeks. Likewise, if your eye leans bronze or orange, a peach or peachy nude is a harmonious fit.
It's not always that straight forward, sometimes an eye look is composed of both warm and cool tones, here's one I prepared earlier…
In these instances, I often sample a hue from the crease; the peachy tones above the socket here match the lip and cheek. Honestly though, unless you're pairing stark opposites like blue eyeshadow and orange lips, it shouldn't be jarring. Jarring is cool too, I love some tonal clash 🙂 Arm yourself with a colour wheel, the more you experiment the more you'll develop an eye for it!
Do you think mature women can carry off colorful eyeshadow such as purples, greens and teal as well as bright lippies such as bright corals and pinks? How do we wear it tastefully without looking like a teenager wannabe or looking like we are trying too hard?

– Bagmad
Absolutely, mature women can pull off colours. If you're concerned about looking tacky (for lack of a better word), ground the colour with neutrals. Examples: jewel toned eyeliner with all neutral eyeshadows, a brighter lip with a neutral eye and pared down cheek, a brighter cheek with a neutral lip and eye etc. Pick your focus.
When it comes to lips, a bright tone can be more forgiving when applied in a soft ombre effect. One of my favourite techniques to achieve this look is lining and filling the lips with a neutral lipliner (often as we mature, the natural lipline becomes less defined) with a bold colour patted onto the body of the lips.
Finally, some brights may sit better on your colouring. Colour theory can get pretty complex but a good indication would be your wardrobe, which top appears to brighten your complexion? Incorporate that shade somewhere in your makeup 🙂 These tips are NOT rules, wear what makes you happy!
I have a problem with foundation settling in my laugh lines. I dont have a problem with pores and I don't like the pore filling kind of primers so what kind of primer should I opt for?

– Aroub
This is perhaps not the answer you are looking for but it's the best solution I've encountered for product settling in laugh lines: minimise the amount of product in that area. I often do this by taking a fluffy, synthetic eye brush or even a q-tip down the offending areas to pick up excess product (once your makeup is complete). If you hate that idea, apply a tiny amount of eye primer in the deepest part of the laugh line prior to foundation application and see if that helps.
Thanks to all of you that left questions in Ask Karima #1, I'm so overwhelmed at the response and I couldn't possibly fit them all in this post (in which case, I've responded to the comment directly!). Let's keep this segment going – leave your questions in the comments for Ask Karima #3!
xxkarima