The other day I was steeping in my own inadequacy browsing instagram thinking… Dayum, my friends are bomb. Y my flatlay no look like dat? How u so awesome?
Somewhat selfishly (mwahaha), I convinced them to tell us their flatlay secrets.
@wendy_online
Wendy is legit one of the hardest working people I know (you should have seen her at fashion week) and although she is relatively new to instagram, she has already amassed over 20 thousand followers! It's no wonder, she's the flatlay KWEEN having styled and shot images for clients including YSL Beauty Australia, Napoleon Perdis, Essie Australia and Simple Skincare.
OKAY, tell us how?!
Wendy's Tips
A white background works best and you don't need anything fancy! A white piece of cardboard or a roll of baking paper works wonders.

Clean your products off, a gorgeous shot can be ruined by a dirty foundation cap or fingerprint marks. It makes a world of difference in your pictures and costs absolutely nothing to do.

Have fun with it! Flat lays don't have to be boring. You can keep it interesting with with food, flowers, jewellery or whatever props you see fit.

If in doubt keep the products tonal. It helps create a cleaner, cohesive picture and ties everything together nicely.
@lichipan
Li-Chi Pan is SO freaking sweet, you just wanna cuddle her. With over 60 thousand (!) followers, Li-Chi has worked with iconic brands such as Audi, Country Road, Ladurée and Nespresso. She recently collaborated with Flight Centre to create breathtaking photography for Tourism New Zealand and will be embarking on a trip to Dubai this month to collaborate with Tourism of Dubai.
Her work is instantly identifiable; an eclectic mix of food, lifestyle and makeup.
Li-Chi Pan's Tips
Unconventional props keep your flatlay interesting – I use coffee cups, books, glasses and laptops on the regular.

Standing on a chair when photographing helps too! It allows you to capture the entirety of the image in one smooth go. Don't be shy to get up on that chair to take that flatlay!

Editing apps can be the key to creating awesome atmosphere, my favourites are VSCOcam and Afterlight.

Shoot near natural sunlight, a bright spot near a window is perfect. It's important to take advantage of the light when it's not too harsh.
@bubblymichelle
Michelle's instagram is the mecca of high-end makeup and she manages to create FLATlays that are full of dimension and depth – a tricky skill to master (I've tried!). In addition to her makeup-focused account, she runs two professional hotel instagram platforms (here and here) – food, landscapes, you name it! Much admiration, Michelle <3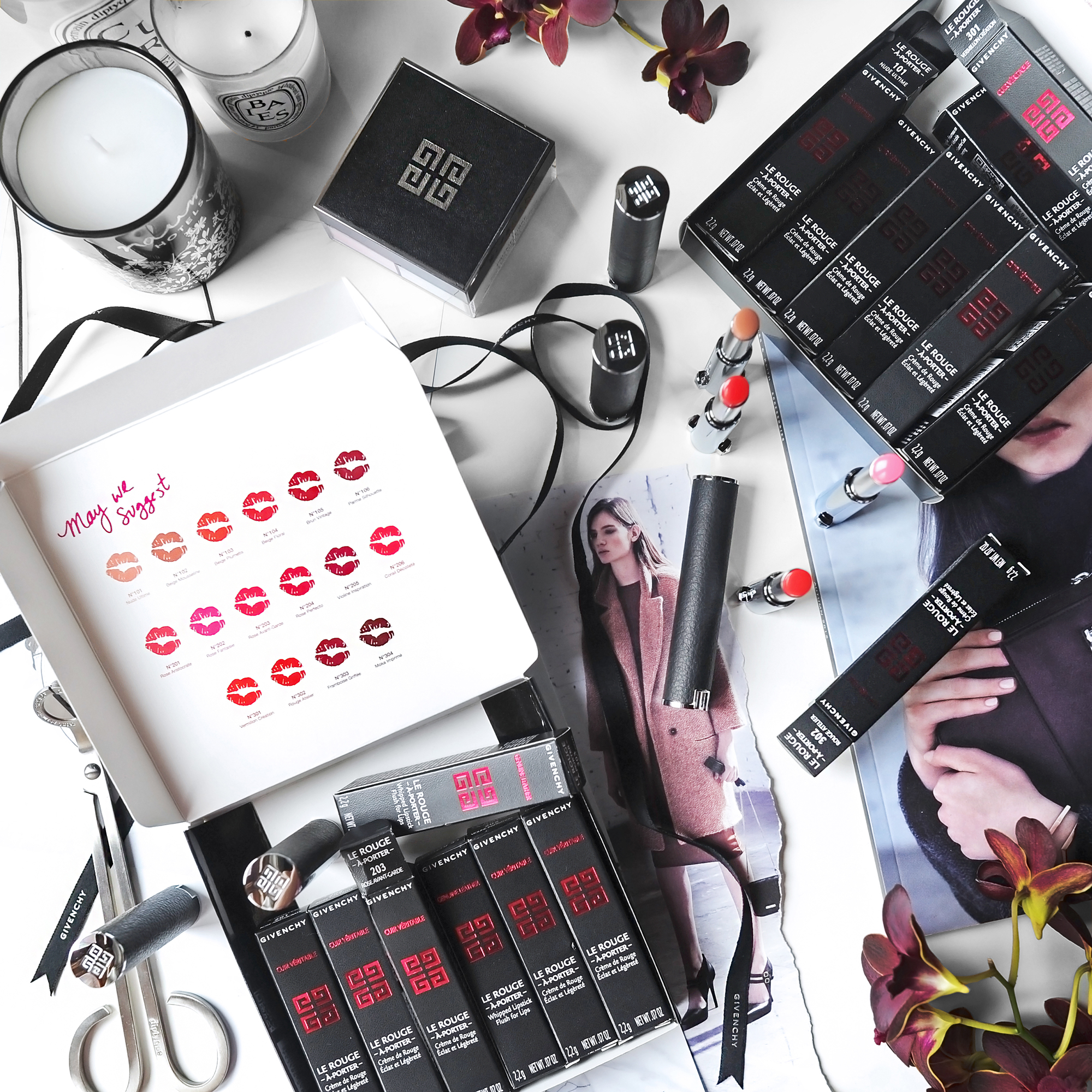 Michelle's tips were eye-opening to me and I've already incorporated some of the concepts into my own instagram account!
Michelle's Tips
Build a mood around whatever you are trying to feature. In this case I wanted a mysterious, cosy feel to go with the seductive leather packaging of the lipsticks. Everything should look harmonious.

Work in batches (we are going for organized mess, not mess!) and group similar products in clusters or a continuous flow so that the eyes don't get confused; a couple of open lipsticks, a trio of candles, etc.

Lastly, mix textures and shapes; in a sea of square products, sneak in something round or circular. With flat objects, mix in some texture like a scarf, or something fluffy to give it dimension. Even organic/living elements, such as flowers, a cat or a random hand can make a flatlay look far more interesting!
@tamirajarrel

Tamira's instagram gives me major frienvy (getit getit? friend-envy!), it takes serious skill to create such a consistent feed. #Datskill got her nominated for the Top 10 Beauty Blogger of the year 2014 (Allure magazine), she's been featured on the Bloglovin site and has worked with brands including Burberry, Tom Ford, Hourglass Cosmetics and SpaceNK.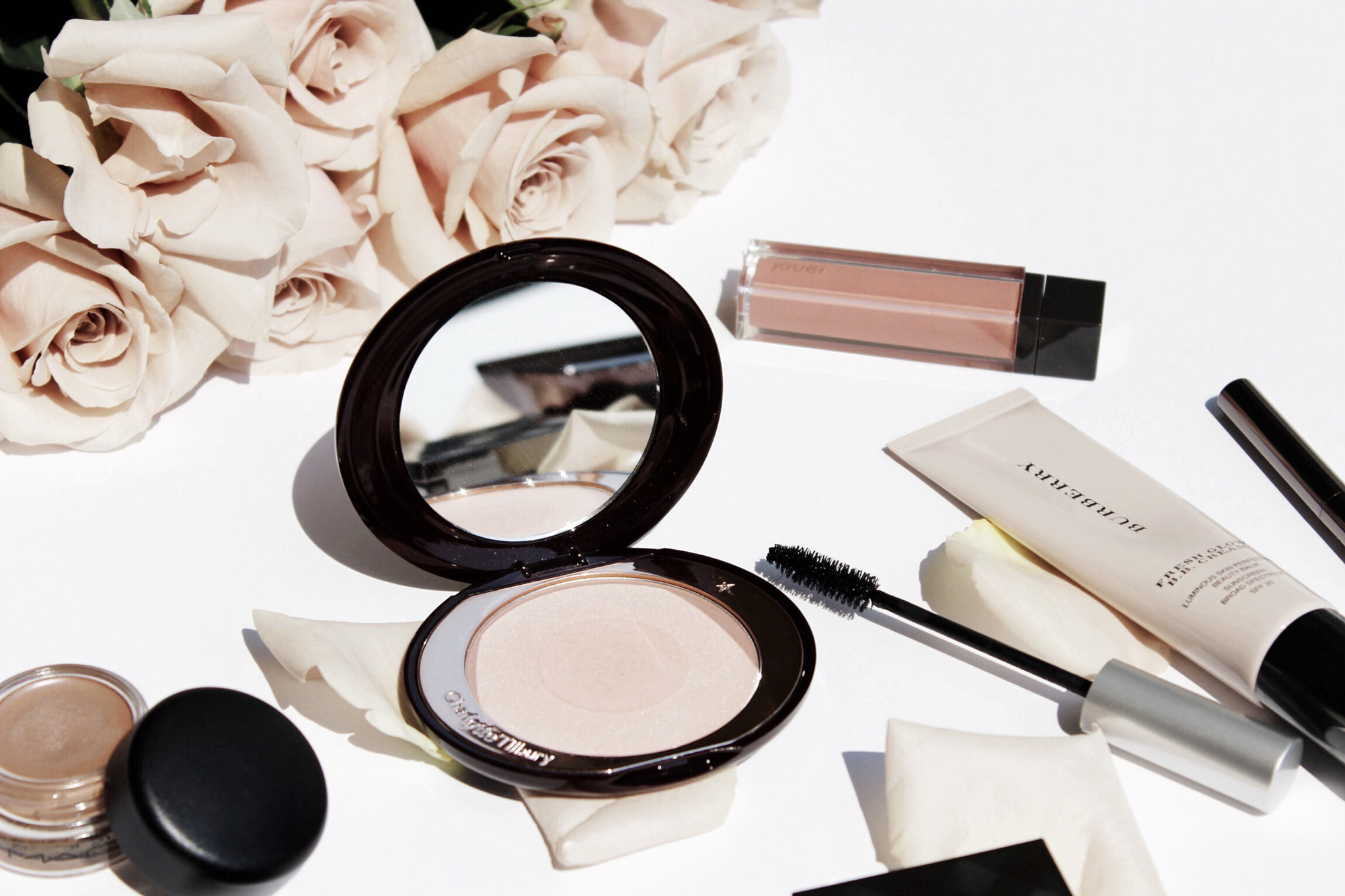 Though not technically a 'flatlay', this is one of my favourites from Tamira 🙂 Tonal perfection!
Tamira's Tips
Scotch tape and blue tack are your BF's for items that like to roll around.

Work around your main item, something a bit larger than the rest (e.g. shoes, hat, purse or laptop) will help to define and break up the flat lay.

Lay items out so that they aline properly, I step back a few times to make sure everything is straight. I'm just a very anal person when it comes to things like that but it makes a hell of a difference if you pay attention to detail. That being said, products need not be centred, you can shoot some of your pictures in different corners of the frame (and don't worry if you accidentally catch your toes in the picture, I crop mine out all the time!)

Don't feel the need to fill every inch of space – clutter can be a big turn off and eyes need somewhere to rest as make their way around a flatlay.
Were you taking notes? Because I am! Massive thanks to these ladies for sharing their flatlay tips and be sure to follow their instagram pages for daily inspiration <3 Let's have a discussion: What is your best flatlay tip? What's your favourite editing app? Tell us in the comments!
xxkarima