For the longest time, I was perplexed as to why many opt to depot their eyeshadows. It looked messy and disorganised, to me. I came to my senses.
Why I eventually decided to depot my eyeshadows:
– My stash had become too large for my organisation unit and palettes are far more compact.
– I started forgetting about gems that were pushed to the back of the drawer.
– My OCD tendencies insisted that I organise my shadows by brand/colour.
– Inspiration. Colours arranged in a palette are conducive to unexpected combinations.
– Six empty MAC compacts can be returned to MAC for a free lipstick, under the Back2MAC program. Who doesn't like free lipstick?
Now that I've satisfied the 'why', let me illustrate the 'how'.
The most informative MAC eyeshadow depotting tutorial I have come across is this YouTube tutorial, by FleurDeForce.
The outcome, my partially filled MAC 15 Palettes. Feel free to recommend shades to complete my collection!
Neutral MAC Palette
Row 1: Antiqued, Brown Script, Satin Taupe, Blanc Type, Carbon
Row 2: Woodwinked, Brun, Soba, Vanilla, Black Tied
Row 3: Tempting, Patina, Nylon
Colourful MAC Palette
Row 1: Coppering, Sketch, Club
Row 2: Paradisco, Star Violet, Sumptuous Olive
Row 3: Cranberry, Stars n Rockets, Greensmoke, Birds and Berries.
After my MAC depotting stint, I became obsessed. I wanted to depot ALL TEH eyeshadows- my next victims were my Rouge Bunny Rouge eyeshadows. I am indebted to Bern's Picture Tutorial, she made this task super simple- not a single casualty.
For sh*ts and giggles, my Rouge Bunny Rouge graveyard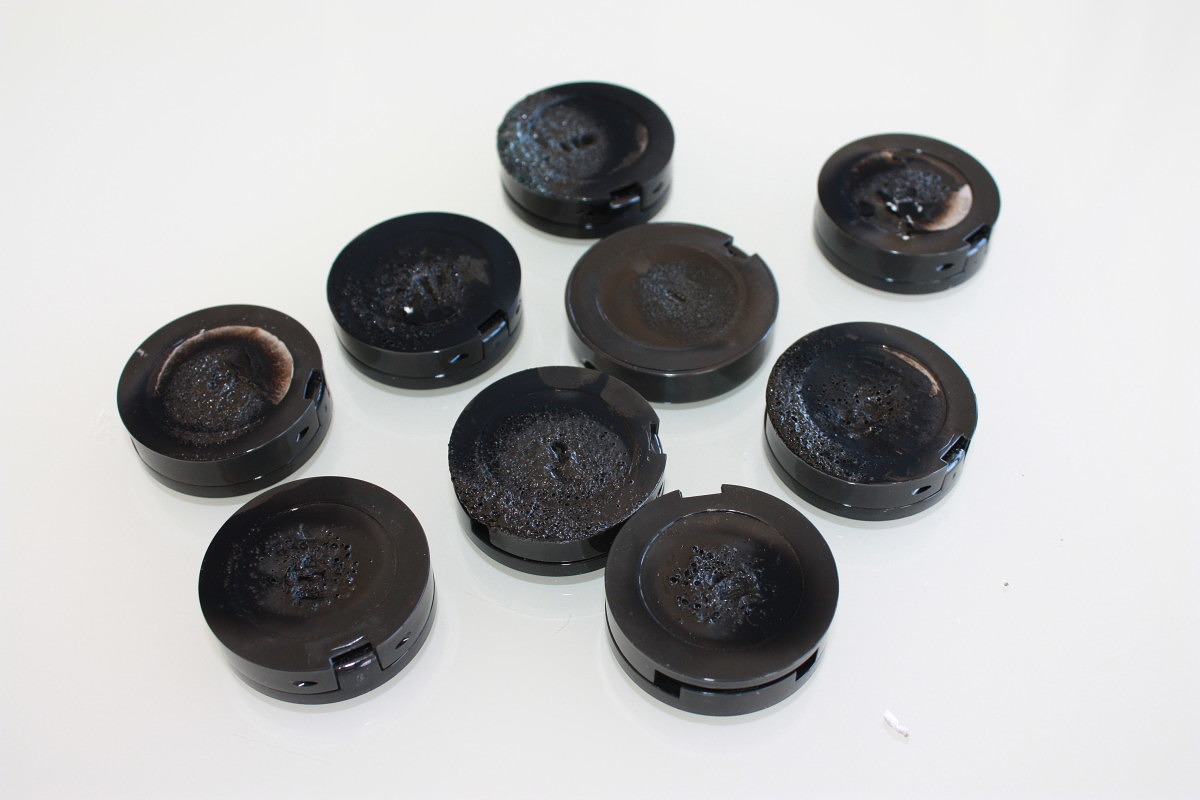 And housed in their new habitat, a Z Palette Pro.
List of eyeshadows:
RBR Whispering Ibis, Abyssinian Catbird, Volcano Fairy Wren, Veiled Lyrebird, Chestnut Napped Apalis, Angelic Cockatiels, Bejewelled Skylark, Blackpepper Jay. Too Faced Label Whore. Chantecaille Rose Gold. Nars Cyprus, Biarritz, Paris Duo, Key Largo Duo, Cap Ferrat Trio. And Shu ME 175.
Noteworthy stuffs I learnt along the way:
– MAC pot eyeshadows contain pans that are NOT magnetized. I used circular adhesive magnets from a craft store.
– No matter how extensively my significant other cringed, paced around the room and warned me to "BE CAREFUL!", I still cut myself depotting MAC shadows. I reiterate, BE CAREFUL.
– My Rouge Bunny Rouge labels were not as obedient as Bern's. In order to remove them, I used the same method demonstrated in the MAC YouTube tutorial. I placed them on greaseproof paper and let them sit on my hair straightener for a few seconds, they peeled off easy peasy!
– Rouge Bunny Rouge pans are already magnetised so you will not require additional magnets.
Other things a good beauty blogger wouldn't tell you:
– Plastic fumes will make you feel giddy.
– I discovered that I like fire (FIYAAAAA!)
– I'm excessively awkward and managed to burn, cut and get soot on myself. If you're a normal person, you probably won't have these issues.
So tell me- do you depot your eyeshadows? Why or why not?
xxkarima