Once a week I visit my grandmother where I eat my own weight in chicken schnitzel, hear about her newest ailment (and subsequently her latest cure), fall into a food coma and finally, I pick up my post.
When I see that box, I do a little prayer to the makeup gods: I hope it's Rouge Bunny Rouge. Mostly it's the hauls I'd made at 3am and had since forgotten (Surprise! It's like a gift from your significant other except you paid for it and it's exactly what you wanted), but this time…
SQUEAL
Look at dat bunny!
The new(ish) pretties to join the RBR lineup include: Two eyeshadows (Rain Dove and Rufous-Tailed Weaver), a liquid Quartz Eyeliner (Tanzanite Essence) and the Impalpable Loose Finishing Powder.
Rouge Bunny Rouge Eyeshadow – Rain Dove
Rain Dove is an interesting taupe: a fawn base with an elegant but multifaceted shimmer overlay. I found the gleam to shift from peach to rose, so I'm struggling to categorize it as warm or cool. Let's just say it's neutral okay?
In terms of quality, it's the phenomenal formula that we've come to expect from RBR. While pigmented, the shade is very light. I'm fair/medium and the effect is a soft glow to the eyelid as opposed to any colour impact, however, it's rather pronounced on paler skintones.
Why.are.my.friends.so.beautiful.
I blended Rain Dove on the inner half of Taylor's eyelid and it looked SO gorgeous on her NC10 skintone; a pale rosy taupe that shifts to a peachy taupe depending on the way light hits. So with all my blabber, the official description: Rain Dove is a complex and very light taupe with rosy gold highlights. Errr, that's pretty spot on (why do I even try?!).
Rouge Bunny Rouge Eyeshadow – Rufous-Tailed Weaver
RBR describes Rufous-Tailed Weaver as a medium taupe with bronze-gold highlights. To me, it's more bronze than taupe but the definition of taupe is ever-changing and let's not go there. Unlike Rain Dove, Rufous-Tailed Weaver is pronounced on all skin tones; on me it pulled a warm, medium bronze and on Taylor, it pulled a cooler, green-bronze (as seen above on the outer half of the lid).
The consistent theme between the two eyeshadows is the complex but muted shimmer, both are what I would describe as 'work appropriate' shadows. They're soft and understated, as opposed to certain shadows in the RBR line (including Abyssinian Catbird and Angelic Cockatiels) that have a heavy, foiled shimmer. Both eyeshadows are the very definition of wearable, suitable for any occasion.
Rouge Bunny Rouge Devotion Ink Quartz Eyeliner – Tanzanite Essence
RBR describes Tanzanite Essence as rich sapphire; it's a medium blue base with predominantly sapphire and silver shimmers (but a dash of peacock and pink glimmers for ALL TEH complexity). I swatched it above over a black liner for science but it really doesn't need any base, it's surprisingly opaque on one swipe despite the super fluid texture. The applicator is amazeballs, relatively stiff and very tapered for precise application of both thick and thin lines.
In terms of longevity, Tanzanite Essence wears like iron, not a single smudge on a long, nightmarish day. If you have sensitive eyes like myself, avoid getting product in your eye because it does sting (no sh*t Karima, this may be a result of my moronic behaviour as opposed to the formula).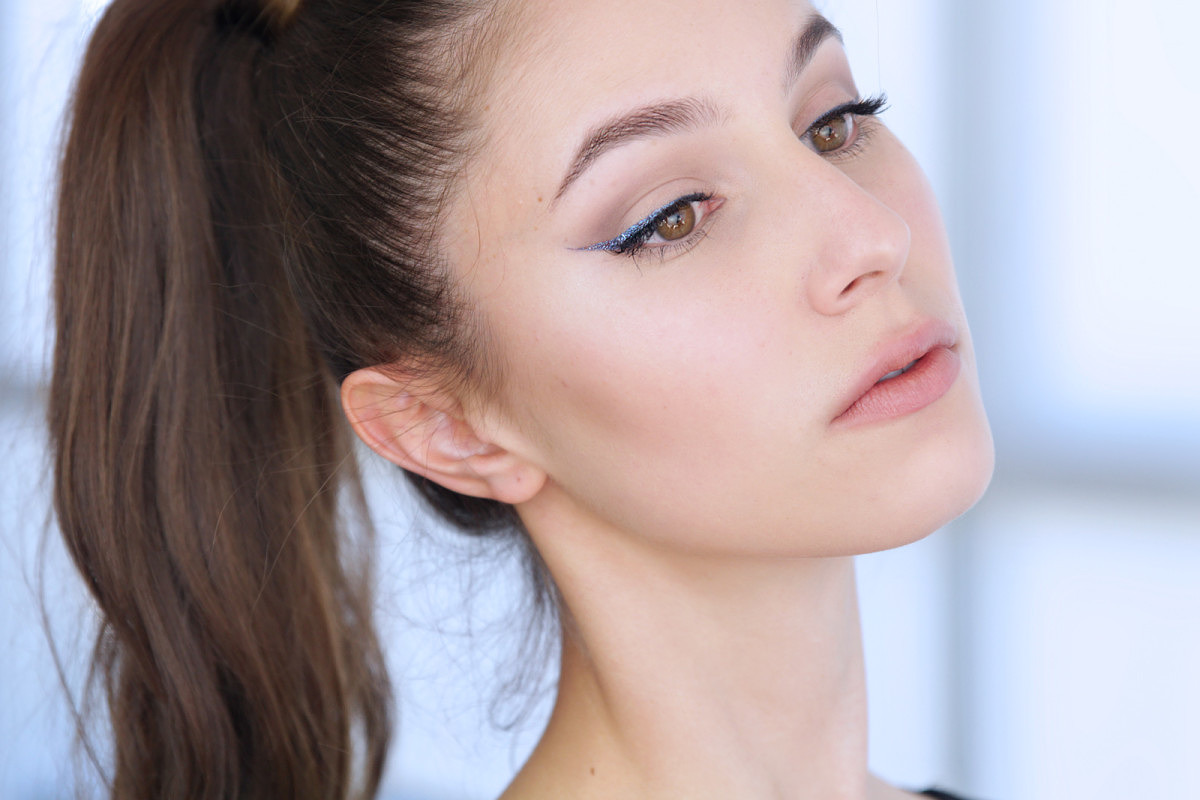 Now I don't mean to toot my own horn but I really loved this look – although the eyeliner is distinctly blue, it's never overwhelming and has that delicate quality that Rouge Bunny Rouge pins perfectly every single time. This is actually the look I wore in my Top Contours video but the floodlights washed out the gorgeous subtleties. As for the rest of the face: RBR Chestnut-Napped Apalis and Blackpepper Jay Eyeshadows through the socket & Perfume of His Gaze Lipstick on the lips.
The liner is love, well done Rouge Bunny Rouge, perfectly executed.
Rouge Bunny Rouge Impalpable Finishing Powder – Diaphanous
I don't like powder – you'll rarely see me use it in my tutorials because I find it dulls luminosity and encourages cakiness. Trust RBR to prove me wrong, I freaking love this stuff, I only wish I got my first impressions on video because it was priceless confusion. Essentially Diaphanous is a translucent powder cased in a mesh protected jar which prevents powder dispersing everywhere and settling onto your vanity (and the depths of your lungs, it's a minor miracle).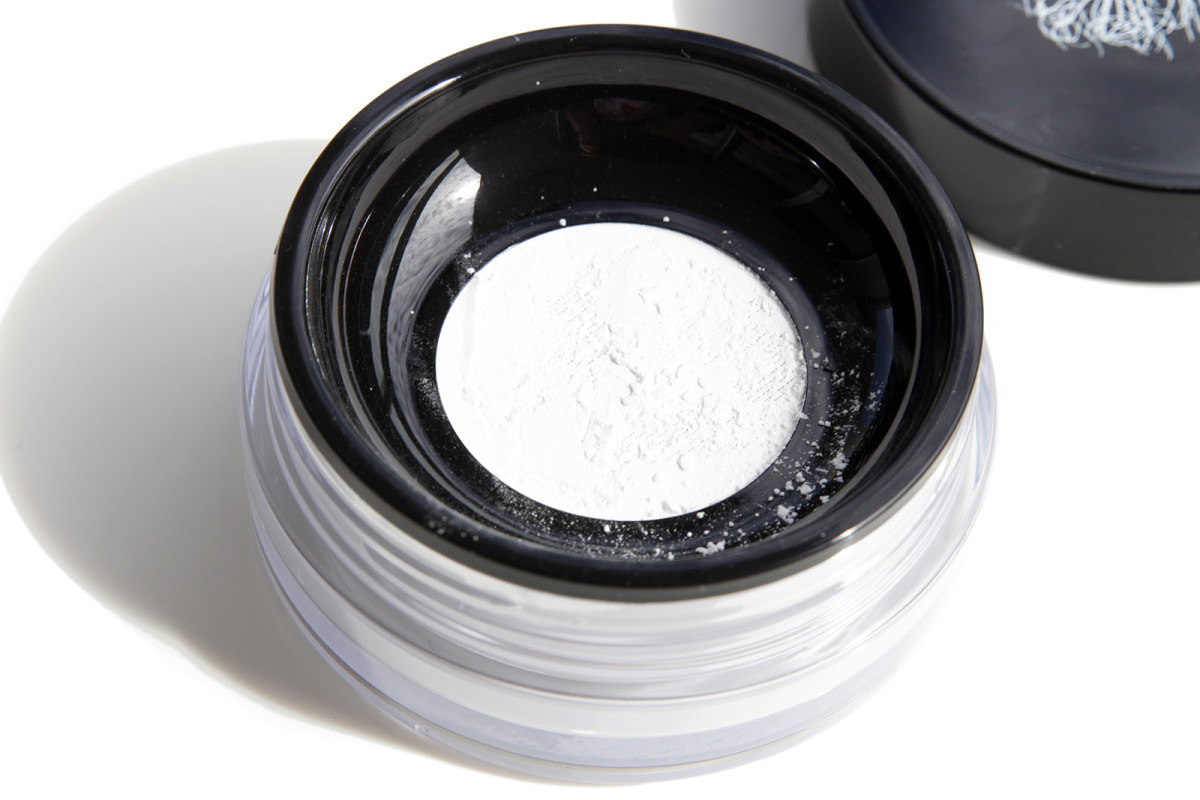 The defining factor: it's silica* based, much like my beloved Laura Mercier Secret Brightening Powder for eyes. Silica is ultra fine, feather light and has soft illuminating properties (sans shimmers). I used this powder in both looks above to mute unwanted shine in the t-zone and set any foundation tackiness and let me just say, it is truly invisible. I even tried to pile it on to see if I could overdo it and make a mess of myself but nope, even after a third application it was undetectable.
I'm legitimately floored.
Diaphanous blurs pores, enhances longevity of base products, allows powder blusher/bronzer/highlighter to glide on and adhere evenly. It's everything I wanted SUQQU Loose Nuancing powder to be. The only con I can muster is that silica based products are risky in photographs (not impossible, FYI) but for real life, I can't recommend this enough. Holy crap.
*= I've tried many silica based powders and they've all performed differently.
My Final Verdict
The Quartz Ink Eyeliner in Tanzanite Essence and the Impalpable Finishing Powder are the standout winners for me, the latter being a total game changer in my makeup application. The two eyeshadows will really shine on paler skin tones, which better showcase the soft nuances. Rouge Bunny Rouge can be purchased off their web boutique here.
xxkarima
These four products have been provided for consideration. All opinions are my own and I am not compensated/paid for any reviews. I value my readers too much to talk sh*t.