Judging from comments and emails, it would appear that many of you would like to see the unabridged version of my foundation application. If you're familiar with my Youtube tutorials, you'll know my general base philosophy: I aim to look as though I'm wearing no foundation at all. I'd prefer to maintain some level of imperfection if it means that my skin… looks like skin!
NB: I'm not suggesting this is the right way or the only way, as always it comes down to preference – wear your foundation in a way that makes YOU feel confident.
Here is my uncut foundation application, explanation and photos under the embedded video. I've adjusted the camera settings to pick up as much texture as possible, but note that I appear a little darker than I am in person. I've added some music but if you hate my choice of tune, feel free to mute 😉
Skin Prep
The condition of the skin is an important factor since foundation tends to highlight uneven skin texture. Mild chemical exfoliants are a great way to gradually improve skin texture, my favourites are: Aurelia Refine and Polish Miracle Balm & First Aid Beauty Facial Radiance Pads.
Wherever possible I apply my base immediately after moisturising, my face is prone to dehydration so I find a moist surface prevents my skin from sucking up all the emollience. If you're loyal to primer, go right ahead, my moisturiser produces the ideal canvas for my skin type.
Concealer
A quick addition to this video, just to demonstrate that I tend to apply undereye concealer prior to foundation. Firstly because I find the edges are better blended in that sequence. Also, I'm a glasses wearer so I apply MAC Pro Longwear on the bridge of the nose (which prevents migration where my glasses sit), Prolongwear tends to shift any foundation underneath so I prefer applying it beforehand. Spot concealing comes after foundation, we'll get to that soon!
Foundation
The foundation you pick is a critical factor in achieving a skin-like base. I've worked on many faces and let me tell you: there is no one foundation that produces a skin-like result across the board. It's a case of trial and error – not what you want to hear, I know, but it's the truth!
Some of the foundations that best mimic skin texture on my face: Armani Lasting Silk, Koh Gen Do Aqua, Sunday Riley Effortless Breathable Tinted Primer and Dior Airflash. If I'm working on a new face and I'm not familiar with the complexities of their skin, I'll generally opt for MAC Face & Body – it's a safe bet and rarely goes wrong/cakey. I don't often use it on myself because it requires a lot of rubbing and working, which rouses redness on my delicate skin and THEN I need more coverage and so on. Struggle is real.
Tools
I've dabbled with every foundation tool known to man. Buffing brushes offer speedy application and are suited to formulas that set quickly. Flat paddle brushes are fantastic for flaky skin/peach fuzz as they smooth down any texture (as opposed to lifting texture with a buffing motions). Beauty blenders are wonderful for sheering out heavy coverage bases OR for dehydrated skin that benefits from the extra moisture.
Gun to my head, I have to pick one foundation tool and stick to it for life? Fingers. Where brushes and sponges can often lead to excessive product on the face, fingers offer a lot of control.
Motion
I swear by the pressing motion; I pick up a verrrry small amount of foundation on my finger (just residue really, which is why it can look as though I'm not applying anything at all) and perform dozens of pressing motions on the desired areas. If you've watched the length of the video, you'll know that this is quite a time-heavy task but frankly, the outcome is worthwhile. I'll use the pad of my finger on the smaller areas of the face (crevice of the nose) and the length of my finger on the larger planes of my face (the cheeks and forehead).
Placement
If you're seeking an ultra natural complexion, I advise applying foundation only to the areas where you need coverage. I need help around the centre of my face so I'll start there, but leave much of my cheeks and hairline untouched because I simply don't require the coverage. However, if you skin is most uneven on the jawline then you would start there.
If you have redness or pigmentation all round then apply a light layer all over. If your face is an entirely different shade to your body (faux tanning or natural deviation) then you may choose to apply all over the face, but don't obsess over it – our body is a patchwork of shades and to a certain degree, the eye expects some level of variation.
Building Coverage
This technique is not restricted to those who favour minimal coverage, you can build extra coverage using the same pressing motion. Work in sections so the foundation has time to set, then build another thin layer – rinse and repeat until you've developed the desired coverage. This is what is meant the phrase 'work in thin layers' – start small, let the product set, then build.
Spot Concealing
Spot concealing doesn't directly pertain to foundation but it's so incredibly important that it warrants a mention.
The purpose of foundation is to reconcile various colour tones to provide a more even appearance – it's not really designed to cover marks and such. That's where spot concealing enters the picture, using a precise brush to target blemishes means that you can get away with less coverage on the rest of the face, resulting in a more skin like/natural finish overall.
I didn't have a whole lot to spot conceal here (where's that tiny violin?) but this is the bridge between minimal everyday base and polished perfection, without the need to overload on foundation.
To powder or not to powder?
Realistically, if you struggle with longevity then setting the foundation with powder is a necessity. My favourite is Rouge Bunny Rouge Diaphanous, which actually improves the appearance of skin (HELLO porelessness!) but shine control is minimal, oilier skin types may fare better with the SUQQU Loose Powder (discontinued grrrr) or Laura Mercier Translucent Powder. If powder isn't your thing then setting sprays like Urban Decay All Nighter enhance longevity without mattifying.
Close-up Shots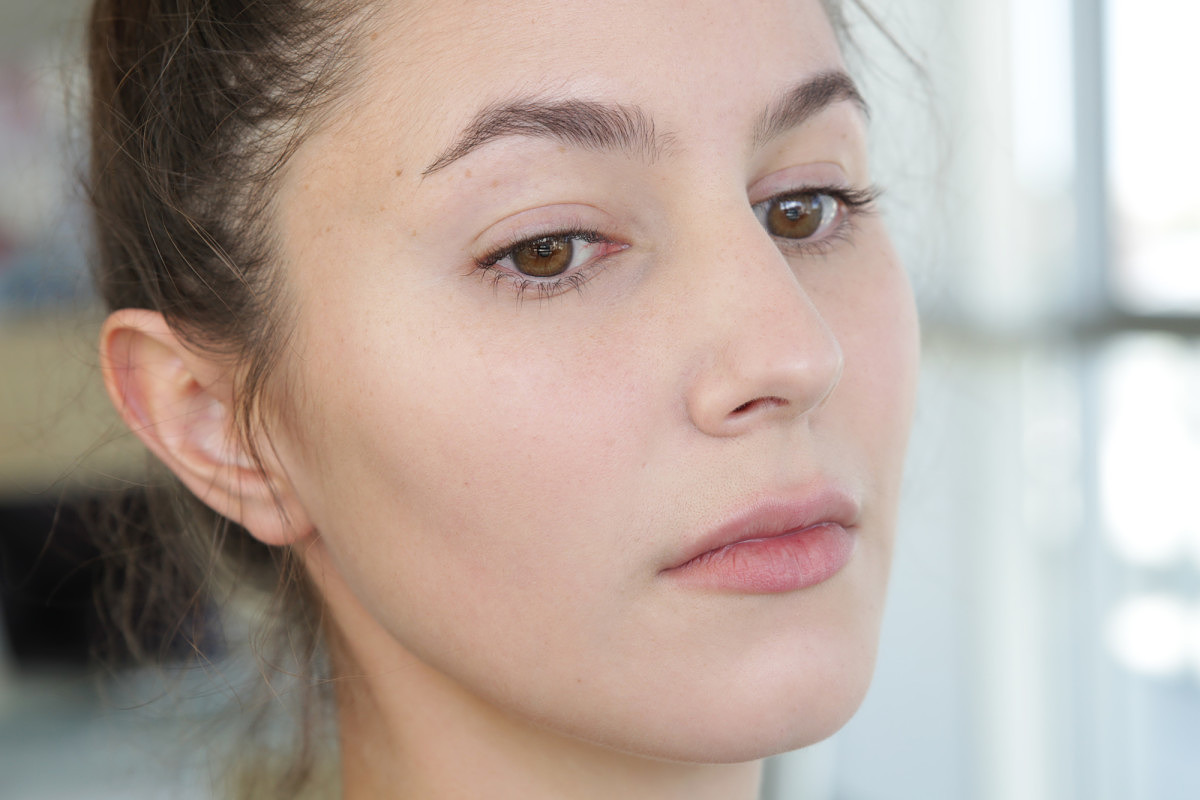 Note that you can still see some redness and freckle-things but for day to day, I'm totally okay with that. Admittedly, for full-on tutorials I would apply more foundation but the technique is much the same, just a little more building. Not the quickest way to apply base makeup but that's my approach to building a medium coverage while maintaining skin texture.
CLOSER!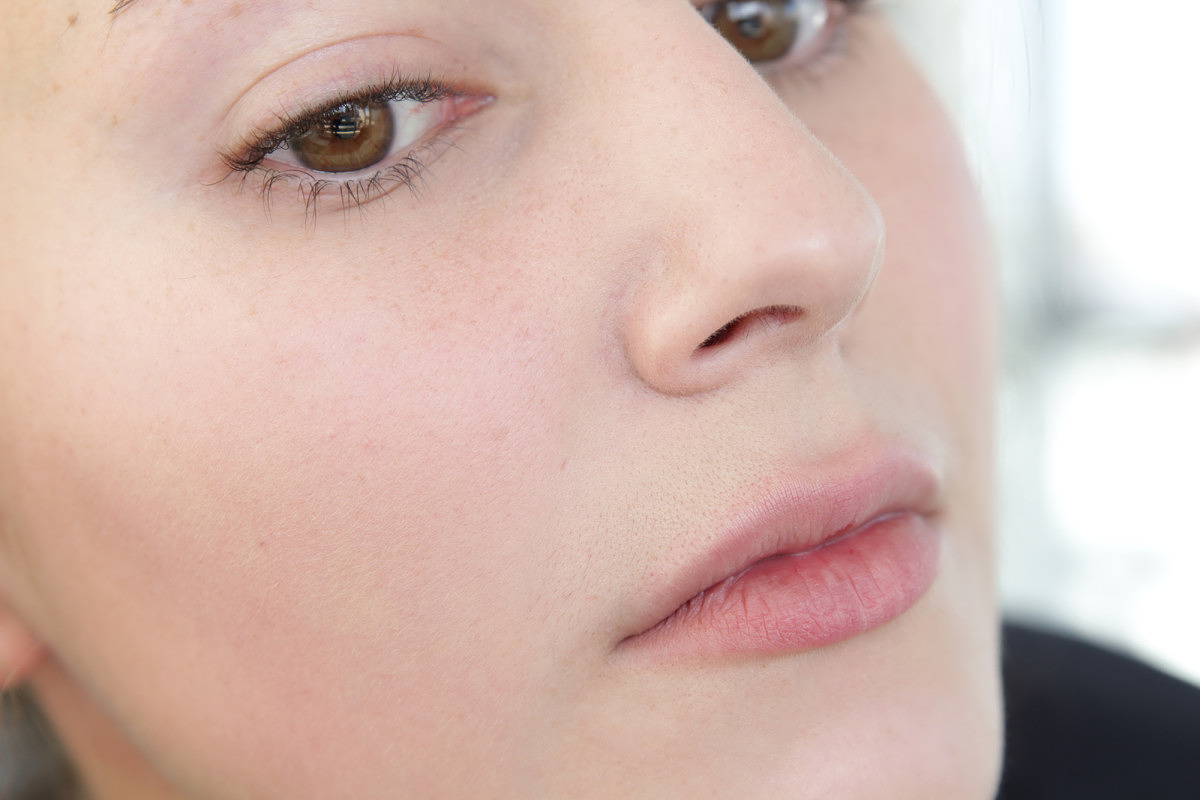 COUNT MY UPPER LIP HAIRZ
I hope you enjoyed the post! Again, there is no right and wrong way to apply foundation but if you'd like a more skin-like base, then you might like to pick and choose some of the techniques mentioned in this post. Have any extra tips? Feel free to share in the comments, let's get a discussion going!
xxkarima