HAPPY 2016 EVERYONE! New year, new segment… Let me explain. To this day, I respond to every comment on the Sham Frip because I love you AND you ask fabulous, insightful questions. A little heat map analysis tells me that very few people read the comments, which is a pity because a lot of cool discussion is going on down there.
Enter Ask Karima, a segment where you ask and I answer and we turn it into a blog post! Revolutionary. If you have a question that you'd like answered in the next Ask Karima post, leave it in the comment section. Any topic goes here: personal, makeup, youtube related, blog related… relationship advice? YOUGETIT.
…and if the segment is a flop, let's all pretend it never happened okidoki 🙂
What's your top skincare splurge item? What skincare item do you recommend most often?

– Katie
Love skincare questions! A lot of my skincare routine can be purchased at the chemist/drugstore (watch my updated skincare routine here) and I don't think skincare splurging is a MUST. That being said, I do love a bit of Sunday Riley Good Genes – essentially a lactic acid exfoliating gel that I leave on overnight. I prefer it to say… the more affordable Makeup Artist's Choice Lactic Peels because it doesn't leave me with any awkward downtime/redness/peeling.
There isn't a single skincare product that I would recommend to everyone and anyone (skincare is too personal, methinks) but my standard skincare advice is: remove your makeup very thoroughly. So many products to choose from here (micellar water, cleansing oil, coconut oil, whatever you want to use) and all work well, just remove makeup properly *twitches*
What helps you keep your makeup look fresh, more specifically, what do you do to get yourself out of a makeup rut? Such as always wearing a red lip, or always wearing the same shade of blush?
– A different Katie!
I'm probably not the best person to ask because I spend hours a week conjuring fresh looks because makeup is my life LOL. I do have a 'daily' stash of makeup that I quickly whack on my face for instances where I just need to get out the door; I make sure to rotate that stash a bit so I don't wear the same lip colour for a month, simply out of habit.
So my advice would be: rotate your stash. Take a moment in the evening to coordinate a different lip, blush and eyeshadow palette combo and aim to give it some love this week. The coordination step is important, most of us are rushing and therefore gravitate to the same old products that 'work'.
Your top 3 favourite pieces of makeup of the moment please?
– Jade
This is like asking about my favourite child D: D: D: By the way, my mother asked about that emoji and I realised it's not exactly obvious, tilt your head to the right, do you see a horrified face? Yeah? Okay, carrying on.
I guess I'm inclined to list my new and shiny stuff 😀 I just purchased that damn Tom Ford Face Highlight Duo and it's SAH pretty.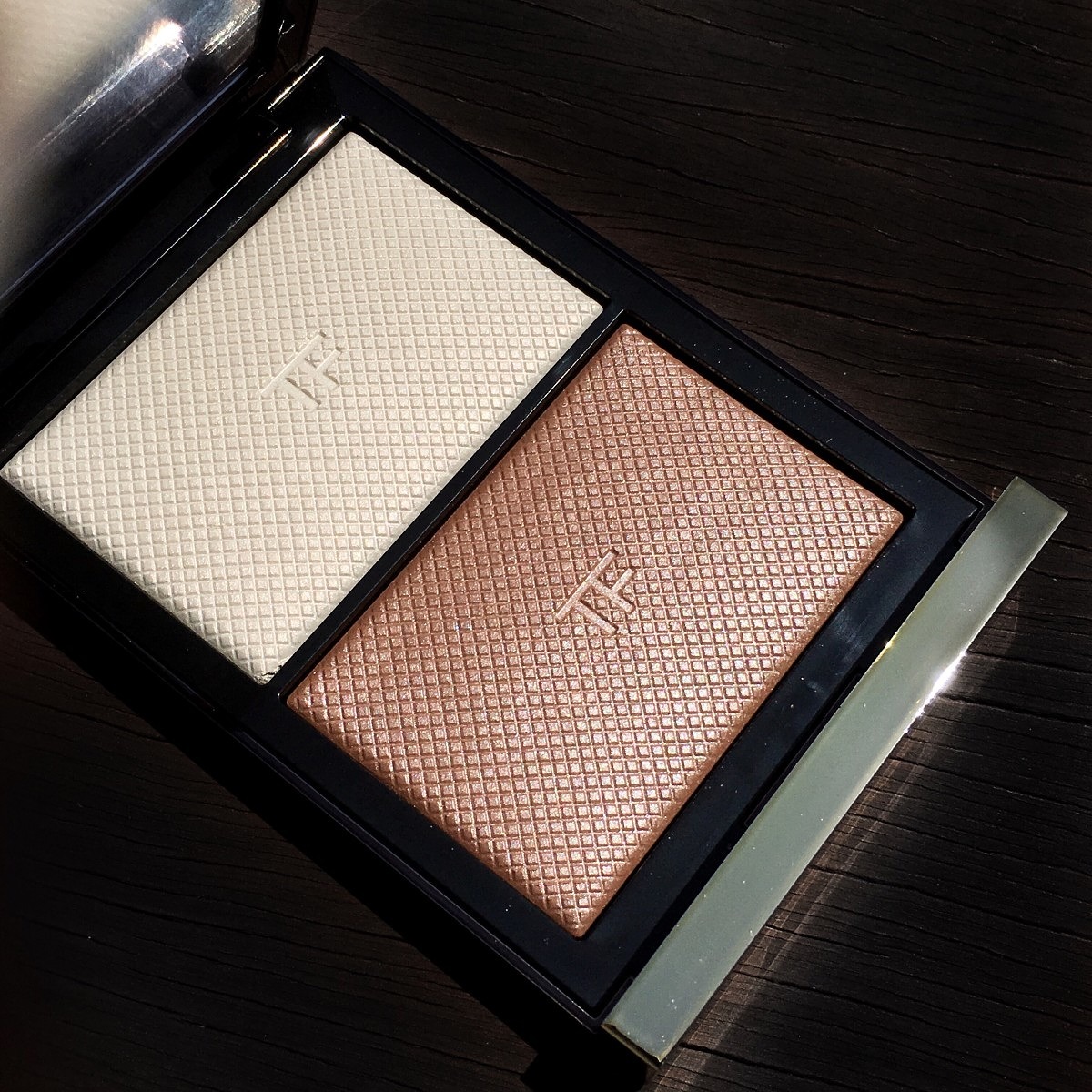 My good friend Sharon Farrell (check out her channel here) gave me one of her favourite products, Gorgeous Cosmetics Lip Pencil in Qiana, it's very nude on my skintone but gorgeous topped with a pink gloss. Um Um Um… It Cosmetics Brow Power in Grey! Still not as grey as I would like but about as ashy as western brow pencils go.
Which is your favourite powder: Rouge Bunny Rouge or It Cosmetics Bye Bye Pores Pressed? What's the difference? Are either good for flash photography?
– Paraphrased from dozens of comments
I really love both! Both are silica based (which you know I lerveeee), I'd recommend the Rouge Bunny Rouge Diaphanous Loose Powder to dry skins because it sets makeup without much mattifying. I'd recommend the It Cosmetics Bye Bye Pores Pressed Powder to more combination skin types as does have some oil absorbing properties and a more matte finish.
I wouldn't recommend either for photography. Don't get me wrong, I've used silica in flash photography without a problem but you need to be rather careful with application so as a blanket rule: if you're not sure, steer clear of silica.
For flash photography and special occasions, I recommend Laura Mercier Translucent Powder. It's not as invisible or lightweight as the aforementioned silica powders but it's reliable under flash settings and it sits well on most skin types (especially great on oily skin types).
Do you like the new Ask Karima segment? If so, leave a comment and a question for the next post! I'd love to post these frequently 🙂
xxkarima