A few weeks back, I became fixated on acquiring a particular lipstick that launched in 2010. For whatever reason, hard to find seems to translate to need now, in my mind. It all started when I saw this picture…
Chanel Genial is a limited edition Rouge Allure from Summer 2010 and I was a few years too late. Google advised me that this shade seems to look different on every set of lips- no matter! I tracked it down on AllCosmeticsWholesale and fumbled for my credit card, hoping that I wasn't about to received a tube of Eau-De-Rancid-Lipstick, it's a relatively old product after all (madness, I haz it).
It arrived. I tore open the package. Sniffed furiously. The scent of Rouge Allure filled my nostrils. Thank you, makeup gods.
Pinky-Coral goodness, ladies and gentleman.
Temptalia describes this as a brightened pinky-coral with a slight glossy sheen, that is pretty accurate but I should add that this has a touch of white in the base. Lipsticks with white bases are tricky: done poorly and they're awfully tacky, done well and they allow a lipstick to stand apart from the face, creating a gloriously bold lip. It's a fine line and Chanel nailed it with Genial.
I was clutching for straws- how can I blog about this without being an absolute tease? How about… dupe searching? Was I successful? You tell me.
I shuffled through my collection; Lancome Rose Boudoir and Maybelline Shocking Coral were my closest contenders.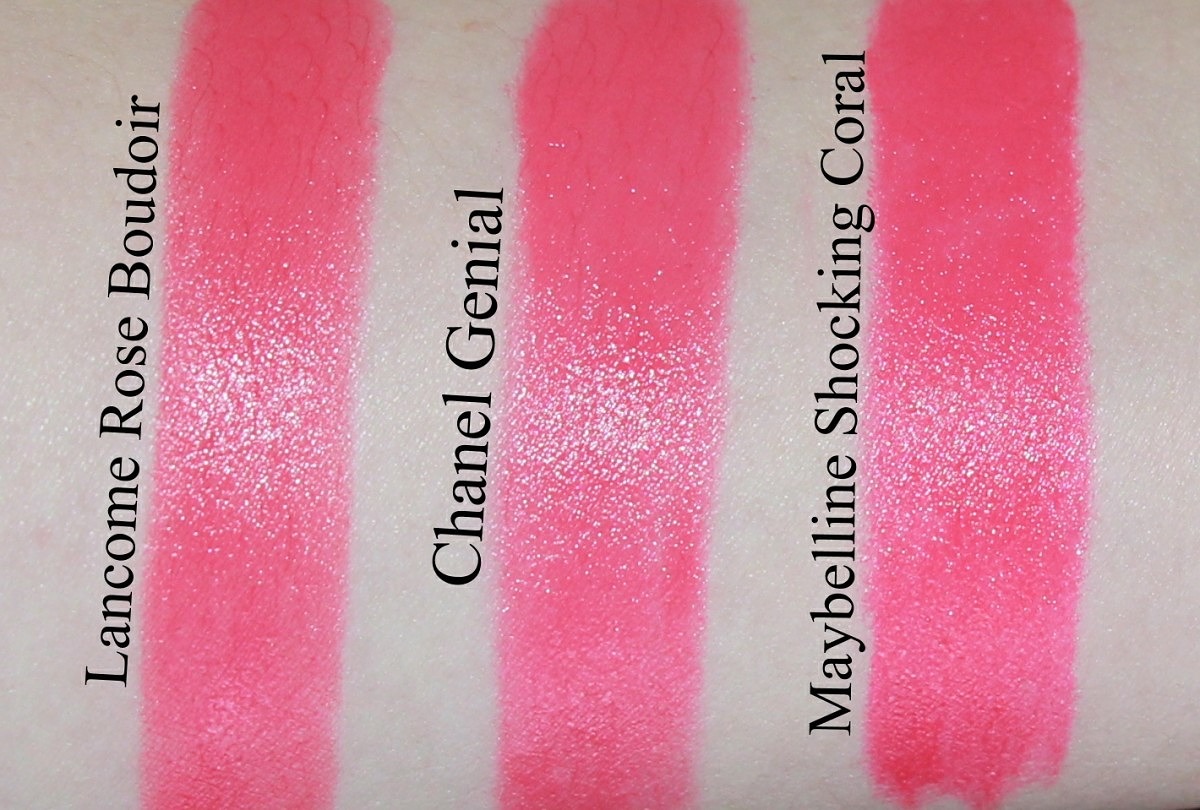 Since blogging, I've learnt that arm swatches are very, very deceiving. My arm indicated that I had two almost perfect dupes. My lips told another story. I don't have full face shots because I'm protecting you from the horrors of my healing eye- but I've given you a bit of my neck. To compensate? I just don't know.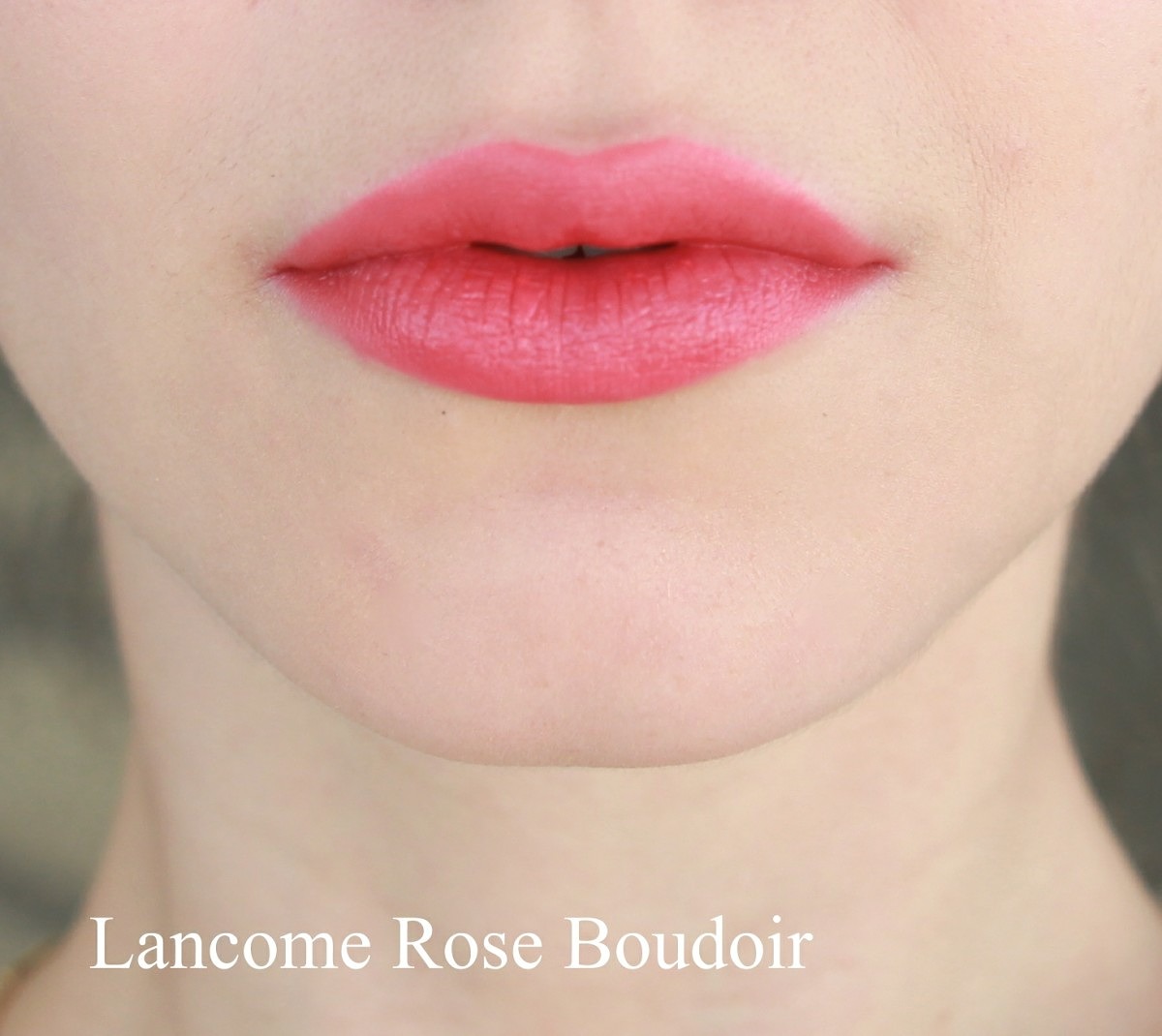 Excuse sudden changes in lighting, I was doing backward somersaults to get the lipcolours to picture true to life (application secondary, apparently). A quick blurb on each of the lipsticks…
Chanel Genial
It looks nothing like the catwalk photos on me, much pinker (because that's what my lips do…to everything). I find the Rouge Allure formula to be very creamy and comfortable, it doesn't have too much slip and I don't find that it bleeds. Genial has a slight pastel quality due to the white base- which also has the tendency to show lip texture 🙁 I can deal with it because it's a very modern pinkycoral and I lurve it. As of right now, Genial is still available from AllCosmeticsWholesale for USD50, which is well above US retail but on par with Australian retail. That's how I justified it- don't rain on my parade.
Lancome Rose Boudoir
Judging from this lipstick, I'm also a fan of Lancome Rouge in Love formula! It is slightly less opaque than Genial and translates to a deeper, more muted shade on my lips (not a bad thing, depending on your preferences). Quite creamy and easy to wear, I found this had more slip than Genial and did bleed a tad into liplines. It some lighting, this has a purple tinge and leans fuchsia.
Maybelline Shocking Coral
I spend a lot of my spare time googling 'neon lipstick' (and that sounded more pathetic than I intended). Maybelline Vivids kept appearing so I opted for coral because…coral. Maybelline Shocking Coral is definitely shocking but coral? Not so much. It's a warm, neon pink. I snorkelled on the Australian Great Barrier Reef and coral wasn't this pink. It could be my lips. I don't know. Just sayin.
So…not exact dupes but I did find a reason to blog about Genial. I'm content.
NB: none of the above lipsticks have shimmer, my camera seems to reflect glossiness like whoa.
xxkarima