We're back with Ask Karima #4 where we discuss olive foundations and whether makeup is actually bad for the skin. If you're new to this segment, welcome! Check out Ask Karima #1, #2 and #3 and be sure to leave your questions in the comment section for Ask Karima part 5 🙂
What are your favourite beauty BLOGS and youtubers?

– Heather
Recently I've fallen behind on my Bloglovin feed (you can follow the Sham Frip here) but some all-time favourites: Temptalia (classic), Sweet Makeup Temptations for all things Japanese brushes, Vivianna Does Makeup for tongue in cheek narration and Linda Hallberg for pure creativity. If you have any blog recommendations, I'm all ears!
Youtube wise, I have SO MANY. Sharon Farrell because she's one of my best friends and duh, Jaclyn Hill because she's always excited and it cheers me up, Chloe Morello because she's so cheeky and also a friend, Lisa Eldridge for grown-up looks and the list goes on and on… and on.
What are you studying at uni, and why did you choose to study that?

– Kristin
At 18, I had no idea what career I wanted to pursue (heck, I could barely decide what to eat for lunch). I was seeking something versatile so I enrolled in a very sensible Finance/IT double degree. It's funny, whenever this comes up in conversation, I'm met with apologetic expressions… Hey, I enjoy my degree!
So yeah. I went for (what I perceived to be) the practical route and I don't regret it. If you're 18 and clueless, the practical choice ain't so bad 🙂
I've thought about purchasing a white foundation and mixing it in with my current foundation to get it to [a lighter] match, but I don't know where to start! HALP.

– Mia
There are a few options out there. Two that I've used in the past: MAC Face & Body in White (Face & Body has a distinctive fill-forming formula that doesn't always mix well with other foundations) and Face Atelier Zero Minus (which mixes well with all the foundations in my collection so it's my preferred choice). Hope that helps 🙂
How were you able to determine your [olive] undertone (i.e. are your veins distinctly green etc.)?

– Katarina
Don't hurt me but based on my experience, the vein thing is bogus and doesn't accurate indicate undertone. My 'olive undertone journey' went a bit like this… I realised that most foundations on the market looked absolutely absurd on me, either very pink or very orange compared to my neck (this is after trying dozens of brands, FYI).
So I contemplated the possibility of neutral or olive undertones. In desperation, I googled 'olive foundations' for a solid three months, purchased everything remotely olive and noticed that these shades looked less absurd on my skin. Even the less-than-perfect matches were in the 'right spectrum'. Examples of olive foundations: Koh Gen Do Aqua 213, Armani Luminous Silk in 6 and Bourjois Healthy Mix 52.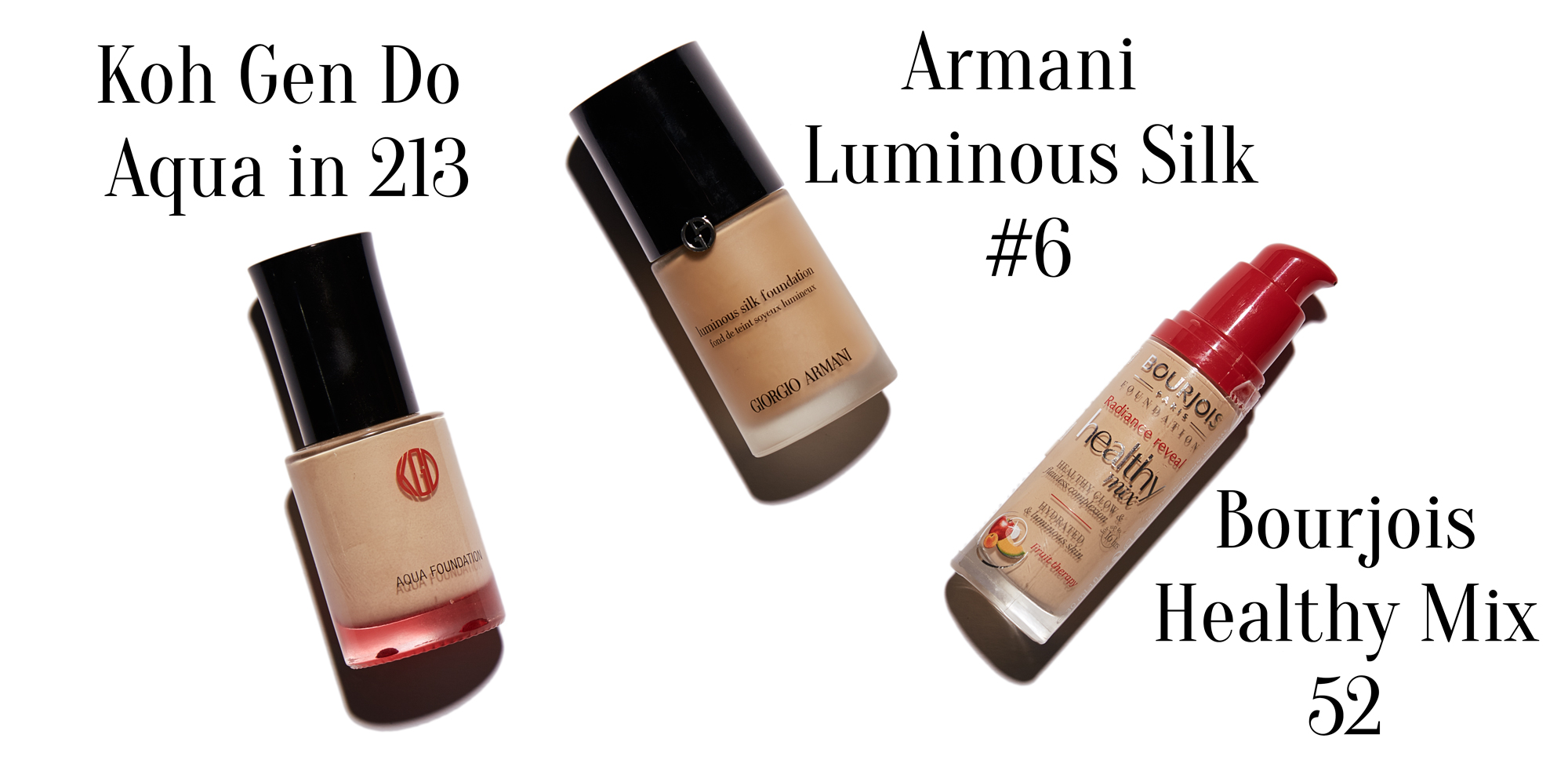 Now I'm aware that this doesn't sound very helpful and I can't determine whether you are olive over the internet but for me, the key was trying that first olive foundation – a bit of a lightbulb moment, if you will.
Do you think make-up is bad for the skin and causes breakouts?

– Tina
When I was a kid, I recall people telling me that 'makeup makes you old, you wear it everyday and then you look old' – fair sure time makes you old? Maybe this folklore dates back to the days where makeup contained lead and mercury and other toxic substances? Nowadays, makeup technology is very sophisticated so short answer – no, I don't believe makeup is bad for the skin.
That being said, if you have sensitive skin then yes, certain ingredients may cause your skin to flare up and/or break out (makeup and skincare included). Do you best to determine what ingredients bother your skin and avoid them, common triggers include: alcohol denat, fragrances, essential oils etc. Inadequate makeup removal can also cause breakouts, a quick rinse with a face wash just won't cut it.
Hope you enjoyed Ask Karima #4 – let's keep this goin'! Leave your questions for Ask Karima #5 (!) in the comments 😉
xxkarima
NB: Some of the links are affiliate links, some are not.