Since the launch, I've been receiving Charlotte Tilbury Light Wonder recommendations left, right and centre. I was fortunate enough to spend the day with celebrity makeup artist Monika Blunder, who was all raves. You must have it, she said. That was the last straw.
Packaging, size, price
Travel friendly tube, easy to squeeze out the desired amount – thumbs up there! The Light Wonder Foundation contains 40ml/1.35floz of product can be purchased off Beautylish for 45USD.
Shade range
Ten shades available, I have #4 (~NC25) which is a fraction too deep for me so I'll definitely need to buy a paler shade eventually but I keep some deeper foundations in my arsenal for full body photoshoots (my arms are a little tanned, gotta consider the limbs!). Out of the tube, #4 looks neutral enough to match my olive skin but it oxidises to a slightly warmer hue – nothing major but something to consider.
The Bourjois Healthy Mix #52 and Koh Gen Do Aqua #213 are my best matches, more olive and paler than the Charlotte Tilbury Light Wonder #4.
Consistency & coverage
The consistency is on the runny side; not quite as fluid as Chanel-Vitalumiere-Aqua-breeds but it will slide down your arm given the chance.
The coverage I would describe as sheer, buildable to a medium. To achieve a medium coverage in the photos below, I had to use a good dollop (mebbe the size of a nob of garlic? Bad analogy, I apologise) and that's against my no-foundation-foundation nature so I kinda wish it had a bit more coverage so I could apply less product overall.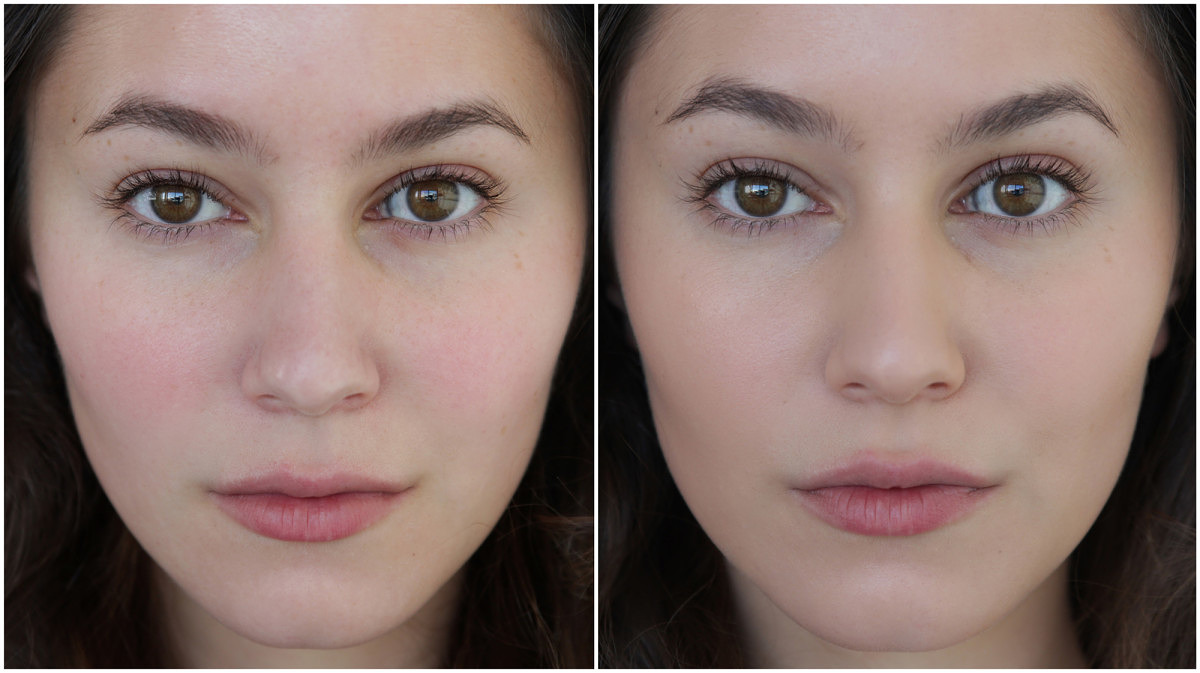 It does have more coverage than say, a tinted moisturiser. The after photo illustrates the foundation alone, no powder/primer/concealer.
Fragrance
Noticeable upon application but fleeting, the scent is somewhere between clean and floral. A deliberate addition.
Finish
Very dewy, similar to the MAC Face and Body in that it imparts the skin with a slight gloss. I actually don't love a gloss all over, I find it catches the light on the t-zone to make it look more textured than it actually is. I much prefer the foundation once the t-zone has been powdered.
In fact, the finish is so tacky that you'll need a generous helping of powder in order to apply powder blush/bronzer/contour and have it lay evenly – I tend to layer cream products instead, to avoid excessive powdering. This is an example of how the foundation looks once the t-zone has been set, I used the Charlotte Tilbury Airbrush Flawless Powder #2 (which only mutes the gloss, as opposed to mattifying the skin entirely).
I suspect that this formula is abundant with light reflective particles (not shimmer) as it deflects shadowy areas – very 'youthful'.
Application
With sheer bases, I find fingers to be the best tool for buildable coverage. If you're opposed to fingers, a Real Techniques Contour Brush does the job quite nicely. Application isn't tricky so to speak, the product spreads like a dream but building coverage in problem areas (for me, around the nose) is a bit tedious; lots of patting motions as opposed to swiping. Problem-area-close-up? You got it!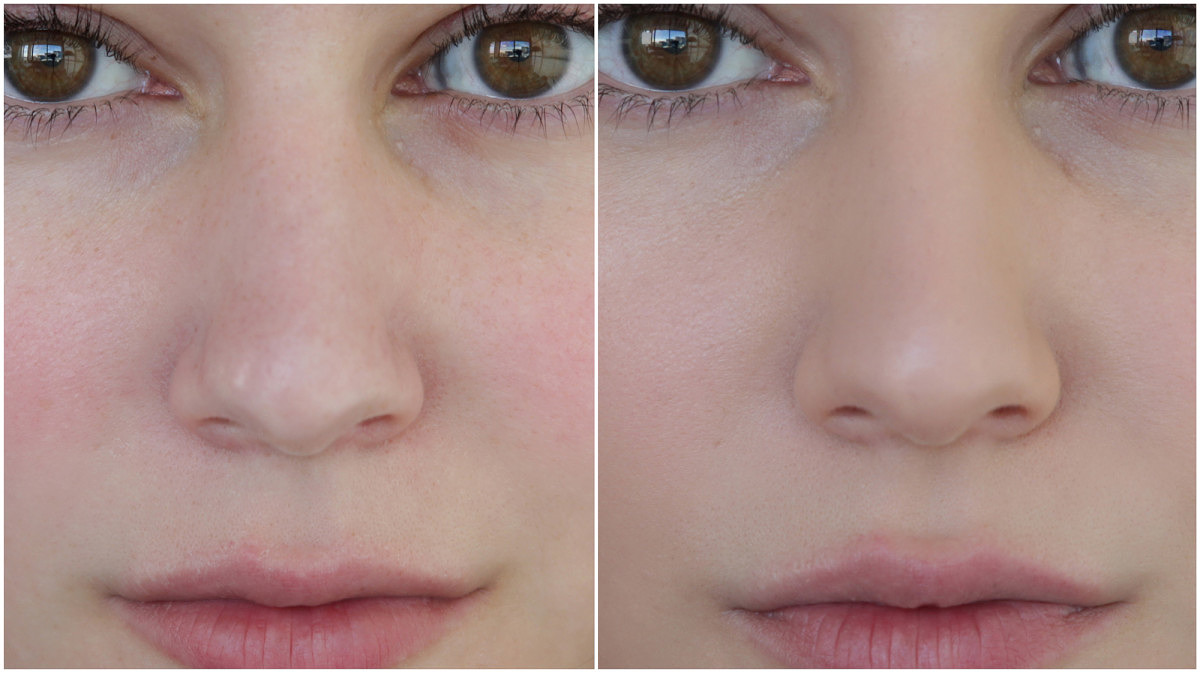 Longevity
At the five hour mark, I'm craving a blot and I'm normal to dry. Paired with the dewy finish, I predict that the Light Wonder Foundation would register best on dry to mildly combo skins – oilier skin types will be blotting every hour, ain't nobody got time for dat.
Aside from the little extra sheen, it wore beautifully. Where some foundations look downright unsightly towards the end of the day, the Light Wonder doesn't awkwardly cake up, separate or sink into laugh lines.
Worth noting that, as with most dewy bases that don't set bulletproof, the Light Wonder Foundation will transfer without much encouragement. Keep hugs to a minimum, yeah?
Separation/Pore emphasis/Flaky emphasis/Texture emphasis
If I were to skip the powder, the sheen would draw attention to microscopic lumps and bumps (am I looking too closely? Maybe) but a dusting of powder and the finish is very flattering on texture. It doesn't settle around the crevice of my nose, woo-freaking-hoo! Everything settles around my nose.
There is adequate emollience in the formula to disguise dry or flaky patches and it's relatively kind to pores (although it's not a silicone-laden-pore-filling-formula, a la Armani Foundations).
Photofriendly/SPF Test
Now, it boggles my mind that cosmetic creators keep adding token amounts of SPF to foundations – in this case SPF15. That's not enough to provide sufficient sun protection (don't be fooled, apply a decent sunscreen underneath) AND THEN it poses a photography risk. Just why.
Good news: I wore the Light Wonder on a photoshoot recently, lots of flash equipment and no discernible ghost-face, the world didn't end. If you're working in natural light, I highly recommend it! Pictured beautifully in the full face shot above, if I may say so myself 😉
In a nutshell
Out of the foundations that I've tested as of late, the Charlotte Tilbury Light Wonder is up there – four out of five stars, perhaps? My only critique is the coverage, ultimately it's a sheer coverage base and I prefer medium buildable, to minimise the amount of product I have to load on ma face. This product does mix very well with the Cover FX Custom Cover Drops, occasionally I'll add a drop to offer greater coverage and lift the shade a touch.
The Light Wonder is my current go-to for a luminous look (at times, a little too luminous but y'know) and it is indeed very skin-like.
Have you tried the Light Wonder Foundation? What are your thoughts?
xxkarima