… of the moment, at least 🙂 This is one of the most frequently asked questions across all my platforms so I took a long hard look at my stash and narrowed it down to 5 (ish? I'm big on mixing OKAY!).
Skin Background
I'm 24 years of age and my skin could be described as: normal to dry, delicate and riddled with sporadic redness. My face is a makeup magnet and I rarely experience issues with longevity. I'll do my best to address various skin types but ultimately, I've chosen these products based on their performance on my skin type – one size does not fit all so obtain samples wherever possible.
In terms of skin tone, I'm between an NC20 and NC25 (using the MAC colour system because it's easily accessible and widely recognised) with a cooler yellow/olive undertone. Some of the foundations mentioned run a little too golden yellow as opposed to cooler yellow (yes, there is a difference!) but genuinely olive matches are hard to come by and the market sucks balls.
Dior – Airflash in 201 Linen
An intriguing foundation with an aerosol delivery system – you can mist 8 inches from the face but I find it settles on the hairline and the brows and every surface of the house, so instead I spray a few discrete dots and blend with fingers or a brush. What's the point of makeup in a can if you're going to blend with a brush? I'm not sure, but the product inside is beautiful so who cares.
The formula has a satin finish, feels gloriously lightweight and offers a surprising amount of coverage; anything from a second-skin finish to full coverage. More often than not, I'll go for a medium coverage and it looks and feels like nothing, very skin-like.
The shade range is a bit crappy, I have 201 Linen which is a decent match upon application but 10 minutes later, it's a touch warm and deep – keep that in mind when purchasing, I plan to finish the bottle before trying shade 100 because… $$$.
Minor critiques; it does settle into laugh lines a touch but I'll smile and run a q-tip down that crease to remove excess product, which does the job. Also the longevity isn't the best of the foundations mentioned today but paired with a setting spray and we're all good.
Overall, If you like the idea of all these lightweight/volatile oil foundations but your skin is too dry/textured for that breed of formula, give Airflash a go – it's far more forgiving.
I grab it when… I'm in a rush and/or I'm anticipating flash photography – it is spf free!
Best suited to… Normal to combination skintypes, oily skintypes will likely require a primer/powder/setting spray. Due to the slight settling, I wouldn't recommend it to mature skin types concerned with lines and wrinkles.
Koh Gen Do – Aqua Foundation in 213*
The Koh Gen Do Aqua is always in high rotation because of the GENUINELY OLIVE shade match! Thank-freaking-heavens! As a matter of fact, it's the closest shade match that I've encountered thus far.
The formula is also magnificent; from what I gather, Koh Gen Do prides themselves with formulas that look like skin and they've hit the nail on the head with the Aqua Foundation. I find this formulation retains the natural skin texture, which could be both a good or a bad thing – it's not particularly smoothing nor does it disguise pores but that's the beauty of it, it doesn't look makeup-y in the slightest.
Ideal for dry and dehydrated skin types but I recommend something else if you're often peeling or flaking – again, not the most smoothing on texture. While it doesn't settle or separate, the formula isn't geared towards oily skins, give it a miss if you're seeking oil-absorbing properties.
FYI: Koh Gen Do Aqua can be purchased on Beautylish.
I grab it when… I'm feeling nitpicky about colour match and/or I'm seeking a uber realistic looking skin.
Best suited to… Normal to dry skin types, also more mature skins.
Giorgio Armani – Lasting Silk 4.5 & 5.5
My Armani Lasting Silk vs Luminous Silk post is still the most popular page on the Sham Frip so I won't speak too deeply here. Lasting Silk is my go-to foundation for a medium coverage, porelessness illusion – without a doubt the most smoothing of the bunch, it almost looks like a ridiculous photoshop job and I say that in the best way possible.
I've heard many describe this as a matte foundation and I would respectfully disagree; it's a satin finish foundation loaded with light reflective particles (not shimmer) that deflect shadows. The consistency is lightweight, longevity is great and the coverage is versatile.
Two instances where I might not select Lasting Silk: particularly dry and flaky days (this base is best suited to normal to oily skins) and photoshoots (given the SPF, I've never noticed flashback but better to be safe than sorry).
I grab it when… My pores are bothering me and all the friggin time.
Best suited to… Normal to oily skins. If you're frequently parched, skip it.
Giorgio Armani – Luminous Silk Foundation 4 & 4.5
Again, much babble in my original review. For me, Luminous Silk is exclusively a photography foundation. In person, I think the Lasting Silk is far less detectable on the skin but there are instances where photos are damn important, example: I wore it when I was a bridesmaid (I passed out mid ceremony but at least my face was impeccable).
Luminous Silk registers as utterly flawless skin in photos, your photo editor will thank you. If you're planning to wear this to YOUR wedding or a very special occasion, I would strongly recommend a primer and a setting spray – I've seen this melt in the past.
NB: My best shade match is 4 but I don't have one on hand to swatch, 4.5 is darker and runs peach.
I grab it when… Crucial photography settings.
Best suited to… Slight deviations either side of the 'normal skintype' range.
Bourjois Healthy Mix in 52 + L'Oreal True Match in W2
I'm cheating here because this option is actually a mix of two foundations but it deserves a mention. Alone, the Bourjois Healthy Mix is a medium coverage, satin finish foundation that is kind to dry skin while the L'Oreal True Match is a medium-buildable coverage velvety fluid with a matte finish. I like both alone but together, it's a match made in heaven.
The combo provides an impressive medium to full coverage so I can apply sparingly and it never looks heavy or cakey. The Bourjois Healthy Mix 52 brings an olive hue to the table while the L'Oreal True Match is silicone heavy thus conceals pores effortlessly.
Of all the foundations mentioned in this post, this mix offers the best longevity: minimal sheen in the t-zone, no settling, melting or separation. At the six hour mark, it looks as fresh as it does upon application.
I grab it when… I'm seeking a fuller coverage without it looking as though I'm wearing full coverage.
Best suited to… Normal to oily skintypes.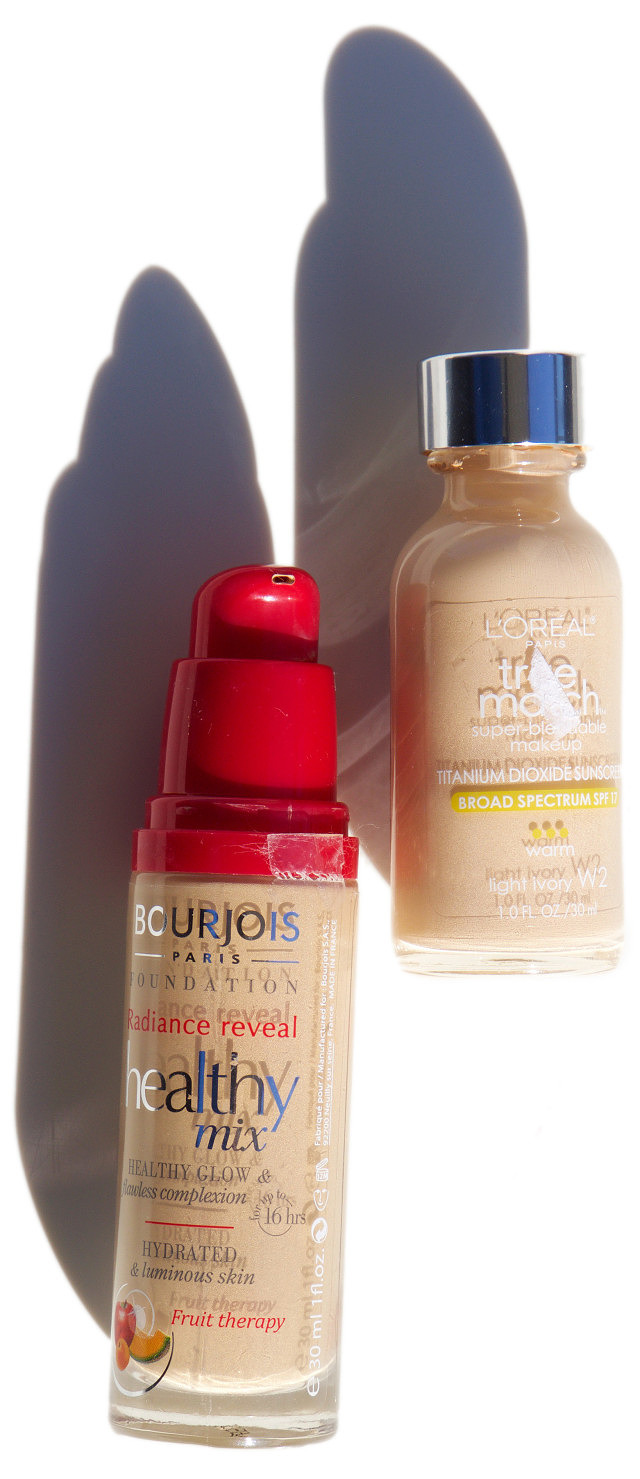 Charlotte Tilbury – Light Wonder Foundation in 4 (often adding the Cover FX – Custom Cover Drops in G20)
In my original and absurdly thorough Light Wonder review, my main critiques were: all over glossiness (I'm not big of gloss all over, but you might be!), the coverage left much to be desired and a very tacky finish that poses issues if you choose to layer powder colour products.
One drop of the Cover FX Custom Cover Drops rectifies aforementioned concerns; the drops are a dry oil which mute the glossy finish down to a luminous satin and tones down tackiness while bumping up the coverage. I use the Custom Cover Drops in shade G20, which lifts the Light Wonder 4 shade to a winter match.
Recently I went overboard with the chemical exfoliants and my skin was peeling in sheets, this mixture was the only base that looked presentable. I still love and use the Charlotte Tilbury Light Wonder alone, but it's the marriage of the two products that secures its position in this list.
I grab it when… I'm seeking all over luminosity or when my skin is flaky/dry.
Best suited to… The Light Wonder alone is suited to very dry skin types while the combination of the two performs best on normal to dry. Both instances are fab if you often struggle with flakiness.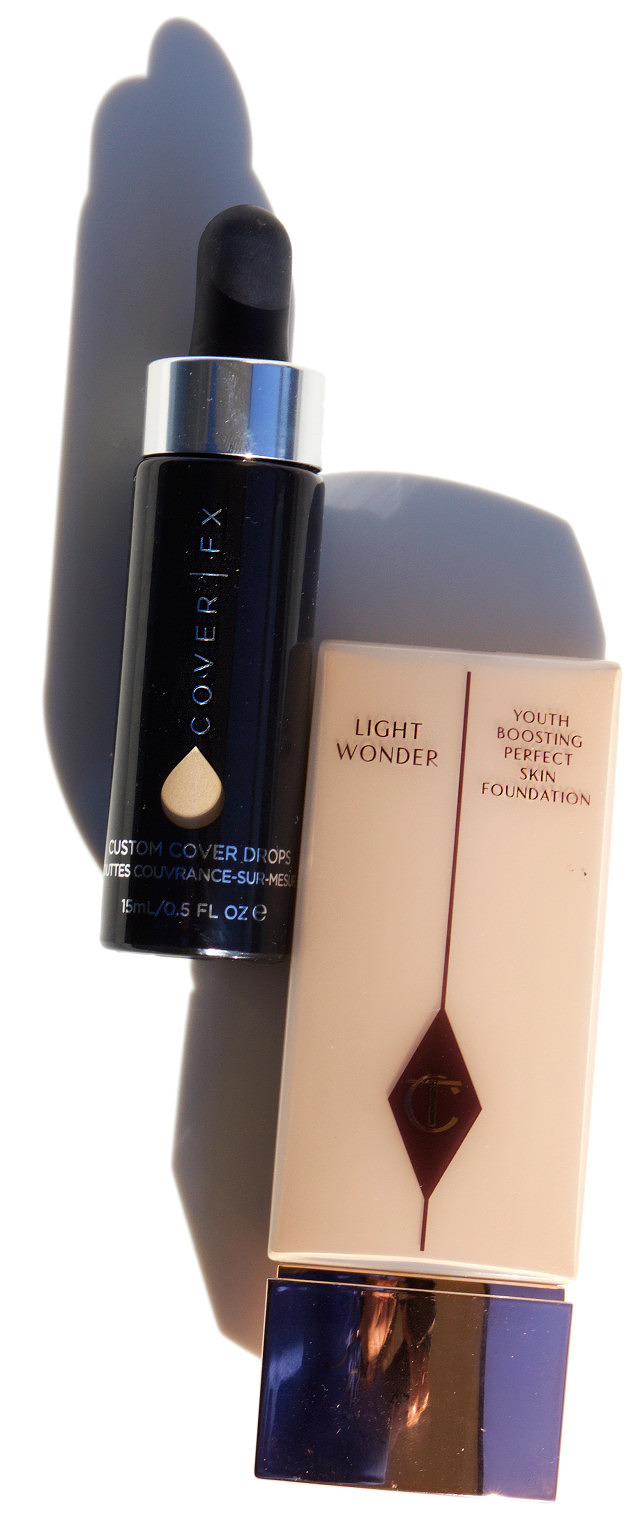 Phew! You probably wanted a simple list and I gave you a damn novel 😛 I'd love to know your favourite foundations (and skintype for reference!), leave them in the comments section below!
xxkarima
* Denotes products sent for consideration. I only feature products I love 🙂