Weepy eyes* and an affinity for tightlining is a problematic combination, I'm always on the hunt for eyeliners that last. Whether you're part of the tightlining** club or simply seeking a longwearing eyeliner, this post is for you!
*Weepy eyes aside, I don't have particularly oily skin and if you do, your experiences may differ.
**I am BIG on tightlining, practically the spokesperson – tightlining alone makes the lash bed appear much thicker and when paired with a strong eyeliner look, ensures that you don't have distracting bits of skin ruining your flick.
Mostly raves today, poor performing liners don't last long around here.
1. THREE – Flash Performance Eyeliner Pencils
THREE is a Japanese brand and before you tell me they're not available in the US, you can purchase them on Ichibankao 😉 If complex shimmers get you hot and sweaty, you simply can't go past THREE liners – definitely the most exciting and nuanced shade range out of the liners mentioned today.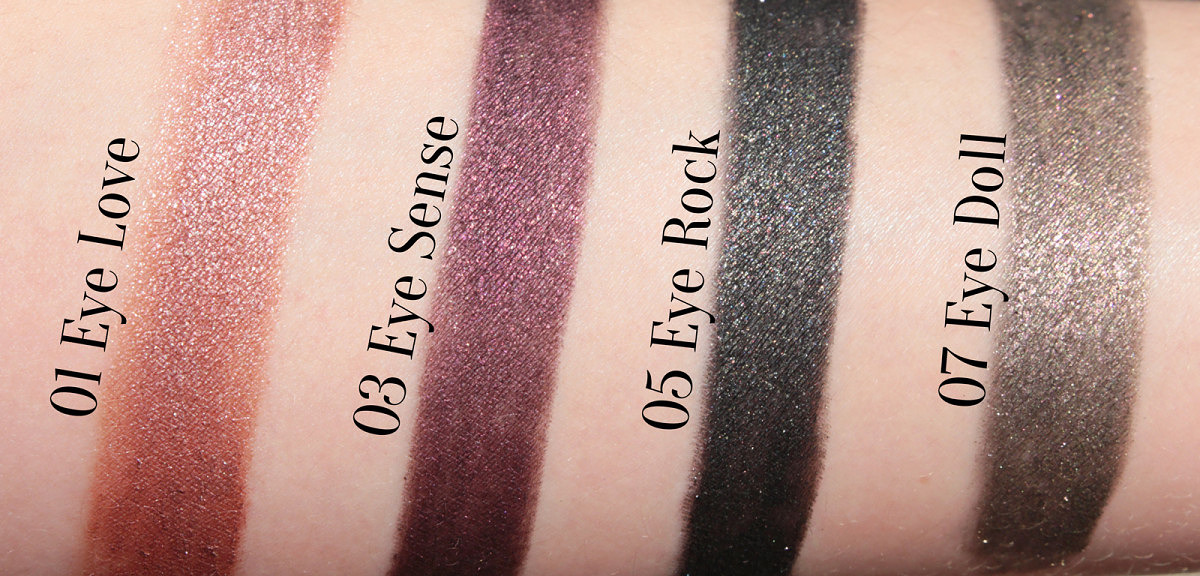 I find these liners to have decent longevity but not sensational, I experience a minor amount of smudging at the end of the day although I've heard others tout them as the most long-lasting eyeliner on the market so… your mileage may vary.
As mentioned, they do have shimmer so perhaps not an ideal option for tightlining. My favourite way to wear them follows my 'Easiest Winged Liner' technique because they have 30 seconds playtime to smudge before setting entirely. This is an odd obervation but that smudge tool at the end of the pencil? Best quality smudgy tool I've encountered, actually functional.
Price: ~35USD.
Longevity rating: 7 (if we take into account the minor amount of shimmer fallout when smudged, although I don't exhibit any fallout after the initial application).
2. Shu Uemura – Drawing Liners
At first, Drawing Liners confused me because the pencil tip can dry out – I just do a quick scribble on the back of my hand prior to application. Great matte selection, I have a grey and a black. Some level of playtime but if you want to soften a line, work veryyy quickly! Traces of smudging at the end of the day, I'd say they have 'good' longevity.
Price: 21USD.
Longevity rating: 7.
3. NARS – Larger than Life Eyeliners
Easily accessible and vast shade range; neutral and colourful options in both shimmer and matte finishes so something for everyone. The pencil has a retractable mechanism, I know some prefer this and some hate it, I don't really care either way! The black is a staple for tightlining, very reliable with only hints of migration after 12 hours.
Price: 25USD.
Longevity rating: 8.
4. Pixi – Endless Silky Eye Pens
Oh lordy, I LOVE THESE! No compromise on quality yet reasonably priced, Pixi is the bomb dot com. Extensive range of brights, neutrals, mattes AND shimmers.

But f'real, look at those shades! Emerald Gold is so complex! I also adore the black for upper lash line tightlining and the brown is a go-to on the lower rim for smokey eyes (less stark than black). The mini's set is a great way to try a few shades… and then fall in love… and buy them all!
The formula is smooth and soft, very kind on the delicate tightline area but due to the uber soft texture, they must be sharpened rather frequently. Hey, ya can't have it all.
Fabulous longevity, they perform like something much pricier.
Price: Varies, Target sells them for around 10USD but if you're not in the US, you can purchase them for ~14USD.
Longevity rating: 8.
5. MAC – Pearlglide Intense Eyeliners
Pearlglides are so similar in formula to the THREE liners that I'm not sure I'd be able to tell them apart in a blind test. Both Pearlglides and THREE liners have some level of transparency – not sheer but the base isn't entirely opaque like matte eyeliners. Clearly I had consumed too much caffeine when I took these swatches but you get the idea…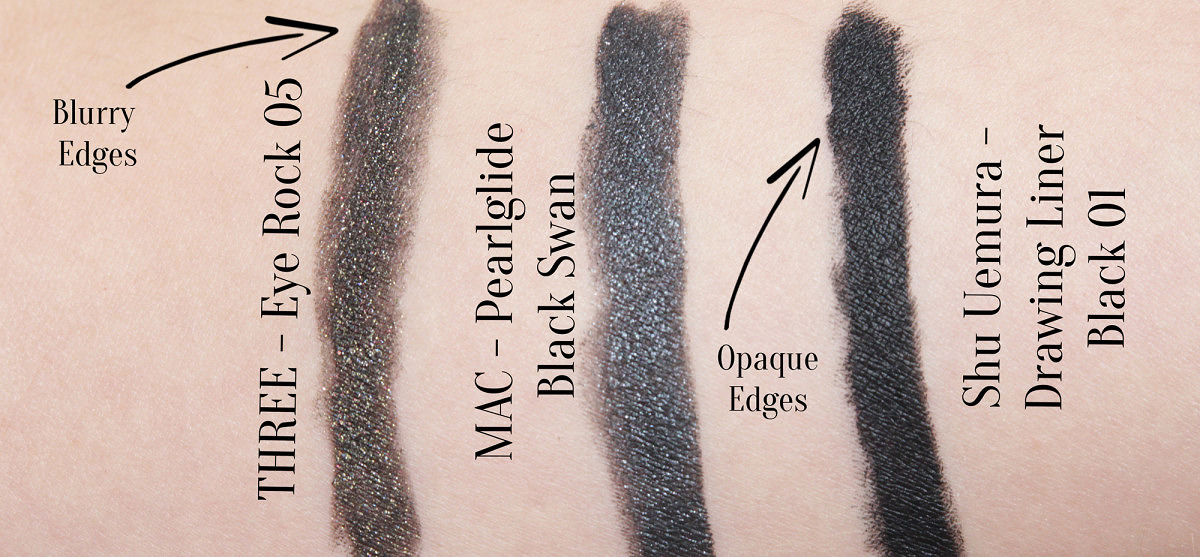 If you're smudging into a wing, this translucency can actually work in your favour because blurry edges allow some margin for error. Everything I said about the THREE liners is applicable here: complex shimmers, reasonable amount of playtime and minor shimmer fallout upon smudging.
You might have noticed that mine are in limited edition packaging but they are a permanent product.
Price: 16USD and significantly more in Australia, naturally.
Longevity rating: 7.
6. Rouge Bunny Rouge – Long Lasting Eye Pencils
The first pencil liners to wow me and probably still the best in terms of longevity. The formula is bit harder and denser so if you're nervous about tightlining or have crazy sensitive eyes, they might not be for you. If you're okay with adding a little more pressure upon application, both brown and black are entirely free of shimmer and are favourites for getting in between those lashes.
I don't use them to line the lash line really because they can skip, nor do they offer playtime for smudging. Also note that although it looks like a retractable pencil, it can only be wound up and not down – I learnt this the hard way 🙁
Price: 22USD excluding shipping.
Longevity rating: 9.
7. Urban Decay – 24/7 Glide On Eye Pencils
If I'm honest, I don't know why I still have a bunch of these roaming around my collection – they smudge like a mofo. I gave them one final chance in a recent tutorial and within two hours I had some serious black hazes around my tear ducts. Pity because the shade range is impressive!
Price: 20USD and now available in Australia via Mecca Maxima for 30AUD.
Longevity rating: 5.
8. Stila – Smudge Stick Waterproof Eyeliners
I would liken these to the Rouge Bunny Rouge, same delivery mechanism and similar texture (although perhaps the Stila is a touch softer). Magnificent shade range. Fabulous longevity. I don't know why these don't excite me more… perhaps I need more shades 😛
Price: 20USD or 26AUD in Mecca Cosmetica.
Longevity rating: 8? 9? Maybe 8.5
9. By Terry – Crayon Khol Terrybly
If you're not up for a splurge, don't swatch these in person. OMYGAH. SO SOFT. Like buttah, you barely need to touch the skin for spectacular colour payoff. AND look at dat blue! Just look at EET!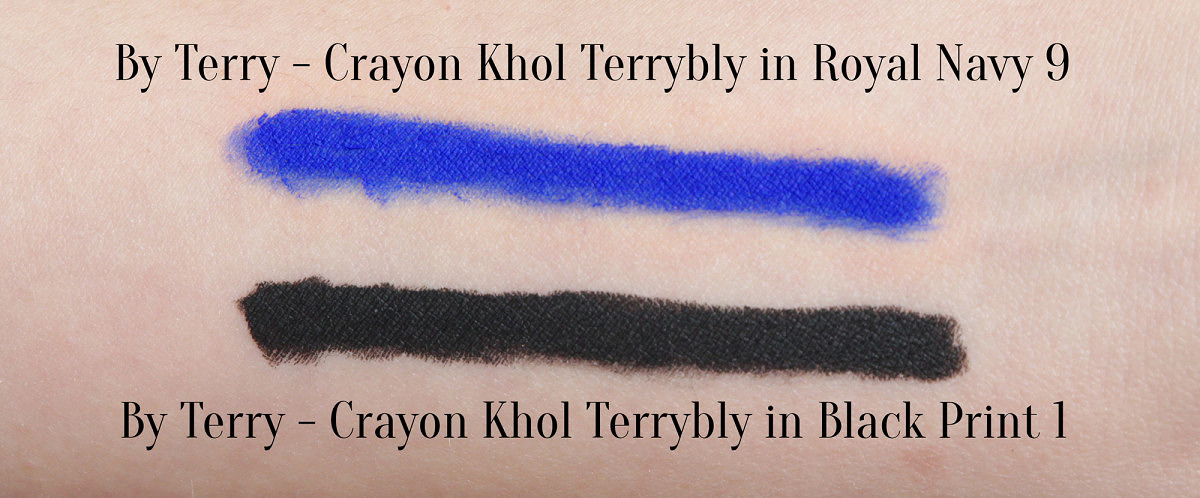 I was hoping these would be smudgable in the same vein as THREE/Pearlglides although in a matte formula (sometimes a girl wants a matte wing) but I found that they could get just a touch patchy when smudged; could be due to less playtime, could be that shimmer-free formulas are less forgiving.
In terms of longevity, I notice the smallest amount of migration at the outer corner of my eye towards the evening, which is easily remedied with a q-tip. Impossible expectations aside, I think that's as good as it gets.
Price: 34USD or 46AUD in Mecca Cosmetica.
Longevity rating: 9.
10. The Drugstore Options
Max Factor – Excess Intensity Longwear Eyeliner // My favourite option from the drugstore – I wore this recently on a never-ending, humid day and experienced no migration whatsoever. The texture isn't the softest and hence, not the most comfortable option when tightlining but in terms of performance, I can't fault it.
Price: 22AUD (not sure this is widely available in US). Longevity rating: 9.
Milani – Liquid Eye Eyeliner Pencil // Pitch black in shade, soft and buttery in texture and kinda blah performance, I need a mid afternoon q-tip cleanup when used on the tightline.
Price: 8USD. Longevity rating: 6.
Rimmel – ScandalEyes Waterproof Eyeliner // This formula receives a lot of raves on the internets but I was rather unimpressed, very similar to the Milani with equally mediocre longevity.
Price: 5USD. Longevity rating: 6.
Non-pencil Options
Geisha Ink is the finest of all brush-tipped liquid liners (NOT felt-tipped, which requires constant encouragement to saturate the tip). I much prefer this delivery system to gel or cream liners as you need not faff around with a brush. Everytime I stray, I return to Geisha Ink like… DAYUM, today is a good winged liner day.
Glossy in finish (ehh, wish it were matte) and although I have used it for tightlining, I prefer long lasting pencils. Longevity is awesome, I don't notice any smudging although if you rub, some may transfer.
Price: ~25USD.
Longevity rating: 9.
Makeup Geek Gel Liner in Immortal, if I have a long day ahead and no smudging permitted, I'll go Makeup Geek. The compromise? It's actually impossible to remove, I need to massage oil into the roots of the lashes for a solid 5 minutes to break it down.
I use the Hakuhodo J521-D1 brush to push Immortal between the lashes for tightlining or a Rae Morris liner brush if I'm forming a wing. It offers no playtime to smudge and sets very quickly, which might be problematic for beginners. Although I love it for tightening the upper lashline, it irritates my eyes when used on the lower waterline (perplexing).
Also, any eyeliner taken right to the inner corner will smudge on me, even the indelible Makeup Geek. If I can't deal with that, I won't tightline the inner third of the eye and problem solved.
Immortal is matte in finish and there are several other exciting shades – woohoo!
Price: 9USD.
Longevity rating: 10, aka best of the lot.
The Nudes
A quick overview of my favourite nudes. Illamasqua Vow comes out on top, the formula is dryer/harder so it doesn't bunch up between the lashes and lasts well (not all day, but the best longevity as far as soft nudes go). Good neutral shade, not too yellow nor pink.
Second is Make Up Studio Concealer Pencil, similar to the Illamasqua except a bit softer. Finally, MAC Chromagraphic Pencil in NC15/NW20 which I don't love, very opaque and soft formula so if you're not careful, it coats the lash bed and looks… strange. Super creamy in consistency and hence, not particularly longwearing.
Phew! My smackdowns always amount to a novel! I hope you love them because they take FOREVER. Pretty please leave your favourite longwearing recommendations in the comments below and vote on the next smackdown topic – I'm thinking matte eyeshadows?
xxkarima