It's that time of year again, Pantone releases their Colour of the Year and debate ensues – rah rah some people love it and some people hate it. The 2015 topic of controversy is Marsala 18-1438, which Pantone describes as "a naturally robust and earthy wine red", true to the beverage.
That's a nice idea for a post, let's do some research.
Left – Pantone Marsala visuals. Right – Findings of internets research, everything from brightened burgundies to purpled wines.
Wut. So I start sifting through my collection and damn, it ain't easy to find Marsala dupes (although I'm sure brands are furiously formulating as we speak). The obsessive part of my personality was twitching so I drew a line of somewhat similarity, here we go…
Eyes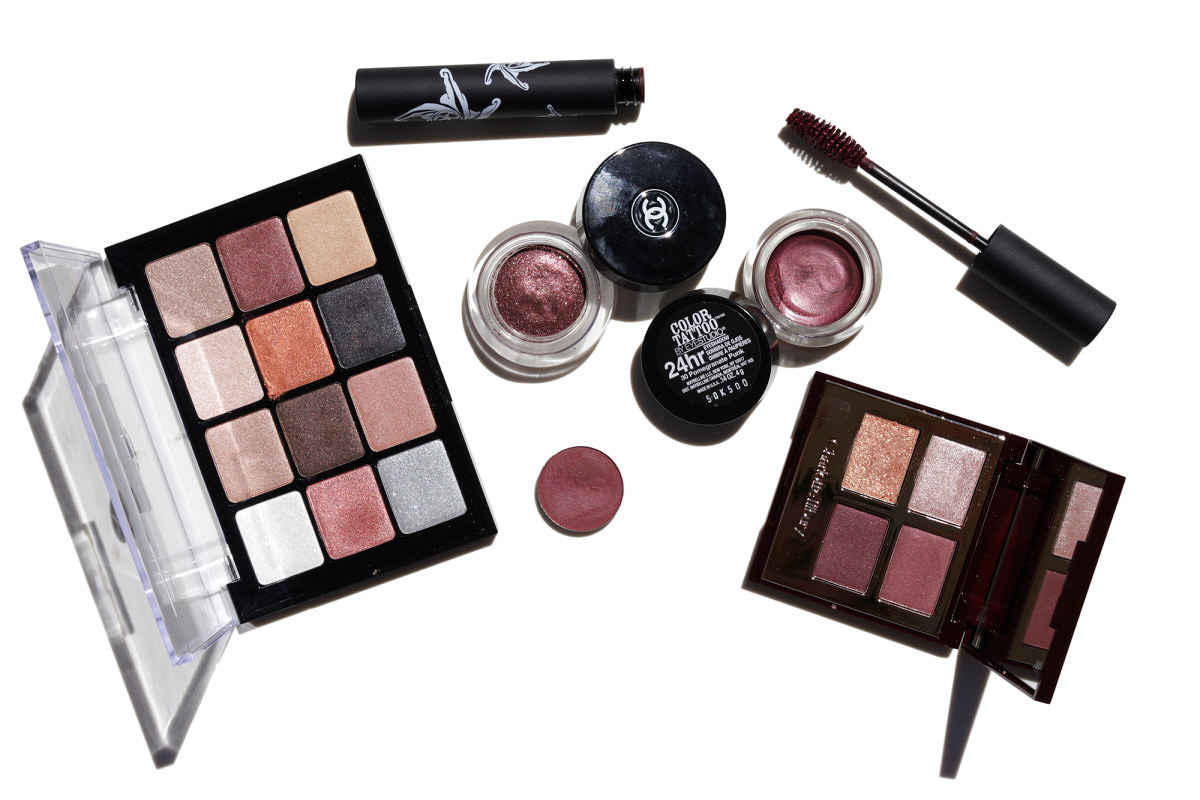 The Viseart Sultry Muse Palette includes a muted wine (top row, middle), slight iridescence but nothing obnoxious – a wearable Marsala spinoff.
Makeup Geek Eyeshadow in Bitten is the closest contender: a matte, deep muted Marsala with a generous dose of brown. Buildable and easy to blend.
Chanel Illusion D'Ombre in Ebloui is a burgundy brown with red undertones. All teh sparkles! Have Chanel discontinued Ebloui? I heard rumours but it was distressing so I blocked them out.
Maybelline Colour Tattoo in Pomegranate Punk is a reddened burgundy infused with golden shimmer. Exhibits great longevity and fantastic price point.
Rouge Bunny Rouge Dramatic Lash Mascara in Oxblood Panache – a deep, earthy wine (not another brown mascara, even males have pointed it out). Fantastic formula for separated AND voluminous lashes, a tricky combination to pin.
Charlotte Tilbury Vintage Vamp Quad includes a shadow that closely resembles Marsala, lowest shadow in the picture above. I will be using this quad in a tutorial soon 😉
Lips
I've included quick and messy swatches, since bullets provide a less-than-accurate depiction of colour.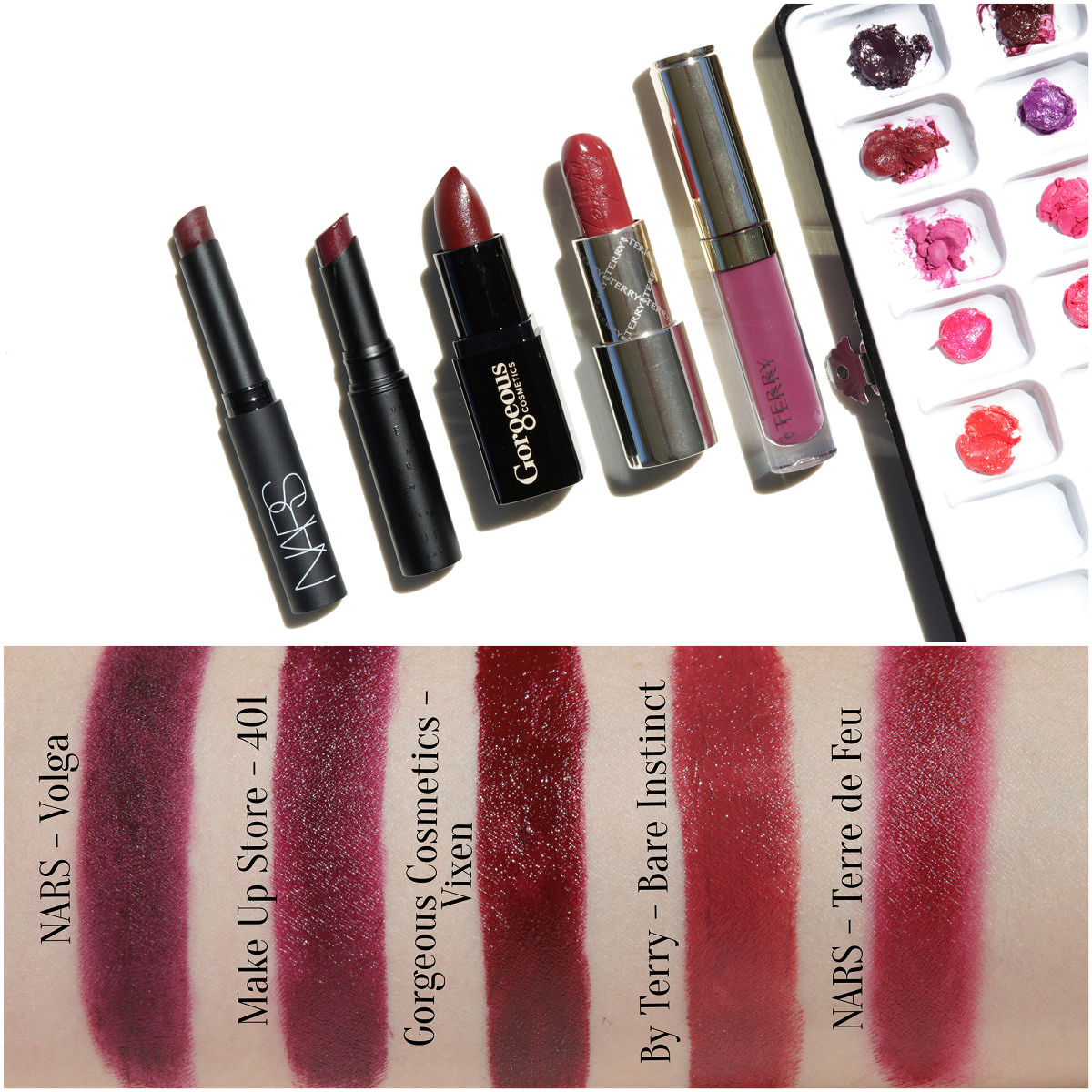 Beginning with two purpled options for those not keen on predominantly brown-toned lips. NARS Volga is a deep aubergine with a dense matte finish. This one has the tendency to apply patchy from the bullet, I've had better luck using a lip brush (although it pains me to critique Volga, we have history). Make Up Store 401 is labelled a matte but it does have a slight sheen, visible in swatches. Both shades lie within the purpled spectrum of wine.
Gorgeous Cosmetics Vixen is a very deep Marsala – a rich, earthy red with brown undertones. Comfortable to wear due to the glossy finish but can be blotted down to a medium Marsala stain.
By Terry Rouge Terrybly arises once again! #sorrynotsorry. In all seriousness, By Terry Bare Instinct is the closest Marsala dupe in the lip category: a muted rosy brown. Holy grail formula, read more about it here.
Let's add a tinted balm for the scaredy cats – By Terry Baume De Rose in 5 is a sheer, muted plum. I didn't swatch this one as the tube is an accurate depiction of shade. Identical formula to the widely coveted Baume De Rose balm with a decent dose of colour (dontcha hate it when a so-called tinted balm is entirely transparent?).
Revisiting my Japonesque Lip Palette, NARS Terre De Feu (second from top) is a reddened wine; more red when blotted and more wine when layered. This is a funny one, it tends to lean different shades depending on the mouth. Like Volga, Terre De Feu is part of the NARS Velvet Matte line but I don't experience patchiness with the latter.
What are your thoughts on Marsala as Pantone Colour of the Year? Love? Hate? Indifferent?
xxkarima