I'll admit, I know nothing about Korean dramas but clearly it's a big deal – a Korean actress sports a lipstick, the population furiously screen caps and that friggin' lip colour sells out faster than a Jaclyn Hill Morphe Palette.
DAT LIPSTICK DOE.
Rumour has it the makeup artist used YSL Rouge Pur Couture in 52 Rosy Coral. So I searched online. I tore apart counters. I nagged sales assistants. I was just about ready to sell my soul when…
I found it in Venice. Apparently the Italians are yet to discover Kdrama.
There is nothing rosy about YSL Rosy Coral; it's a flat-out neon coral that leans pink. And it is glorious.
The flawless actress wore this in typical Korean-ombre-fashion but I pack it on because I'm garish like that. I think of this lipstick in terms of base and overlay – the base is actually a more muted orange based coral and the vibrancy is courtesy of the gloss overlay, which is equal parts pink and white pigment. As a result, blotting to reduce sheen also removes much of the vibrancy – this one has to be worn glossy.
I love this lipstick and I wear it often BUT the formula is meh; quite slippy and as a consequence the longevity leaves much to be desired. Additionally, the creamy overlay develops tide lines when you press your lips together, resulting in a less than even application.
See what I mean? A little patchy on close inspection but for that colour, I can deal. Whinging aside, the formula is comfortable to wear and unlike most white-based lip colours, I don't find RPC 52 collects into a line of stubborn gunk where my lips meet, that shiz is a deal breaker.
Embarrassing realisation of the day: I own every damn coral on the market.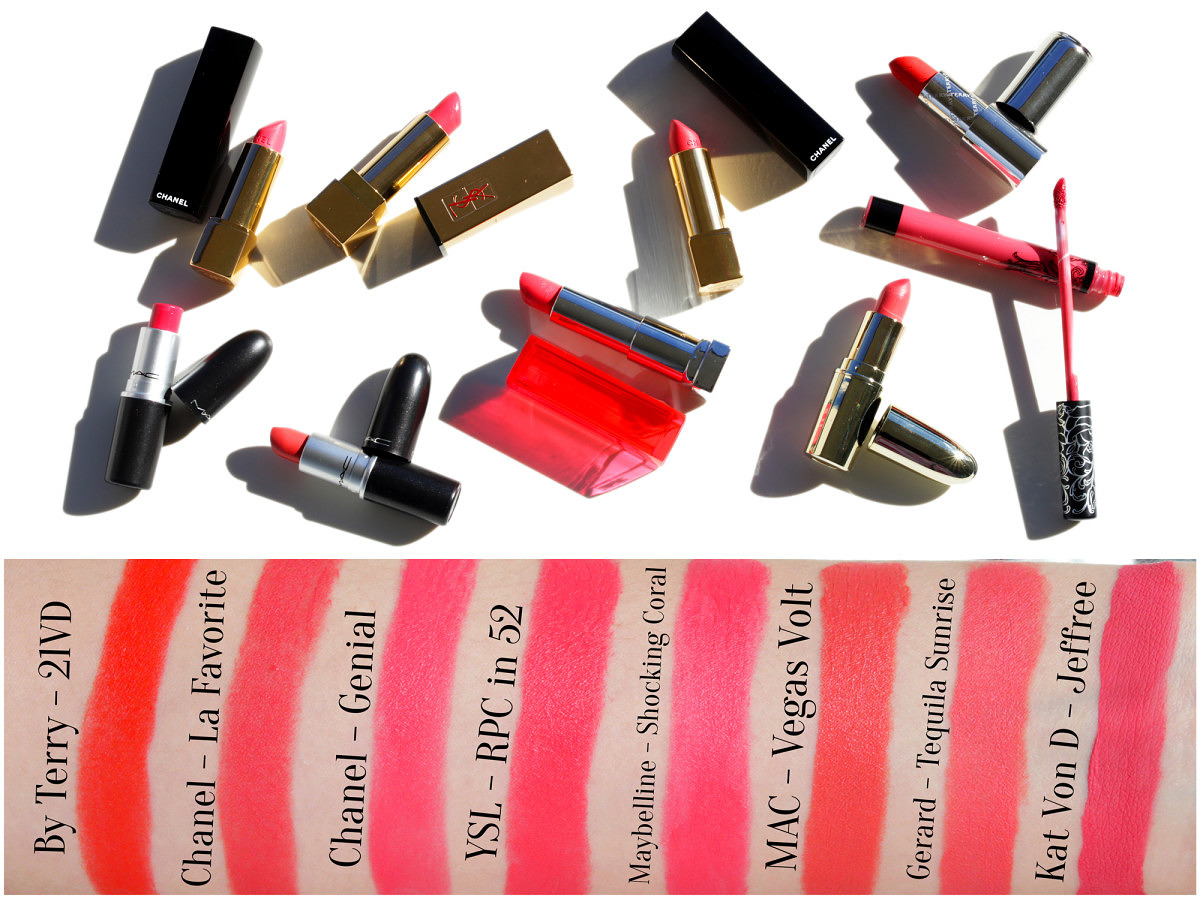 Here are just a few, for sh*ts & giggles/comparison. I SWEAR these look entirely different on my face *lowers gaze sheepishly*.
In true Temptalia style: 21VD looks downright orange by comparison, La Favorite is very matte, Genial is more pastel and pink, Shocking Coral is more pink and not quite as rich, Vegas Volt is more orange and not neon, Tequila Sunrise is matte, Jeffree is matte, deeper and lacks the neon edge.
If you're sane or seeking a more affordable alternative, Maybelline Shocking Coral is somewhat similar and equally awesome… If you're seeking the real deal, YSL Rouge Pur Couture in 52 is indeed permanent but be prepared to nag sales assistants and flip counters. May the force be with you.
xxkarima