My take on a blackened smokey eye, very easy to wear. Lots of tips and alternatives that I've found make smokey eyes a bit more wearable.
Psst… You've seen a variation of this look before: here, here and here. ALSO, I'm doing a Q&A video as I receive similar questions on a day-to-day basis, so leave your questions (makeup related, personal, whatever) in the comments 🙂
View Video Transcript
Hello, everyone. Welcome back. Today, I am going to do a tutorial on a blackened, blackish smokey eye. It's not my favorite look on myself but every time I upload a picture on to Instagram or Facebook, people seem to love it. So I don't know, maybe I'm wrong. You tell me. I'll also try to include some tips and alternatives that make the smokey eyes a little bit easier to wear. Before I start, I've been wanting to do a Q&A style on video to knock of some really frequently asked questions. So leave all your queries in the comment section below this video or on any of my social media, whether it be make up related question or a question about me personally or relationship advice, I am great at that. Ask anything, I'm pretty candid. Now let's start.
So with any heavy eye look, I tend to leave the base in to a light house 00:00:56 so that the pigment doesn't drop down and compromise the freshness of our base. I do tend to do my brows first though. And I tend to do the brows before anything else because to me, they're part of the facial architecture. So it really helps to have your brows on when determining how far out to blend your eye shadow, how far upwards. Today, I'm going for a pretty natural brown. I want this smokey eye, and the whole make up really, to look like I didn't really try, like it was just entirely effortless even though it's not.
I'm next going to be taking Chanel Mirafique which is a black cream eye shadow with glitters in it. And I really like this one because it's very pliable and blendable. Some other popular black bases like the MAC Background I actually find to be quite finicky. I'm patting that all over the lid and slightly in to the crease. And make sure you don't forget the base of the lashes because we want it to be darkest there. And the key really with any smokey eye is to work in really thin layers because you can always go back for more and build the intensity. But if you get over enthusiastic with the black eye shadow, it can turn Taylor Momsen quite quickly. And that's a different look. No hay on Taylor Momsen. I really liked her in Gossip girl.
By the way, guys, I'm late to this party but I never actually watched the end of Gossip Girl. They kind of lost me half way along and no spoilers but I found out who gossip girl was. I really did not see that coming. Am I moron? Is anyone here old enough to know what I'm talking about? At this point, I got all of the lid. I'm going to look straight ahead and I'm going to determine how far up I need to take this black eye shadow. I wanted it to be slightly peeking out of the crease so I know I got to take out just a little bit further. And as you get to the crease, you can really lighten your touch. So by now, you got something that looks a little bit like this. You got some black base peeking out through the crease.
This has got a little bit of litter and for the most part, do not want. I don't have very defined sockets and it looks my eyes look puffy. So I'm going to take a matte transitional shade. And I'm just going to run that through the crease. So I'm just slowly circling that over the seam of the eye shadow and this will really help to blend out that harsh line. And because I forgot to use earlier, I'm just going to run that black base on the lower lash line. Okay, so we're going to layer some eye shadows to intensify the smokey eye. The palette that I'm using is sadly limited edition. Don't worry, it seems that I was the only person in the world who liked this palette. Everyone else sold this. If you have blackened purple, a blackened green, a blackened choco, now would be the time to use them. And this fun shade avocados, who actually uses those? I do. If you're working with really soft shadows trying to fall out or tricky eye shadows in general, these are your friend. Become acquainted.
I'm patting the black and purple in the inner half of the lid. This is messy, messy, messy. Don't stress. I'm going for colored nuances of black today because I think that stark black is a bit harder to pull off. But also I think that the variation is interesting. Then I'm going to take the blackened green shade and I'm patting that on the outer half of the lid. Patting will produce less fall out. If I swat, it's going all over my cheek and I'm keeping these below the crease because holy shimmer batman, I'm batman.
Next, I'm going to take each color and just pat them over the seam so that the colors appear to blend in to each other. And then with the other side of my sponge tip applicator, I have the blackened choco shade and I'm just dabbing that in to the outer corner and a touch in to the outer crease. Just want some extra dip there. And back to our blending shade, I'm going to slowly blend that through the crease so that the lead color doesn't stop abruptly. I tend to raise my eyebrows when I do this so that I can blend without interrupting the lid shade.
Then we're going to mirror that placement on the lower lash line. If you are seeking a really dramatic and sultry smokey eye, then you can blend this quite far down. Or if you prefer more of a softer haze, then you can keep it quite close to the lash line. Then I'm going to take the iridescent pink shade on my finger and I'm going to stamp that in the center of the eyelid. This lends an interesting hue, sort of mother of pearl. But in general, I find that center lid highlights are a really handy way of preventing a smokey eye from becoming too dark or too overwhelming. I'm also placing that in the center of the lower lash line.
Okay, now perhaps the most important tip for those struggling with smokey eyes, inner corner highlights. It seems so obvious but it's so important. This will help to break up the darkness but also if you have slightly closet eyes like myself, it will create the illusion that they're further part. And play with it. You can blend this in a corner highlight over the entire inner third if you find that flattering for your eye shape. I don't think smokey eyes by definition need to be dark all the way around. Before I go any further, I'm going to take some liquid eyeliner and make a very fine line along my top lash line. This is just to conceal the false lashes I'm going to apply today but if you're not wearing false lashes, then you can skip this step. Then I'm going to tight line, broken record. I always do this. But in particular, smokey eye seem unfinished without this step.
Okay, traditionally with a smokey eye, we'd now be lining our lower wood line with coal. And I'll be honest with you guys, I hate that look on myself. I love it on other people. I think it's so beautiful and so sultry but on me, it makes my eyes look really small and really buggy. So if you feel the same way, a good alternative is a dark but reflective eye liner. So this one is sort of like dark khaki and it has some pink reflect. So you'll still achieve that framing effect but the shimmer will catch the light a little bit and it won't be so buggy eyed.
Okay, I'm not going to apply some false lashes. Now, I know the false lashes aren't exactly effortless but we're going to digress a little bit here because there are really easy way to make your eyes look larger and to make your smokey eye less grungy and more pretty. So I'm going to be using some clusters. I'm still in love with this keys lashes. And I saw these actually the other day. Mario Dedivanovich, is it? He's Kim K's make up artist. He uploaded a picture on to Instagram of these lashes and I felt so validated. I was like, "Yes! They're amazing!"
Okay, so I've gone ahead and applied about four short clusters on the outer corner and about two extra short clusters towards the center of the lid. I also went and did my mascara on both my top and bottom lashes and now I'm just going to take some Bioderma and clean up all of that fall out underneath my eye because you don't want that mixed in with your base. Okay, for my base today, I'm going to be a little bit repetitive and use what I use in my last video which was the Armani Lasting Silk mixed with the Le Blanc De Chanel in about a 50/50 ratio. And this is just my favorite combination at the moment. I'd be wearing it for about a month straight. I tend to prefer a more understated base with a smokey eye.
But you know what, do what you need to do so that you feel confident and your base feels fresh. If you have blemishes, then you can conceal that. If you have pigmentation, then you can correct that, and that goes for all of my videos. Alter it to fit your preferences and your needs. I'm going to pay extra attention to my under eye area today because smokey eyes do have the tendency to make you look a little bit tired so I'm just starting off with an illuminating sort of concealer just to deflect any shadows or hallows. And then I'm going to go in with a bit more of a pigmented concealer just in the areas where I have strong discoloration.
So for the cheeks, it's really whatever you want to do – blush, bronzer, contour, highlight. You know what suits you and you know what you like. But oday, I'm going to use my favorite contour palette. This is the Kevyn Aucoin's sculpting and I'm using the included brush. I heard recently that Kevyn Aucoin has redesigned the packaging for his product and it no longer comes with this brush which is such a pity because it's a great brush once you get the hang of it, very directional. I think I sense a bit of cost cutting there, Kevyn Aucoin. Boo.
For the lips, I'm going for a pinky nerd. It's just something that will pale down my lips enough that the eyes take focus. And I find – this is one of the Hourglass Lip Stylo – I find that they're best patted in otherwise can look a little bit concealer lips. And there you have your blackened blackish smokey eye. A quick overview of the wearable smokey eye tips that I mentioned in this video. You have your inner corner highlight, your central lid highlight. Try nuances of black eye shadow. Play around with dark but iridescent eye liners for the low water line and keep the rest of the face quite clean and cohesive. If you've done all that and your eyes still feel a little bit small or the look is a bit grungy for your liking, add some false lashes because that really amps it up and makes it a lot prettier. I hope you guys enjoyed the tutorial and don't forget to leave your questions for the questions and answers video either in the comments below this video or on any of my social media. I hope you guys all have a wonderful day. Drive safely. Don't walk in to dark alleys and floss your teeth. B-bye.
Final Look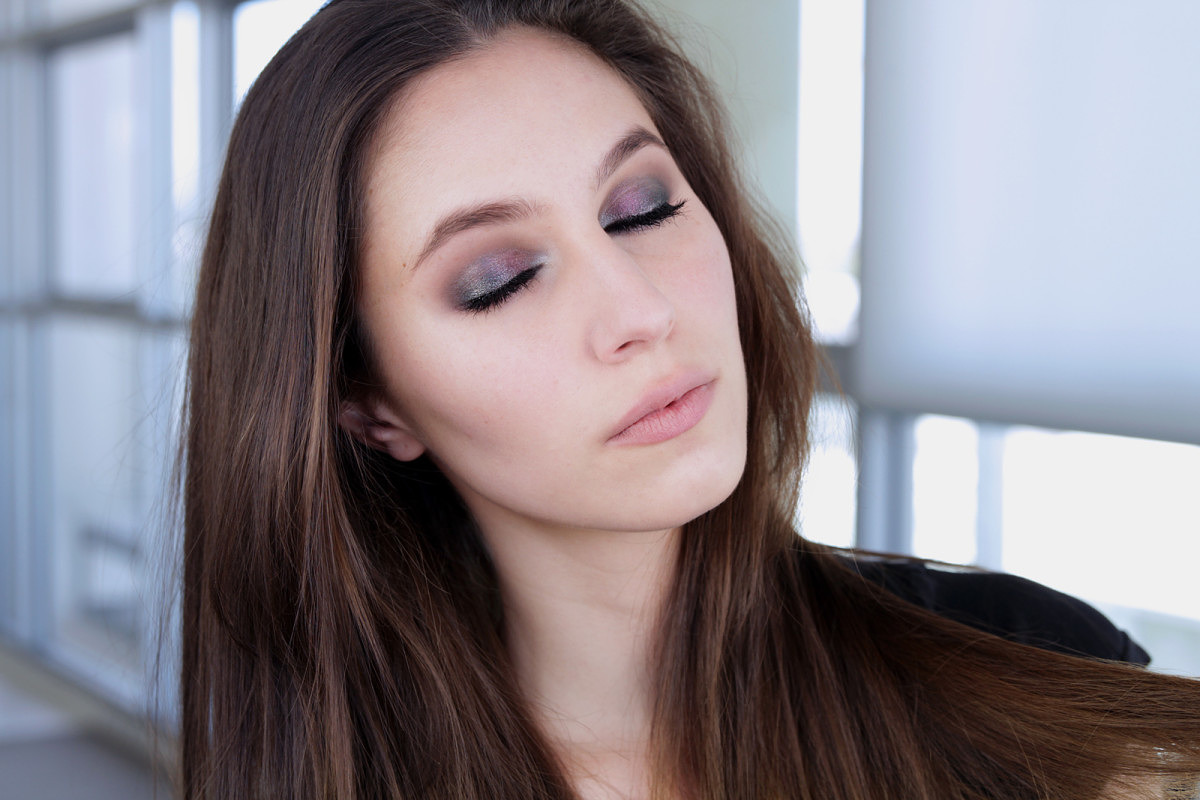 Nail Polish I'm wearing in this tutorial
Chanel June (a pastel orange/apricot that reminds me of sherbet)
Complete List of Products
Anastasia Beverly Hills – Brow Wiz in Medium Ash
Chanel Illusion D'Ombre – Mirifique
Chanel – Ombre Perlees de Chanel Eyeshadow Palette
Rouge Bunny Rouge – Chestnut Napped Apalis Eyeshadow
Rouge Bunny Rouge – Raven Glaze Lacquer Eyeliner in Black
Rouge Bunny Rouge – Long Lasting Eye Pencil in Salome/Black
THREE – Performance Eye Pencil in Eye Doll 07
Kiss Lashes – Trio Short Combo
Benefit – They're Real Mascara
Giorgio Armani – Lasting Silk Foundation in 4.5
Chanel – Le Blanc de Chanel Sheer Illuminating Base
Giorgio Armani – High Precision Retouch Concealer #3
Dermablend – Fluid Corrective Foundation in Opal
Kevyn Aucoin – Sculpting Powder in Medium
Hourglass – Lip Stylo No.1
xxkarima